Expand Your Artistic Ability and Communication Skills with Liberty's School of Communication & the Arts
Today's exciting world of communication and the arts has a place for you. Imagine yourself performing with a professional theatre company in front of thousands of people. Create your story using RED Weapon cameras in a 4K theatrical-standard workflow. Picture your graphic design work on display as you compete in one of the advertising industry's largest competitions. Work in front of or behind the camera as you produce your own show.
If any of these ideas interests you, consider pursuing a degree with our School of Communication & the Arts! At Liberty, we have various degrees in communication, digital media, journalism, strategic communication, theatre, studio and digital arts, and cinematic arts so you can express your passions using whatever medium speaks to you.
Communication and the Arts Degree Programs
---
Communications and the Arts Dean Chat
Admissions and the School of Communication and the Arts hosted an event in the new series, Dean Chat. Dean Scott Hayes of the School of Communication & the Arts highlights the five distinct departments and introduces the department chairs to highlight their respective areas of concentration. There is an informative Q&A session where students had their questions answered. Watch now:

---
Why Choose Liberty's School of Communication & the Arts?
At Liberty, your success is our success. We want to equip you with all of the academic resources and professional opportunities possible to help you thrive in your desired career field.
We are proud of the School of Communication & the Arts faculty and student body — our award-winning professors and high-achieving alumni are what make our school successful. And with state-of-the-art facilities and cutting-edge equipment, we provide current students with the tools they need to produce incredible work.
While our film production graduates have worked on movie sets like Jumanji: Welcome to the Jungle, Black Panther, and Avengers: Infinity War, our studio and digital arts alumni are creating graphic design work for big-name collections like Target's Magnolia line. We also have theatre students acting on shows like The Walking Dead.
Check out some of the other achievements, resources, and benefits of our communication and arts programs below.
Film Production and Content Development
Each student from our B.S. in Film Production and Content Development program graduates with their own film created in a theatrical 4K workflow using RED Weapon cameras and

a surround sound mix up to 5.1

.
As a graduate from this degree, you will walk away with a demo reel, an IMDB credit, a business plan, and a feature-length screenplay. Additionally, you can pursue certification in Pro Tools, Avid, and Adobe products.

Our university's program is the first to produce

a student-driven movie that received a national theatrical release. We now have two national theatrical releases.

Studio and Digital Arts
Our faculty are professionals in the industry with advanced degrees in their fields.
Liberty's studio art students have won more graphic design awards as part of the American Advertising Federation (AAF) Awards than all of the other schools in Virginia and North Carolina combined!

Theatre Arts
We offer 8 theatre productions per year for student participation, which is more than the majority of our peer institutions.
Students benefit from our Alluvion Stage Company, a professional theatre company that allows students and professionals to perform together.

Experiential and Career-Focused Communication and Digital Content Programs
We believe that attending a university should provide you with more than textbook readings, lectures, and final exams. A successful career in the communication field requires experience!
Because of that, we have made it our priority to provide students like you with state-of-the-art equipment and facilities that will allow you to test your skills as you learn. These resources include:
Digital Media and Journalism
Over $1 million worth of equipment in our media lab — the same gear that the industry currently uses
2 brand new HD TV studios
Our Liberty Champion student-run newspaper

Experiential learning opportunities with a local TV news station

Liberty's own radio station and on-campus sports network
Strategic and Personal Communication
National award-winning Ad Team for top strategic communication students.
Competitive forensic team for top communication students.
Student-run public relations firm, Innovations, featuring promotional advertising projects where students get the chance to work for real clients.
Student-run public relations firm, Innovations, featuring promotional advertising projects where students get the chance to work for real clients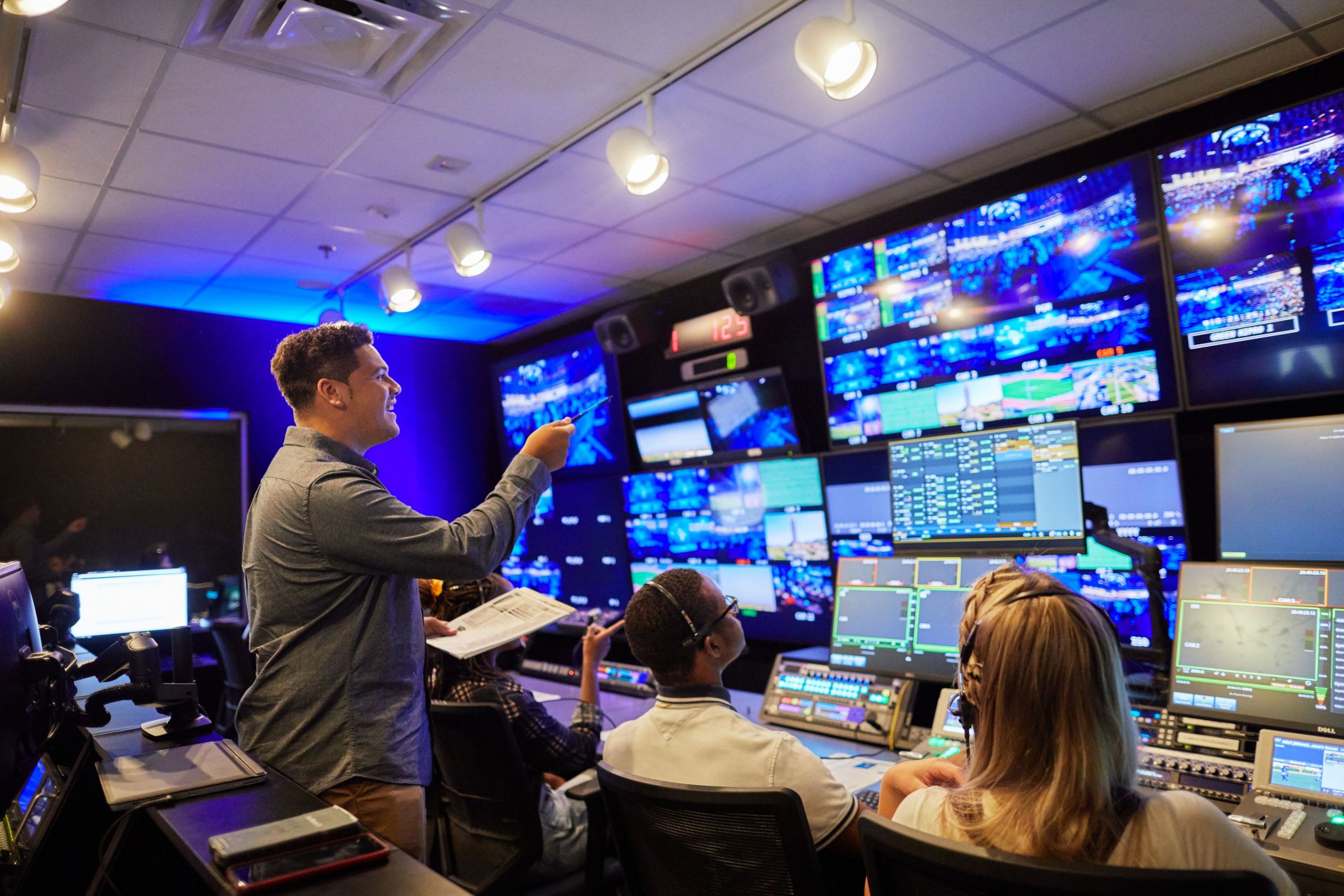 Learn more about meeting requirements for licensure or certification in your state.