Become an Expert in Your Field with a Residential Master's Degree from Liberty University
Do you want to advance your career and become an expert in your industry? Liberty University's residential master's degrees can help. Our graduate programs can help provide the in-depth training you need to boost your résumé, increase your marketability, and stand out from the competition. As an accredited Christian university, we train students to lead with excellence and integrity in the professional world.
Maybe you want to become a professor, work in politics, or start a business. Or perhaps you are called to pastor a church, serve as a licensed counselor, or train athletes. Liberty's residential graduate programs cover all of these fields and more! We offer a wide variety of on-campus degree options — so you can pick the program that best fits your unique goals and interests.
So don't wait any longer! Apply today and join us as we strive to impact the world for Christ.
---
Available Residential Master's Degree Programs by School
College of Arts and Sciences
Helms School of Government
John W. Rawlings School of Divinity
School of Behavioral Sciences
School of Communication and the Arts
School of Health Sciences
---
Award-Winning Campus
At Liberty, you'll find an affordable, high-quality education that equips students like you for the real world. Our commitment to excellence helped us rank among Niche.com's Top 3 college campuses in America. Earning your degree from a nonprofit university with state-of-the-art resources like ours can help set you apart from your peers.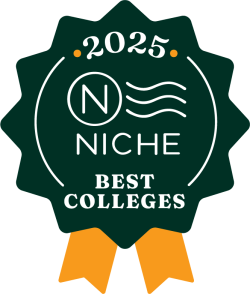 Why Complete a Residential Master's Program at Liberty University?
When you pursue a master's at Liberty University, you'll receive a college experience unlike any other. We don't just train industry experts — we equip leaders who want to make a difference in their workplace, their community, and the world. Check out what sets Liberty's on-campus graduate school programs apart from other institutions:
Credibility | Liberty University's degrees are regionally accredited through the Southern Association of Colleges and Schools Commission on Colleges (SACSCOC). Many of our individual schools have achieved additional accreditation, including our business, divinity, and counseling programs. For more information about Liberty's accreditation, check out our complete accreditation list

.

Experienced Faculty

| Our professors have extensive experience in academia and real-world industries. Drawing on what they have learned in their own careers, they can offer valuable instruction and mentorship that can help increase your expertise. At Liberty, you won't just gain textbook knowledge — you'll study under professionals who are well-respected leaders in their fields.

Biblical Principles

| To fulfill our mission of

Training Champions for Christ

, all of Liberty University's programs are taught from a biblical perspective. You can become equipped to critically evaluate the various moral dilemmas and challenges you may encounter in your career. You'll also learn how to integrate ethical standards with industry best practices, allowing you to stand out as a person of integrity in the workplace.

High-Quality Facilities | As a residential Liberty student, you can take advantage of numerous facilities on our beautiful campus in Lynchburg, Virginia. We offer a nationally ranked dining program, on-campus housing (for students under the age of 25), a commuter student lounge, and state-of-the-art fitness and recreation centers. We also have many spacious academic buildings and top-notch teaching and research labs

.

Student Support | Our goal is to help you graduate career-ready. To do so, we offer services like writing coaching, a career center, peer mentorship, student counseling

, and professional development events.

Flexibility

| You can

transfer in up to 50% of the credits

needed to complete many of Liberty University's graduate school programs. That way, you can finish your degree sooner while saving time and money!
---
Why Pursue a Master's Degree?
There are many benefits to pursuing graduate studies at the master's level. Earning a master's degree may help you:
Pursue a career in a field that requires a graduate degree.

Students who want to become licensed counselors, social workers, medical professionals, or postsecondary educators — among other careers — usually need to continue their schooling beyond the undergraduate level.

Boost your marketability.

The job market has become increasingly competitive, and completing a master's can help set you apart from candidates who only have a bachelor's degree. It can also help you advance to managerial roles in your industry.

Earn a higher salary.

According to the Bureau of Labor Statistics, professionals who hold a master's degree earn almost

20% more per year

than their counterparts who only have a bachelor's.*

Take the next step toward pursuing a doctoral degree.

Liberty offers a rigorous curriculum and practical training that can equip you to earn a PhD, DBA, EdD, or DPA, among other degrees.

Expand your professional network.

Networking is an important aspect of career advancement. When you complete a graduate program at Liberty University, you can forge vital connections with industry professionals.
Learn more about a subject you love.

Maybe your goal with getting a master's degree is less about your career, and more about getting to dive deeper into a subject you're passionate about.

Receive specialized knowledge in your field.

While bachelor's degrees provide a broad base of knowledge in foundational skills, master's programs offer more targeted training in a specific area — allowing you to hone your skills for the career you want.

Make a career change.

A graduate degree can help equip you to start fresh and launch a new career, sometimes in an entirely different field than the one you're currently in!

Develop skills that can improve your job performance.

Maybe you want to become more effective at the job you're currently in. If so, Liberty University's grad school programs can help.

Learn about new technologies and practices in your field.

In today's world, every industry is constantly changing, adapting, and growing. Pursuing a master's can help you get ahead of the curve and become more competitive in your career.
*Bureau of Labor Statistics, U.S. Department of Labor, at Unemployment rates and earnings by educational attainment (viewed online September 30, 2020). Cited projections may not reflect local and/or short-term economic or job conditions and do not guarantee actual job growth.
---
Frequently Asked Questions
Is a degree from Liberty University respected?
How much does it cost to get a residential master's degree at Liberty University?
Does Liberty University require GRE scores?
Does Liberty University have dual master's degrees?