Explore the Wonder of Creation with a Bachelor's Degree in Biology
Do you love learning about living organisms and how they work? Are you fascinated with subjects like genetics, botany, and cell biology? Do you love exploring the complexity of God's creation?
If you answered "yes" to any of these questions, then a career in biology may be right for you! Liberty's Bachelor of Science in General Biology provides foundational training in many areas of biology. Our program can help you take the first step toward pursuing a career in veterinary medicine, environmental biology, laboratory work, or agricultural biology, among other fields.
Are you seeking a biology science degree that combines top-notch research with a Christian worldview? If so, Liberty has just what you need. Our goal is to help you become a Champion for Christ in your field. With guidance from our seasoned faculty, you can gain a deeper understanding of the world around you.
We're excited to partner with you as you take this important step in your academic journey. Earn your degree today and embark on the exciting study of life!
Why pursue a degree in general biology?

Maybe you're not yet sure which field of biology you want to work in. Or perhaps you're looking to earn a more general bachelor's degree before specializing at the master's level. Either way, our general biology program can help you develop foundational knowledge in a variety of subjects.

Our biology bachelor's program provides an in-depth yet broad introduction to many aspects of biology. Rather than focusing on a particular area of study, you will take courses in physics, genetics, cell biology, organic chemistry, and more!
---
Award-Winning Campus
At Liberty, you'll find an affordable, high-quality education that equips students like you for the real world. Our commitment to excellence helped us rank among Niche.com's Top 3 college campuses in America. Earning your degree from a nonprofit university with state-of-the-art resources like ours can help set you apart from your peers.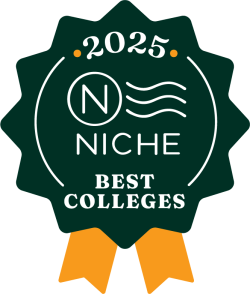 ---
Why Choose Liberty's Bachelor's in Biology Program?
At Liberty, we want to provide you with a college experience that helps nurture your spiritual, academic, and professional growth. Throughout this program, you can learn from industry experts while enjoying the spiritual and social aspects of our campus.
Here are some of the benefits of earning your general biology degree at Liberty University:
Experienced Faculty
Our professors have years of experience working in the scientific field, and many of them hold doctoral degrees. They are ready and eager to come alongside you as you pursue your degree. With their guidance, you can receive practical training in the classroom and laboratory.
You could even assist faculty members with their ongoing research projects, allowing you to receive real-world experience and valuable mentorship!
Biblical Training
Our faculty are also firmly rooted in the Christian faith. That's what makes Liberty unique. In addition to teaching important scientific skills, we seek to train up leaders who approach science from a biblical perspective.
Top-Notch Facilities
Liberty has numerous teaching and research labs filled with state-of-the-art equipment, so you can gain experience operating the same tools used by industry professionals!
Some of the instruments you'll get to use include a DNA sequencer, an ultrasound simulator, an atomic absorbance spectrometer, and a blood chemistry analyzer.
Hands-On Experience
We want to help make you a more marketable candidate for future jobs and graduate programs. That's why we offer numerous opportunities for you to put your skills to the test in real-world settings. Almost all of our science courses have a required laboratory component, so you can complete hands-on experiments.
Additionally, you may want to participate in our exciting research projects. From algae and amphibians to conservation and DNA analysis, you can dive into the topics you're most passionate about!
Opportunities to Connect
We want you to have a fulfilling social life while you're here on campus. We offer weekly convocation services, campus church, and small groups meant to help foster your spiritual life. Liberty is also home to over 100 student-led clubs! You'll have many opportunities to get plugged in, explore your interests, and connect with other students.
As a biology student, you may be interested in our Forensic Science Club or our Biology Club. Additionally, by joining our Scientific Research Society, you can hone your research skills and learn more about opportunities for internships or paid research positions.
---
Frequently Asked Questions
What master's degree can I get with a bachelor's in biology?
Many biology students go on to study at the master's level to help expand their career options. If you want to receive advanced training in the life sciences, Liberty can help! We offer the following health sciences master's degrees:
What jobs can I get with a bachelor's in biology?
You can pursue a variety of exciting careers with a bachelor's in biology! Some jobs in this field may require a master's degree — but there are still many entry-level opportunities open to candidates with a bachelor's degree. Some of the areas you could work in include research, pharmacology, nature conservation, biotechnology, ecology, forensic science, or education.
How much can I earn in a biology career?
Your salary will depend on a number of factors, such as your location, educational background, and level of experience. However, in general, here are the average salaries for various jobs in the field of biology:
Agricultural and food scientists — $65,160*

Biological technicians — $45,860*

Conservation scientists — $62,410*

Forensic science technicians — $59,150*

Microbiologists — $75,650*
*Bureau of Labor Statistics, U.S. Department of Labor, at Life, Physical, and Social Science Occupations (viewed online December 10, 2020). Cited projections may not reflect local and/or short-term economic or job conditions and do not guarantee actual job growth.
---
What Will You Learn in Our General Biology Bachelor's Degree?
In this program, you'll take foundational courses in calculus, geometry, probability and statistics, and physics. These courses can help provide the base knowledge you need to succeed in a variety of STEM (science, technology, engineering, and math) careers.
Your biology degree courses will focus heavily on the study of genetics, ecology, botany, cell biology, and organic chemistry. Diverse coursework like this can help you prepare for professional laboratory work or master's-level programs.
You'll also have the freedom to select various biology electives, so you can take classes that fit your career goals! By taking an origins course, you can evaluate the historical, philosophical, and scientific evidence for biblical creation. Our biology seminar can help you develop core research skills that are essential to a career in biology.
View the Degree Completion Plan, and check out our featured courses below for more information on what you'll be studying!
Featured Courses
BIOL 224 – General Biology I
Here's what you'll learn:
Cellular and organismic reproduction

Mendelian and population genetics

Molecular, cellular, and energetic bases of life

Phylogenetic reconstruction, ecological interactions, organisms, and major metabolic processes

Scientific methodology and fundamental principles of biology
Here's what you'll learn:
A study of the principles of heredity

Chromosomal rearrangements, transcription, translation, gene expression, genetic engineering, and epigenetics

Inheritance in individuals and populations

Mutations and their repair

The chemistry of the gene in DNA structure and replication
Here's what you'll learn:
The collection and statistical analysis of quantitative ecological data

The interrelationships between organisms and biotic and abiotic factors in their environment
Here's what you'll learn:
The integration of molecular and cellular interactions for the maintenance of life

The organization and function of living matter at the cellular level
Highlights of Our Bachelor of Science Degree in Biology
Most of our science courses have a required laboratory component, allowing you to gain hands-on experience in your field.

Our biology bachelor's courses and labs are taught by faculty with years of experience in academia and the professional world.

This program places an emphasis on creationism, but you'll also learn about evolution so you can develop a well-rounded approach to scientific concepts.

We offer undergraduate science students the chance to participate in exciting

research projects

.
B.S. in Biology Degree Program Information
What Can You Do with a Biology Degree?
Many careers in the field of biology require additional training at the graduate level. However, earning your bachelor's in biology degree is an important first step to take! Here are just some of the career paths you could pursue by studying biology:
Agricultural biotechnologist

Biochemist

Biological technician

Biomedical laboratory supervisor

Conservation scientist
Environmental scientist

Food scientist

Genetic counselor

Medical sales representative

Microbiologist
Please note: Many career opportunities in this field will require additional education beyond a bachelor's degree.
Admission Requirements for Liberty University's Biology Major Degree
Every application is reviewed by the admissions committee on a case-by-case basis, meaning there are no set minimums for acceptance. However, all applicants must submit the following documents* for admission:
Admission application

Official high school transcripts

Official college transcripts (if applicable)

Results from the CLT, SAT, or ACT are not required for admission, but may be used in consideration for merit-based aid.

Admission essay
*Additional documentation may be requested by the admissions committee after your application has been received.