College is about getting a solid education — but it's also about finding home for four years.
It's finding a home with friends and mentors who support, encourage, and inspire you to live more like Christ every day.
It's finding a home with comfort food — and culinary adventure.
It's finding a home where you can relax at the end of every day — and still find something new to do every weekend.
At Liberty, we are a group of unique, passionate, interesting, bold, collaborative, inclusive individuals who are united as one beautifully diverse Body of Christ who want to experience university life to its fullest.
If that sounds like you, come see what it looks like to come home to Liberty.

Get to know the facilities you'll find on Liberty's campus.
---
Award-Winning Campus
At Liberty, you'll find an affordable, high-quality education that equips students like you for the real world. Our commitment to excellence helped us rank among Niche.com's Top 3 college campuses in America. Earning your degree from a nonprofit university with state-of-the-art resources like ours can help set you apart from your peers.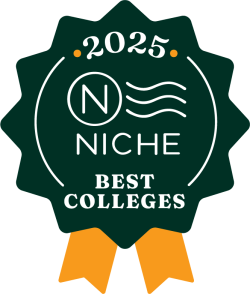 Who Could You Meet While You're Living Here?
"Being a missionary kid, I have done a lot of traveling and met many people, but never anyone like Jake. Of all the people I have met, Jake's faithfulness is impressive. With his baseball cap on backwards, a smile on his face, and a discerning look in his eyes, Jake is always joyful — yet willing to sit down and talk about deeper struggles with anyone.
Jake has inspired me to take my Christian walk seriously, showed me the love of Christ, and modeled joy."
— Peter B., Liberty student
"Emily has a very real passion for pursuing Christ in all she does.  She lives a life of true faith, and this is shown in the way she conducts herself, as well as how she interacts with others.
Serving as a Resident Shepherd, she handles responsibility well while positively impacting those around her. Emily has helped many young men and women grow in Christ, encouraging us all to strengthen our individual relationships with God. She has brought both myself and another close friend to God, leading us to be saved and eventually baptized."
— Sasha C., Liberty student
No matter where you live on campus, you'll find a community to grow with, an environment to thrive in — and a place you can call home. Learn more about Liberty's six main residence halls.
With over 24 dining options on campus — including Thai, Mediterranean, woodfire-grilled pizza, gluten- and allergy-free meals, and more — you'll never go hungry. Find out more about our dining plans, variety of food options, and sustainable solutions.
Food trucks, farmers' markets, mountain vistas, and more. Learn how the warmth and charm of Lynchburg, "The Gem on the James," is unlike anywhere else.
Health and Wellness
Work out, eat right, and get support. Find out about Liberty's many ways to get — and stay — healthy.
Ready to Make Liberty your Home Away From Home?