You've already earned a college degree — but you want to go further.
Maybe it's medical school. Maybe it's law school. Maybe it's your MBA, MFA, or MPH.
However you want to become more competitive in the job market, Liberty University can help you reach your goals. With over 100 unique residential graduate degrees, The Graduate School at Liberty University can provide the support you need to become an expert in your field — and a valued contributor to the future of your profession.
Here you'll study under world-class faculty in a distinctly Christian university. Take advantage of big-school resources, facilities, and research opportunities while enjoying smaller class sizes and personalized attention from faculty.
The Graduate School at Liberty University awards graduate certificates and master's, postgraduate, and doctoral degrees.
Each degree program maintains its own set of admission requirements, so refer to your individual degree page for details.

Liberty's Research Week is an annual opportunity for both undergraduate and graduate students to share their research with their peers, faculty, and the public.
Ready to go further with Liberty?
---
Looking for graduate scholarship opportunities?
Consider our Graduate Student Assistant (GSA) program. GSA's are master's and doctoral-level students who serve in academic support roles across various university departments.
---

---

The Commuter Student Experience
Get the perks of a 7,000-acre college campus without living in a dorm room. Liberty's commuter students enjoy:
Their own spacious commuter lounge — complete with charging stations, free lockers, a coffee bar, kitchen, and a collaborative meeting room.
LU Commuter Community Groups. Led by Community Shepherds and designed to give commuters spiritual connectivity similar to the residential student experience, these groups are centered around Campus Community and are set up as either male, female, or co-ed.
The Commuter Student Association. This student-led group offers members opportunities to serve and attend fun events, engage in local service activities, participate in leadership training, and connect with other off-campus students in a warm and welcoming environment.
Dining plans that provide convenient and affordable options for taking advantage of Liberty's many dining locations.
---
Visiting the Graduate School at Liberty
Liberty University is located in the Blue Ridge Mountains in historic Lynchburg, Va. As a thriving community, Lynchburg offers countless opportunities for social, professional, and spiritual development.
We have two graduate student visiting options. Find the one that best fits you and come see why Liberty is a great choice:
Graduate Campus Tour
Graduate School Preview Day
Award-Winning Campus
At Liberty, you'll find an affordable, high-quality education that equips students like you for the real world. Our commitment to excellence helped us rank among Niche.com's Top 3 college campuses in America. Earning your degree from a nonprofit university with state-of-the-art resources like ours can help set you apart from your peers.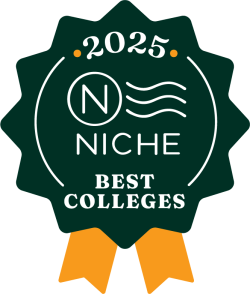 Resources for Your Visit
Discover Lynchburg
What to See
Frequently Asked Questions
While reviewing Liberty University's admissions process, you may have questions about how our programs work or how to meet specific masters requirements. Below are several common questions and answers about Liberty's graduate programs and degree requirements.
Can you get two masters degrees at the same time?
If you're changing careers or trying to cover many different areas of skills for your current role, you may wonder if it makes sense to try to earn more than one masters degree at the same time to maximize your time in school. However, there are several problems with trying to earn multiple masters degrees at once:
Federal aid and most other scholarships or grants cannot apply to more than one degree at a time. If you're relying on this funding, then pursuing more than one degree can be expensive.
Because graduate class sizes are smaller, there are fewer scheduled times for your courses. This difference can lead to class schedule conflicts if your courses are set for the same time slots.
Different masters programs are structured differently, which means that no two programs will line up learning requirements the same way. As a result, you could easily find yourself with overlapping exam schedules, required meeting dates, or other important events.
Each program is carefully designed to balance course load and time outside of class for your studies. But mixing two programs in the same semester can lead to very imbalanced course loads, negatively impacting your ability to succeed in both programs.
Fortunately, Liberty has many better options. If you're concerned that one masters degree won't be enough to meet your education needs, call the Resident Graduate Admissions Office to talk through your options. We can help you find the best program to meet your requirements or help you plan to earn a doctorate after your masters degree that could demonstrate your mastery in the field.
Can you switch masters programs after being accepted?
If you complete your admission requirements and gain acceptance to the program but decide later to pursue a different track, our admissions counselors can switch your program application for you. Please note that there may be additional Admission Requirements with the new program, and acceptance to any program will expire one calendar year from the acceptance date.
Does Liberty offer no-GRE masters programs?
Yes! Many of Liberty's graduate programs do not require GRE, MCAT, or other testing scores for admission. Call in to speak with an admissions counselor to talk through your Admission Requirements.
Do you need a bachelors to get a masters degree?
Before you can apply for a masters degree, you need to have completed your bachelor's degree or be in your last semester of courses.* Generally, any nationally or regionally accredited bachelors degree will fulfill this requirement. 
However, for some masters degrees, your graduate coursework will build on specialized skills you are expected to have through your bachelors degree. In these cases, you may be required to have a specific bachelors degree to be eligible to apply for a particular masters degree or have course content or experience within a particular field. 
Please note: Preliminary acceptance policy may vary between different graduate programs. You can speak with our admissions counselors for help determining if the program you're interested in is eligible for preliminary acceptance.
How do you get a masters degree?
To earn a masters degree, you need to follow these general steps:
Earn a bachelors degree – Sometimes, you will need a bachelors degree in the same field as the masters degree you want to earn.
Apply for and be accepted into the masters degree program – You will need to provide transcripts and show that you earned a high enough GPA, as well as any other admission requirements.
Earn your masters degree – Masters degree tracks can take anywhere from half a year to two years depending on the discipline and may require in-field experience such as student teaching or an internship.
Graduate! With your masters degree earned, you will have a certified credential that shows you have the training and knowledge you need to excel in your field.
How many masters can you apply for?
If you're unsure about your choice in a masters degree or don't know if you meet the requirements, you may wonder if you can apply for multiple programs to save time. While you can only apply for one masters degree at a time, the good news is that applying for multiple degrees is unnecessary. 
All of Liberty University's graduate programs have the same basic documentation requirements, and we will maintain all of your records for you. If you decide to switch to a different degree application or are unable to meet minimum requirements, we can easily switch your application and help you find the best program for your needs. Speak with an admissions counselor to get started with an application.
What do you need to apply for a masters degree?
To apply for most of Liberty University's masters programs, you will only need to provide your official transcripts showing a nationally or regionally accredited bachelors degree or an unofficial transcript showing this information if you then fill out our Transcript Request Form. Depending on the masters degree, you may need other documents. Speak with an admissions counselor for more information.