Gain an Advanced Knowledge of Communication with Liberty's Interpersonal Communication Degree
Have the small details of conversation always fascinated you? Perhaps, at some time or another, you found yourself studying someone you were in conversation with – picking up nonverbal cues and finding hidden messages in the way someone communicates. If that sounds like you, Liberty's Master of Arts (MA) in Professional Communication – Interpersonal Communication may be for you. This degree program can equip you with an advanced understanding of how people and entities communicate their respective messages – and help you craft your own messages.
Because interpersonal communication is something that nearly everyone practices on a daily basis, you can gain a leg-up on others in negotiations and job applications by mastering the oft-overlooked skills taught in this degree program. Our interpersonal communication classes can also help you serve others better – at work, at home, in church, or in a hobby group.
By partnering with us for an MA in Professional Communication – Interpersonal Communication, you can gain valuable skills and enhance your life all around – especially in applicant pools. Don't settle for just any degree at any university. Choose Liberty's master's degree in interpersonal communication and experience firsthand what a degree from Liberty University can do for you.
Award-Winning Campus
At Liberty, you'll find an affordable, high-quality education that equips students like you for the real world. Our commitment to excellence helped us rank among Niche.com's Top 3 college campuses in America. Earning your degree from a nonprofit university with state-of-the-art resources like ours can help set you apart from your peers.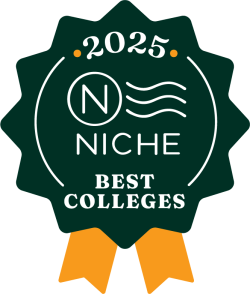 ---
Why Choose Liberty's Master's Degree in Interpersonal Communication?
At Liberty, our mission since 1971 has been to Train Champions for Christ. As part of that mission, we seek to equip our students with all of the resources – inside and outside the classroom – that they need to succeed. That includes a cadre of expert professors, a carefully designed and academically rigorous curriculum, over $1 million in educational facilities and resources, and a dedicated career team whose mission is to help you find the perfect job.
Liberty's academic reputation is backed by our regional accreditation through the Southern Association of Colleges and Schools Commission on Colleges (SACSCOC). Earning an interpersonal communication master's degree from a university with this kind of recognition can help set you apart from competing job applicants. In addition, each of this degree's interpersonal communication classes is taught by instructors who have years of work and academic experience, so you can be confident in the quality of education that you'll receive.
Our School of Communication and the Arts is home to over $1 million in state-of-the-art equipment and media facilities. As a student, you'll be able to gain experience working with a wide variety of world-class media equipment – making you a more marketable and prepared communications professional. You'll have our top-notch equipment at your full disposal as you work through your degree.
You'll also have ample opportunities for professional development. You could work with our radio station, the Liberty Flames Sports Network (LFSN), the Liberty Champion student newspaper, live streaming, television advertisements and productions, and much more!
---
What Will You Learn in Our Master's Degree in Interpersonal Communication?
This degree program consists of 3 sections: interpersonal communication classes, elective courses, and theory and research courses.
The interpersonal communication section of this degree program offers you flexibility to choose 4 courses from a list of 5. You could study interpersonal communication theory and practice, small group and team communications, listening and nonverbal communication, communication and conflict, or intercultural communication. Check out the featured courses below to learn more about your options!
In addition, our interpersonal communication master's degree features an elective course section. Here, you are able to choose 5 courses from our entire catalog of graduate-level communications and strategic communication courses. There are a bevy of options available – including strategic storytelling; video, social, and mobile promotion; strategic media; or emerging trends in strategic communications.
In the theory and research section, you will study communication theory and practices. You will also study communication research design, then complete a thesis defense or a final project. This step is to be taken upon completion of every other course, including the interpersonal communication specialization.
View the Degree Completion Plan and check out our featured courses below for more information!
Featured Courses
COMS 522 – Interpersonal Communication Theory and Practice
COMS 524 – Small Group and Team Communications
COMS 558 – Listening and Nonverbal Communication
COMS 560 – Communication and Conflict
Highlights of Our Interpersonal Communication Degree
Liberty University is regionally accredited by the Southern Association of Colleges and Schools Commission on Colleges (SACSCOC).
This program emphasizes experiential and hands-on learning.
You could develop your professional portfolio through working with our radio and television studios, on-campus sports network, client promotional projects, and more!
This degree is career-focused with instructors who have both academic and professional credentials – and many of them working in their field as they teach.
As a nonprofit, Christian university, we aim to help raise the next generation of media professionals with personal integrity and unshakable ethics grounded in the Christian faith.
Admission Requirements for the Master's in Interpersonal Communication
Every application is reviewed on a case-by-case basis, and all applicants must submit the following documents and meet the minimum requirements for admission:
Admission application
Official bachelor's degree transcripts with a 3.0 GPA or higher
Self-certification form (for students who are in the final term of their bachelor's degree)
Current Liberty undergraduate students seeking preliminary acceptance into a graduate program must complete a degree completion application through their ASIST account
Professional and Interpersonal Communication Degree Information
Potential Career Opportunities for Master's in Interpersonal Communication Graduates
College instructor
Content manager
Director of communication
Nonprofit development director
Promotions manager
Special events coordinator