Develop Effective Communication Strategies and Goals for Your Company with an MA in Professional Communication – Organizational and Strategic Communication Degree
Most companies rely on 2 main channels of communication: internal communication among employees and external communication with the public. With Liberty University's Master of Arts (MA) in Professional Communication – Organizational and Strategic Communication, you can learn how to streamline communication processes for businesses and nonprofits of all sizes.
This master's program explores how to help organizations put their best foot forward when establishing a reputation with the public and reaching target audiences. In addition, you can learn how to communicate with employees and leaders within a company so that everyone is on the same page and can work toward the same goals.
Our strategic and organizational communication master's degree is designed to help you understand the research, theories, and practical strategies that underlie effective communication. Throughout the program, you can learn how to conduct, contribute, and apply valuable research to your field – giving you the tools needed to make necessary changes within organizations. The knowledge you gain can help you prepare to advance within your profession or pursue a terminal degree.
Partner with us and learn how to help your company handle challenges in crisis communication, public relations, and more with an organizational and strategic communication master's degree!
---
Award-Winning Campus
At Liberty, you'll find an affordable, high-quality education that equips students like you for the real world. Our commitment to excellence helped us rank among Niche.com's Top 3 college campuses in America. Earning your degree from a nonprofit university with state-of-the-art resources like ours can help set you apart from your peers.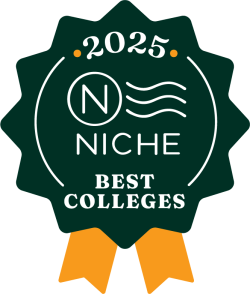 ---
Why Choose Liberty's Strategic and Organizational Communication Degree?
At Liberty, you won't just earn a degree – you'll have the opportunity to gain practical, hands-on experience while studying under professors who have years of experience working in communication and media. You can learn from your instructors' extensive expertise and boost your résumé by pursuing work opportunities with our radio and television stations, student-run public relations firm and newspaper, and more!
Additionally, our organizational and strategic communications master's program gives you the flexibility to customize your degree to match your unique interests and goals. The specialization includes 6 course options, from which you'll choose 4 – and the elective course section allows you to select 5 courses in communication or strategic communication from a wide range of options. With so much freedom to mix and match various courses, you can develop the specific skills you need to pursue your goals.
The knowledge and experience you gain at Liberty can help you prepare for many exciting career opportunities. Our graduates have gone on to work at places such as Genworth, Amazon Web Services, Kate Spade, and the Wounded Warrior Project. You can be confident that we offer a top-notch education that can help you prepare for your future.
What can I do with a degree in strategic and organizational communication?

The beauty of a communications degree is that it provides a well-rounded, versatile skill set that may prove useful in a wide variety of careers. One career you may be interested in after earning your degree is the role of a public relations specialist.

According to the Bureau of Labor Statistics, employment in this field is projected to grow 8% from 2021 to 2031 – faster than the average rate for all occupations.* The median pay for public relations specialists in 2021 was $62,800* – though your earning potential could potentially be even higher with a master's degree! At Liberty, you can get the training you need to lead important communication initiatives in companies of all sizes – whether you're working as a public relations specialist or in another related role.

*Bureau of Labor Statistics, U.S. Department of Labor, at Public Relations Specialists (viewed online Oct. 10, 2022). Cited projections may not reflect local and/or short-term economic or job conditions and do not guarantee actual job growth.
---
What Will You Learn in Our Organizational and Strategic Communications Master's Program?
In this program, you'll take several specialized courses in strategic and organizational communication – so you can better understand how to lead internal and external communication efforts for an organization.
You'll be able to customize your specialization by picking from a list of 6 course options. Some of the topics you could study include:
Communicative preparation and planning for community relations
Corporate communication functions for leading, motivating, persuading, and informing various publics
Established and emerging media technologies used by various organizations to communicate specific messages to diverse audiences
How to use social media platforms to build a competitive advantage
Important aspects of managing people, motivating employees, managing organizational stress, developing teams or groups in organizations, making decisions, and leading employees
Methods for creating an emotional connection between the public and an organization in order to establish a brand identity
Techniques for growing organizations through online marketing and strategy
Theories and practices of contemporary organizational communication
You'll also have the opportunity to select multiple elective courses – so you can broaden your knowledge and explore other areas that interest you outside of your specialization. You'll pick from a list of multiple communication and strategic communication courses – so whether you want to study interpersonal communication, digital storytelling, leadership communication, persuasion tactics, or another area of communication, you can get the specific training you need.
Additionally, you will complete foundational courses in communication theory and research design – equipping you to make important contributions in your field and develop research-based solutions to modern organizational challenges. These courses will culminate in either a thesis or final project.
View the Degree Completion Plan and check out our featured courses below for more information!
Featured Courses
COMS 630 – Professional Communication and Nonprofit Development
STCO 526 – Strategic Storytelling
STCO 532 – Media Technologies and Communication Strategies
STCO 546 – Effective Media Analysis
Highlights of Our MA in Professional Communication – Organizational and Strategic Communications Degree
Gain relevant, hands-on experience through opportunities with our radio and television stations, on-campus sports network, client promotional projects, student-run public relations firm and newspaper, and more.
Follow in the footsteps of alumni who have landed jobs with companies like Genworth, Amazon Web Services, Kate Spade, and the Wounded Warrior Project.
Train with over $1 million in state-of-the-art equipment and facilities.
Earn a flexible degree that lets you customize your studies with multiple elective courses.
Hone your résumé, portfolio, and interview skills through our Career Center – so you can pursue exciting employment opportunities and stand out from the competition.
Organizational and Strategic Communications Program Information
Potential Career Opportunities for Graduates of Our Strategic and Organizational Communication Master's Program
Advertising director
College instructor
Communication consultant
Content manager
Director of communication
Marketing director
Nonprofit development director
Public relations director
Researcher
Admission Requirements for Liberty's Organizational and Strategic Communication Master's Degree
Every application is reviewed on a case-by-case basis, and all applicants must submit the following documents and meet the minimum requirements for admission:
Admission application
Official bachelor's degree transcripts with a 3.0 GPA or higher
Self-certification form (for students who are in the final term of their bachelor's degree)
Current Liberty undergraduate students seeking preliminary acceptance into a graduate program must complete a degree completion application through their ASIST account