Due to the high volume of interest in the Doctor of Psychology program, enrollment is full for Fall 2023. The Liberty University School of Behavioral Sciences is only taking applications for the Fall 2024 and Fall 2025 semesters at this time.
Be on the Cutting Edge of Mental Health Research and Care with the Psy.D. in Clinical Psychology
As a clinical psychologist, you can do more than perform research studies to learn about the human mind – you can touch people's lives for generations. By applying the most advanced research and the most profound knowledge of psychology, you can help people heal and grow through mental health challenges. Your studies can contribute to the work of other mental health professionals, allowing you to make an incredible impact. If you want to study to become a clinical psychologist so you can use your skills in research to help people, Liberty's Doctor of Psychology (Psy.D.) in Clinical Psychology is the right choice for you!
Do I need a master's in psychology before I can start the Psy.D. in Clinical Psychology?

Liberty's Psy.D. in Psychology is designed as a 5-year track right after your bachelor's degree in psychology. In fact, you will complete courses that will earn you a Master of Science in Clinical Psychology while completing your Psy.D.! This format enables you to earn your master's and a doctorate in less time than earning each degree separately.
Liberty's Psy.D. in Clinical Psychology is designed to prepare you to evaluate research and to understand the truth about human behavior from a biblical worldview. Our mission is to Train Champions for Christ. We fulfill this mission by training professionals to use science and biblical values to understand the full breadth of the human experience. Our unique, biblically-based approach to this field will prepare you to impact those you work with positively.
---
Award-Winning Campus
At Liberty, you'll find an affordable, high-quality education that equips students like you for the real world. Our commitment to excellence helped us rank among Niche.com's Top 3 college campuses in America. Earning your degree from a nonprofit university with state-of-the-art resources like ours can help set you apart from your peers.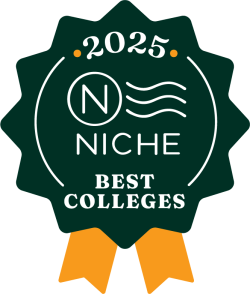 ---
Why Choose Liberty's Psy.D. in Clinical Psychology?
With our Psy.D. in Clinical Psychology, you can learn effective clinical techniques, essential behavioral theory, and develop your research and writing expertise. You will be equipped with a thorough understanding of human thought and behavior while formulating your research to further the field.
In this program, you'll find biblical applications woven into your coursework. This perspective in your research and practical training in psychology will help you develop professional and academic excellence without compromising an ethical appreciation for human life. Additionally, our caring faculty are devoted to helping you grow personally and academically.
How do I know the Psy.D. is the right program for me?
The Doctor of Psychology in Clinical Psychology can be an especially good option for you if:
You already have state licensure and want to expand your options.
You are already a Liberty student.
You want a degree that isn't just about research.
You want a faith-based doctoral degree in psychology.
You want to gain a license as a clinical psychologist.
You want to pursue academic roles in clinical psychology.
Earning a Psy.D. with Liberty means that you will be trained to critically and biblically engage with research and clinical practice. If you want to engage in the highest level of scholarship while making a direct, positive difference in patients' lives, Liberty's Psy.D. in Clinical Psychology is the program for you.
---
What Will You Learn in Our Psy.D. in Clinical Psychology Degree?
Liberty's Psy.D. in Clinical Psychology is designed to build on your previous study and experience in human psychology. Through this program, you can develop into a researcher and psychologist who demonstrates ethical and academic excellence while integrating biblical values into your practice.
The Doctor of Psychology in Clinical Psychology is designed to equip you with the top-level credentials, advanced studies in psychology, and practice-focused skills you need to be an expert in the field of mental health. Through this program, you will:
Act in accordance with the APA Ethical Principles of Psychologists and Code of Conduct, relevant governance, professional standards, and guidelines.
Apply ethical decision‐making processes to meet the most significant challenges of the field.
Conduct evidence‐based mental health assessments consistent with the scope of Health Service Psychology, interpret assessment results, and effectively communicate assessment findings and implications to a range of audiences.
Develop advanced research and scholarship with the potential to meaningfully contribute to the body of scientific, psychological, and professional knowledge.
Learn about the structure of the brain, neurochemistry, and psychopharmacology.
Learn evidence-based therapies like emotion-focused therapies and how to use biofeedback and neurofeedback.
Learn how to administer and interpret cognitive and psychological tests such as family assessments, behavioral observation scales, objective personality tests, and more.
Learn how to integrate a biblical worldview into the practice of clinical psychology.
Gain experience working in a wide range of settings: private practice, hospitals, community-based clinics, schools, and churches.
Obtain a solid foundation in research design and statistics.
Provide training, consultation, and supervision to other professionals: psychiatrists, physicians, social workers, and counselors.
Structured Course Sequence and Hands-on Experience
The Psy.D. in Clinical Psychology is designed to follow a pre-set course sequence with built-in opportunities to gain hands-on experience and develop your dissertation research.
In the second year of the program, you will be placed in an affiliated practicum site in the Lynchburg area to gain experience in a clinical setting.
To give you a thorough background of experience and hands-on practice for your dissertation research, you will complete the final year of your program in a clinical internship. Through this process, you will work remotely with your dissertation chair and mentors.
View the Degree Completion Plan, and check out our featured courses below for more information about what you'll learn.
Featured Courses
PSYD 601 – Introduction to Clinical Practice II
Here's what you'll learn:
Advanced clinical interviewing strategies and skills
APA ethical guidelines
Professional and career development
PSYD 605 – Lifespan Development I
Here's what you'll learn:
An overview of the important psychological developments that occur throughout the life span
Central issues of human functioning such as intelligence, social relations, motor functions, gender, faith, morality, and selfhood
The change of people from infancy to senescence
PSYD 610 – Child and Adolescent Psychopathology I
Here's what you'll learn:
Classification, the context of normal development
Diagnostic procedures and techniques
Issues of culture and diversity in regard to assessment and diagnosis
Psychopathology and diagnostic clinical work with children and adolescents
PSYD 706 – Research Design II
Here's what you'll learn:
How to create research designs tailored for clinical practice
How to perform program evaluation and qualitative research designs
How to use scientific data to inform clinical practice
The additional threats to validity involving construct and statistical outcome validity
The process for building research plans for single, evidence-based case series designs
Highlights of Our Psy.D. in Clinical Psychology
During the Psy.D. program, you will also earn a Master of Arts in Clinical Psychology after you complete specific courses on the degree plan.* This additional degree will help you complete your clinical requirements while earning your doctorate.
You will learn from faculty members who have years of professional counseling experience with agencies like the Department of Veterans Affairs, as well as in schools, churches, and private practices across the nation and around the world.
Graduate assistantships are available for doctoral students.
*Courses to earn the M.A. in Clinical Psychology in passing: PSYD 600, 601, 605, 610, 615, 701, 703, 704, 706, 707, 708, and 796 (twice)
Clinical Psychology Doctoral Degree Information
Residential
126 total hours
Transfer in a total of 39 credit hours from an APA-accredited program.
In order to follow APA guidelines, this program admits 25 students each year on an integrated, organized sequence of study. For more information, view the pre-defined course sequence in the Degree Completion Plan.
Toward the end of their coursework, students will be disseminated into internship sites throughout the country for a full‐time internship year. During this time, each student will work with their dissertation committee (remotely) to complete their dissertation research.
The following courses may be considered for transfer: PSYD 605, 702, 703, 706, 707, and 709 – all other courses are non-transferable.
This program falls under the School of Behavioral Sciences.
View our course catalog.
Career Opportunities for Psy.D. Graduates
Graduates of the Psy.D. in Clinical Psychology will be well-equipped to pursue many roles related to psychology research and clinical practice, including:
Clinical counseling ministry
Clinical psychologist
Counseling program department head
Psychology professor
Psychology researcher
Admission Requirements for the Psy.D. in Clinical Psychology
Every application is reviewed on a case-by-case basis, and all applicants must submit the following documents and meet the minimum requirements for admission:
Admission application
Self-certification form (for students who are in the final term of their bachelor's degree)
Current Liberty undergraduate students seeking preliminary acceptance into a graduate program must complete a degree completion application through their ASIST account
A regionally or nationally accredited bachelor's degree with a GPA of 3.0 or higher from an accredited institution with at least 18 credit hours in Psychology*
The GRE is not required, but applicants are strongly encouraged to take the GRE General Test. A minimum composite GRE score of 300 will contribute positively to the applicant's success.
3 letters of recommendation (2 from professional sources and one from an academic source) that speak to the student's character, work ethic, teachability, leadership potential, quality of academic work, and ability to do doctoral-level work.
Personal Essay – 500-700 words in APA format, answering the following questions:

Describe your understanding of the professional identity of a clinical psychologist and then identify any specialty areas you may be interested in pursuing as a clinical psychologist (Neuropsychology, Pediatric, Gerontology, Forensic, Health/Behavioral Medicine, Sports Psychology, or Other).
Please tell us why you are pursuing a Psy.D. through Liberty University. Specifically, focus on any relevant life experiences that may have informed and shaped your decision, your career goals, and how you plan on navigating your current responsibilities with the demands of the program. 
Please tell us why you want a doctoral degree in Clinical Psychology from this program.

Department Approval – This includes a Faculty Interview with finalists in the application process.
*At least 18 semester hours in psychology are required and must be completed before the 2nd semester (spring) of the Psy.D. program, including at least one course in each of the following groups of courses: General Psychology, Abnormal Psychology or Psychopathology, Quantitative Methods, Statistics, Research Methods or Experimental Design, Personality Psychology or Theories or Psychotherapy, Physiological Psychology; One course from the traditional "Scientific Sub-disciplines" (i.e. Learning Cognition, Social or Developmental Psychology, or Sensation/Perception).