Spark Your Creativity for a Career Centered on Strategic Innovation with Liberty
Ready to take your career goals to the next level? Train for esteemed industry positions like advertising director, chief marketing officer, web strategies specialist, or director of customer relations. At Liberty, our master's degree can expertly equip you for any of these roles.
Our Master of Arts in Strategic Communication – Digital Communication is designed with you in mind. Because we focus our curriculum on current technology, trends, and best practices, you can be confident your degree can provide the industry skills employers are looking for.
Learn how to create impactful campaigns and events centered on consistent branding. Develop a strong ability to produce content that tells a story and truly connects with your target audience. Today's consumers have more power than ever, so catering to their interests and behaviors is vital to your success in the communications field.
Take the next step toward a career like no other. The possibilities within this growing industry are limitless, so partner with us at Liberty as we prepare you for all specialized areas. Develop your advertising and public relations skills with peers and professors who are just as passionate about the field as you are!
Award-Winning Campus
At Liberty, you'll find an affordable, high-quality education that equips students like you for the real world. Our commitment to excellence helped us rank among Niche.com's Top 3 college campuses in America. Earning your degree from a nonprofit university with state-of-the-art resources like ours can help set you apart from your peers.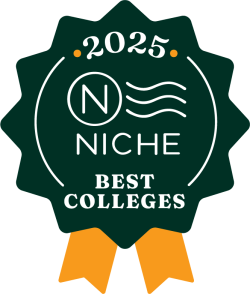 ---
Why Choose Liberty's Master of Arts in Strategic Communication – Digital Communication Degree?
At Liberty, our degrees consist of more than lectures and final exams. In our master's in strategic communication – digital communication degree, you can be trained by savvy and award-winning faculty who have years of industry experience. They are excited to mentor and pray for you throughout your academic journey with us.
Learn hands-on with peers and professors alike using top-of-the-line industry resources like Adobe Creative Suite. Create content, campaigns, and events that can be used by real clients. All of these projects together create an impressive professional résumé you can show off to future employers. Earn your degree and accumulate industry experience all at the same time.
Our alumni have gone on to work with prestigious organizations like Genworth, Amazon Web Services, Kate Spade, and the Wounded Warrior Project. Earning a master's in strategic communication prepares you for exciting roles in advertising, marketing, web strategy, creative services, and customer relations. Use the networks we have through our faculty, students, and alumni to land your dream job in any of these fields.
---
What Will You Learn in Our MA in Strategic Communication – Digital Communication Degree?
Learn how to grow an organization and earn a reputation for obtaining results! Liberty's Master of Arts in Strategic Communication – Digital Communication can help you build effective mobile and online communication plans while incorporating our biblical worldview to provide ethical guidelines in all your professional endeavors.
Within your strategic communication courses, you can create strategic marketing campaigns featuring video and digital content approaches that stand out in the current marketplace. Learn how to target campaigns to specific audiences and increase your return on investment.
You'll focus on effective storytelling principles to help you create strategic marketing campaigns using video and digital content. Your professors can provide guidance on how to develop and manage social media and web strategies from creation to implementation to the final product.
View the Degree Completion Plan, and check out our featured courses below for more information!
Featured Courses
STCO 532 – Media Technologies and Communication Strategies
STCO 533 – Video, Social and Mobile Promotion
STCO 562 – Using Emerging Trends in Strategic Communication
STCO 622 – Strategic Organization Communication
Highlights of Our Strategic Communication Master's Degree
Our Master of Arts in Strategic Communication – Digital Communication degree is a part of the School of Communication and the Arts. As a student of this department, you will receive the following benefits:
A curriculum focused on experiential and hands-on learning
Training with over $1 million in state-of-the-art equipment and facilities
The development of your professional portfolio while working in our radio and television studios, an on-campus sports network, client promotional projects, and our student-run public relations firm and school newspaper
A career-focused degree with instructors who have both academic and professional credentials, and many of them working in their field as they teach
An education from a nonprofit, Christian university, whose aim is to help raise the next generation of media professionals with personal integrity and unshakable ethics grounded in the Christian faith
Master of Arts in Strategic Communication – Digital Communication Degree Information
Career Opportunities for Strategic Communication Master's Degree Graduates
Advertising director
Business manager
Chief marketing officer
Creative services director
Director of customer relationships
Web strategies specialist
Admission Requirements for Graduate Degrees
Every application is reviewed on a case-by-case basis, and all applicants must submit the following documents and meet the minimum requirements for admission:
Admission application
Self-certification form for students in the final term of their bachelor's degree
Current Liberty undergraduate students seeking preliminary acceptance into a graduate program must complete a degree completion application through their ASIST account
Official college transcripts
A regionally or nationally accredited bachelor's degree with at least a 2.5 GPA for admission in good standing