Become a Biblical Scholar with a Greek Certificate
Are you passionate about understanding God's Word and ministering to others? Maybe you're a pastor, youth leader, author, or educator. Whatever the calling is on your life, pursuing Liberty University's Certificate in Greek is an exciting way for you to dive deeper into your understanding of the Bible so you can more effectively share the Gospel with others.
What you'll find when you're studying Greek is that the courses in this certificate can help extend your appreciation of the Gospel. You can understand Jesus' own words in the language in which they were originally written. With an earned certificate, you can advance your career and your skillset in whatever type of ministry you desire.
Pursuing this certificate also means taking advantage of all the benefits that our John W. Rawlings School of Divinity offers. Each of our professors have real-life ministerial experience and are either working on their doctorate or have already earned it. You will also have access to state-of-the-art facilities in our Freedom Tower, like a massive Scriptorium, a working replica of the Gutenberg printing press, a 7-projector immersive classroom, and a homiletics teaching lab.
---
Award-Winning Campus
At Liberty, you'll find an affordable, high-quality education that equips students like you for the real world. Our commitment to excellence helped us rank among Niche.com's Top 3 college campuses in America. Earning your certificate from a nonprofit university with state-of-the-art resources like ours can help set you apart from your peers.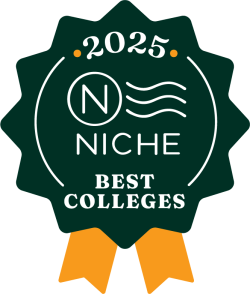 ---
What Will You Learn?
Our certificate in Greek will lead you through a study of the New Testament's culture, language, and historical context, culminating in an exegetical breakdown of the book of Galatians. You can learn the foundational lexical, semantic, and syntax tools you need to understand and interpret biblical Greek.
On a more practical level, you can learn how valuable Greek is in interpreting Scripture and how to share Greek studies in a way your audience will understand. View the Certificate Completion Plan, and check out the courses you will be taking in our certificate program!
Required Courses
NGRK 520 – Beginning Greek I
NGRK 525 – Beginning Greek II
NGRK 620 – Greek Syntax
NGRK 643 – Greek Exegesis: Galatians
---
Highlights of Our Graduate Certificate in Greek
Learn under professors who are published and have advanced degrees in their field as you pursue a degree founded on the authority of Scripture and conservative evangelical theology.
Our John W. Rawlings School of Divinity is the world's largest accredited school for religious studies and ministerial training.
Gain internship opportunities with churches and parachurches locally, nationally, and globally.
Our 17-story School of Divinity Freedom Tower contains a 7-projector immersive classroom, an interactive classroom that utilizes teleconferencing capabilities, and a state-of-the-art homiletics teaching lab.
Our Freedom Tower's Scriptorium houses a $1 million collection of rare books and Bibles donated by the Rawlings family.
Optional Monday-only courses are available for students juggling work, family, studies, and church commitments.
---
Greek Certificate Information
Admission Requirements
Every application is reviewed on a case-by-case basis, and all applicants must submit the following documents* and meet the minimum requirements for admission:
Admission application
Unofficial college transcripts with at least a 2.0 GPA and a completed Transcript Request Form. An official final college transcript showing a completed bachelor's degree is required before first-semester enrollment.
*Note that additional documentation may be requested by the admission committee after your application has been received.