Prepare for an Exciting Career in STEM with a Master's Degree in Biomedical Sciences
You are passionate about examining the complexities of the human body. You love learning about the structures and functions of living organisms. You want to turn your passion for health and biology into a career that lets you make exciting discoveries in the field of medicine.
If that sounds like you, Liberty's Master of Science in Biomedical Sciences (MSBS) degree is a great next step to take in your academic journey. Our program can help provide the tools you need to expand your skill set and hone your expertise.
Whether you want to teach science at the postsecondary level, prepare for medical school, or work in the private sector of the biomedical industry, our graduate degree can help! You can become equipped to pursue a career that lets you impact people around the world. Partner with us and prepare to become a Champion for Christ in your personal and professional life.
What does a biomedical sciences professional do?
Can you get into medical school with a biomedical sciences degree?
Award-Winning Campus
At Liberty, you'll find an affordable, high-quality education that equips students like you for the real world. Our commitment to excellence helped us rank among Niche.com's Top 3 college campuses in America. Earning your degree from a nonprofit university with state-of-the-art resources like ours can help set you apart from your peers.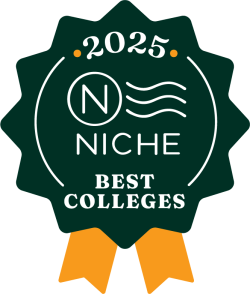 Why Choose Liberty University's Biomedical Sciences Master's Program?
Our beautiful campus in Lynchburg, Virginia, is home to a wealth of top-notch resources designed to enhance your college experience. We are committed to offering quality academics, cutting-edge equipment, and practical training that equips you for the real world.
Choosing Liberty means choosing:
Hands-On Learning Experiences
Liberty has more than 20 teaching and research laboratories where you can study everything from cell biology and forensic science to environmental biology and zoology. By working in these labs, you can take what you've learned in the classroom and apply it to the real world. Most importantly, you can gain on-the-job experience that could help you stand out to future employers.
Our labs are filled with professional, state-of-the-art equipment. Take a look at all of the equipment that will be at your disposal! From spectrometers to DNA sequencers, you'll get to operate the very same equipment used by industry professionals.
Do you want to explore a particular topic in biology or chemistry? If so, you may want to participate in one of our research opportunities. Whether you are interested in conservation research or disease prevention, we provide numerous opportunities for you to conduct your own research, do research simulations, and assist professors in their ongoing research projects. Along the way, you'll gain valuable, hands-on experience and mentorship from our distinguished faculty.
High-Quality Academics
At Liberty, you will learn from the best. Our faculty have advanced degrees from prestigious institutions and years of industry experience. They can help equip you to grow spiritually, academically, and professionally as you develop expertise in your field.
If you are looking for more ways to expand your knowledge and boost your résumé, join one of our student organizations! Learn how to conduct academic and professional research with the Scientific Research Society (SRS), or prepare for medical school with our Pre-Medical Honor Society.
Flexible Degree Completion Options
We know that every student is unique, and we want our degrees to reflect that. Depending on your academic and career goals, you can choose either a 1- or 2-year degree track for the M.S. in Biomedical Sciences. If you are looking for a faster way to prepare for medical school or launch your career while saving time and money, our 1-year track is a great option!
---
What Will You Learn in Our M.S. in Biomedical Sciences Program?
This master's degree can enhance your understanding of how biology and medicine intertwine. You'll explore how to use scientific research to make advancements in the healthcare field. Our biomedical sciences courses explore many essential topics, including human genetics, immunology, biochemistry, biostatistics, cell biology, and pathology. Upon graduation, you could potentially pursue a doctoral degree, attend medical school, or advance to higher-level roles in the biomedical industry.
Experience a curriculum taught from a biblical worldview. We believe that integrity is the most important characteristic of any professional, so you will learn how to integrate ethical standards with industry best practices. Liberty's course in biomedical ethics can help equip you to make moral medical decisions, as well as evaluate the ethicality of various scientific advances.
In this program, you'll receive a mix of classroom instruction and hands-on lab experience. You will complete several required courses, as well as some electives of your choice. That way, you can tailor your degree to match your interests and career goals. As one of Liberty University's post-bacc degrees, the M.S. in Biomedical Sciences is designed to help enhance your academic record and equip you to apply to medical school.
View the Degree Completion Plan, and check out our featured courses below for more information.
Featured Courses
BIOM 503 – Human Genetics
BIOM 600 – Biomedical Ethics
BIOM 610 – Human Neurology and Neuroanatomy
Highlights of Liberty University's Master's in Biomedical Sciences Degree Program
At only 39 total credit hours, you can complete this master's degree in as little as 1 year!

Join Liberty University's Public Health Student Association (LUPHSA) to receive more professional growth opportunities.

Explore over 20 teaching and research laboratories, including our Health Promotion Lab, Human Performance Lab, Functional Assessment Lab, Athletic Training Lab, and Standardized Patient Center.

Take advantage of our professional-level research equipment, including a gene sequencer, tissue culture facility, fluorescent microscope, LICOR imager, and more.

Participate in exciting research projects and study subjects like algae biofuels, Alzheimer's disease, cancer, DNA, crayfish parasites, and more!

In this program, you'll learn from faculty who have years of experience working in academia and the professional world.
Master's Degree in Biomedical Sciences Information
Residential

39 total credit hours

Transfer in up to 50% of your total degree

This program falls under the

School of Health Sciences

.

Download and review Liberty University's biomedical sciences

DCP

(Degree Completion Plan)

.

View our

course catalog

for more information.
What Can You Do with a Biomedical Sciences Master's Degree?
Earning this degree can help you pursue many challenging, rewarding careers in science. One question many students have is "Can you go into medicine with a biomedical sciences degree?" If you want to become a doctor, our biomedical sciences degree can help provide the tools you need to apply to medical school!
Other biomedical careers you may also want to consider after completing this program include:
Chemical technician

College professor

Environmental biologist

Forensic biologist

Medical technologist
Admission Requirements for Liberty's Biomedical Sciences Master's Degree Program
Every application is reviewed on a case-by-case basis, and all applicants must submit the following documents and meet the minimum requirements for admission:
Admission application

A regionally or nationally accredited bachelor's degree with at least a 2.75 GPA

Self-certification form

(for students who are in the final term of their bachelor's degree)

Current Liberty undergraduate students seeking preliminary acceptance into a graduate program must complete a

degree completion application

in ASIST
Prerequisites include:
1 year of general chemistry with lab
1 year of biology with lab
1 semester of organic chemistry with residential lab (2 semesters recommended)
1 semester of physics with residential lab (2 semesters recommended)
1 semester of biostatistics recommended
You will also need any 4 of the following courses:
1 year of anatomy/physiology OR 1 semester of physiology OR 1 semester of anatomy
1 semester of genetics
1 semester of microbiology
1 semester of cell biology
1 semester of biochemistry
Must enroll in BIOM 500 (Introduction to Biomedical Science) and receive a minimum grade of B- if 4 of the 6 prerequisite requirements have not been completed
Submission of one of the following test scores*: 

MCAT composite score of 490 or

PCAT score of 50 or higher or

DAT 14.5 Average or

GRE Verbal 140; Quantitative 145 
*Liberty University is suspending the test score admission requirement for the 2023-2024 and 2024-2025 academic years.