Affording College
50%
Getting a good education is important.
So is having the freedom to get a good job after graduation and start making your mark — without being held back by unnecessary debt.
At Liberty University, we believe everyone should have an equal opportunity to pursue higher education, and it's our job to keep that education affordable for you.
That's why more than 96% of Liberty students receive some form of financial aid.
And why we're developing innovative financial solutions to help you out, like refusing to raise tuition or room and board costs for the 2019-20 school year.
A Liberty education is one of the most affordable private educations in the country. Learn how it can be an affordable one for you.
50%
50%
Net price calculator
A net price is how much you'll pay for college in a single academic year AFTER scholarship and grant money is subtracted. When you enter your information into our net price calculator, it will tell you how much students like you paid to attend Liberty last year, after taking financial aid into account.
College Cost Breakdown
Knowing up-front what you're paying for and why can go a long way toward making you feel comfortable about your investment.
25%
What kinds of financial aid can I qualify for?
Scholarships, grants, loans — because Liberty's mission is Training Champions for Christ, you'll find a variety of financial solutions to help you get the best education for the most affordable price. There are countless ways to create a personal scholarship package — check out some of our most common combinations, or design one of your own!
75%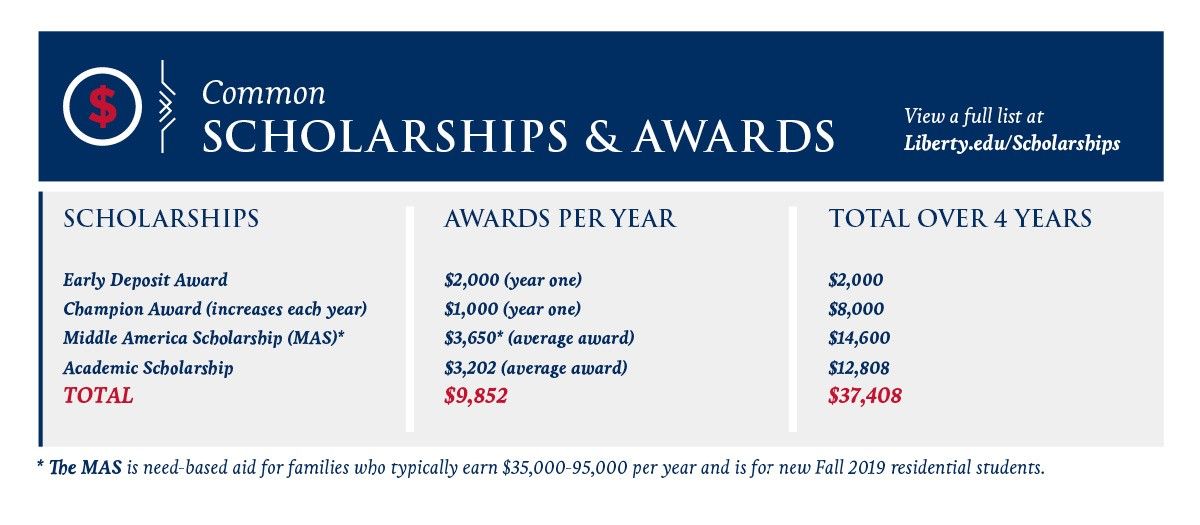 67%
33%
Are there any perks to being in-state?
If you live in Virginia, you already know everything the Commonwealth has to offer — from mountains, beaches, and historical monuments to big cities, small towns, sophistication, and down-home hospitality. It has a little bit of everything. It's home.
And if Liberty becomes your college home, you'll qualify for at least $1,500 per year just for being a Virginia resident.
100%
Ready to make a great investment?