Our Mission
Liberty University develops Christ-centered men and women with the values, knowledge, and skills essential to impact the world. Here we Train Champions for Christ.

The mission of Liberty University isn't just to help you get a degree — it's to train up leaders who use their God-given gifts and abilities to transform the world for good.
As you're deciding whether to attend Liberty, you may have several questions, such as "What is Liberty University's statement of faith?" or "What is Liberty's mission statement?" Here we answer these questions and more. Find out what sets us apart — and how our commitment to the Gospel shapes our approach to education.
Apply today and prepare to make a difference in your workplace, your community, and the world.
Award-Winning Campus
At Liberty, you'll find a welcoming environment that equips students like you for the real world. Our commitment to our values helped us rank as Niche.com's #2 most conservative college in America.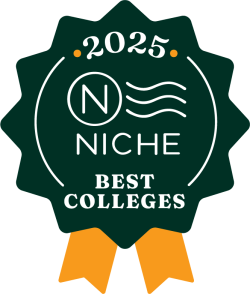 ---
Liberty University's Values
Since 1971, excellence, mentorship, commitment to a biblical worldview, service-mindedness, and responsible stewardship have defined who we are. And that's how it's going to stay.
Excellence is part of our DNA. From the beginning, we've been saying, "If it's Christian, it ought to be better." From academics to athletics to the way we train students to be champions in every area of life, excellence is more than a buzzword — it's our standard.
Mentorship means that our students are not statistics — they're family. And earning a Liberty degree means not only getting an academically rigorous education, but also sitting under experienced professionals who care about their students and who personally mentor them. Liberty students learn to lead under leaders who build them up and send them out, equipping them to live life after graduation with wisdom and grace.
Our commitment to a biblical worldview is not lip service but the foundation of our identity as a Christian university. And though we are evangelical in both tradition and method, we celebrate the commonalities shared by all Christians — they are what unify us and equip us to celebrate our diversity as individuals.
Being service-minded means making others a priority. Whether it's serving one another within our community — our classmates, coworkers, and peers — or working to effect social change outside our community, we believe coming alongside those in the midst of difficulty and standing up for them is a privilege and an important way we demonstrate being Champions for Christ.
Responsible stewardship has always been a hallmark of Liberty's character. We hold ourselves accountable to decisions that affect our students and our community — from developing innovative scholarship solutions to promoting sustainability and environmental responsibility. We resolve to give our best and do our best with whatever God graciously provides us.
Liberty University's Philosophy of Education
Liberty University's Statement of Mission and Purpose
Liberty University's Doctrinal Statement
Are you ready to become a Champion for Christ?
---
Frequently Asked Questions
What is Liberty University's motto?
What is Liberty University's vision?
What does Liberty University believe?
What denomination is Liberty University affiliated with?