Make an Impact on the Lives of Others with a Master's in Psychology from Liberty
Are you interested in learning more about what motivates people spiritually, socially, and occupationally? Do you enjoy analyzing how people think and react to different situations? Maybe you're in search of a college or university that offers you the chance to learn about psychology from a business perspective, or maybe you'd like to pursue graduate studies in hopes of working in developmental psychology someday. If so, a master's in psychology from Liberty University could be a great way for you to pursue a rewarding, lifelong career! 
Liberty University offers 2 residential graduate programs in psychology. The first option is an MS in Psychology – Developmental Psychology, which covers topics like social and cognitive psychology as well as conditioning, learning, and neuropsychology. Our MA in Applied Industrial/Organizational Psychology is a bit different. This program seeks to prepare you to tackle organizational, administrative, and managerial problems in business settings through the practical application of psychological principles.
The goal of both master's in psychology programs at Liberty is to help make you a versatile, knowledgeable professional who is skilled in a number of areas. From research analysis and program development to college instruction and workforce management, a master's degree in psychology from Liberty can help you prepare for the career path you're most interested in.  
Both of our master's in psychology programs can also prepare you to pursue doctoral studies in the future. Wherever your career goals are leading you, prepare by earning your graduate psychology degree from Liberty — a university that is dedicated to your personal and professional success.
Award-Winning Campus
At Liberty, you'll find an affordable, high-quality education that equips students like you for the real world. Our commitment to excellence helped us rank among Niche.com's Top 5 college campuses in America. Earning your degree from a nonprofit university with state-of-the-art resources like ours can help set you apart from your peers.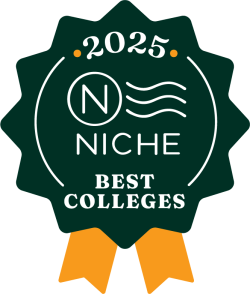 ---
Why Choose One of Liberty's Psychology Degrees?
Pursuing a master's degree is a great way to take your specific skill set and interests to the next level, so you can land a career in a field that will be uniquely rewarding for you! Our psychology master's programs provide courses with the highest academic rigor without ethical compromise. At Liberty, our master's in psychology are taught by professors with real-world field experience using curriculum founded on strong biblical principles.
As a nonprofit Christian university, our mission is to Train Champions for Christ. We integrate the Christian faith into the training you receive in industry-standard psychological science. Walk away with a degree that expands your understanding of scientific methods and procedures.

Stand out to employers for your integrity and level of academic prowess. We believe your interests can be turned into a God-honoring career in the field of psychology. Let us help you get there!
---
What Will You Learn in Our Master of Science in Psychology Degree?
Our MS in developmental psychology program provides foundational training in statistics, research design, and mental health, as well as an overview of social, cognitive, and clinical psychology. Our classes examine measurement issues, research ethics, and correlation and regression. You will also have a lab component that can help you gain computer software skills that are vital in data analysis.
The developmental psychology program offers you the opportunity to select 3 elective courses of your choosing — allowing you to gain more specific training in areas that interest you the most. Additionally, our developmental psychology specialization provides a deeper understanding of developmental issues that people face in all stages of life.
---
What Will You Learn in Our Master of Arts in Applied Organizational Psychology Degree?
While the MS in developmental psychology is more theoretical in nature, our MA in Applied Industrial and Organizational Psychology is designed to be more practical and hands-on. As a student in the MA in organizational psychology program, you will study the psychology of performance. Additionally, you will learn about key factors that affect workplace performance as well as methods for motivating people to do their best work. 
The advanced study of industrial and organizational psychology that this degree program offers can help you become a knowledgeable business professional who can analyze workplace behaviors, improve employee performance, and boost employee morale. 
Highlights of Our Psychology Master's Degrees
Complete your entire master's in as little as 2 years.
Our CSI-Rho Eta student chapter provides the chance for you to grow professionally and spiritually as you network and interact with successful counseling professionals.
Learn how to conduct research and generate reports appropriate for your future psychology-related profession!
Our student-to-professor ratio for residential graduate students is 8:1. Our faculty care deeply for their students, praying for and with them throughout their academic journey.
Our programs are designed for professionals from all walks of life. We don't just want to help you with career advancement

—

we want to help you impact the world and the well-being of others in the spirit of Christian service.
Master's in Psychology Degrees Information
Applied Industrial/Organizational Psychology
Applied Industrial/Organizational Psychology