Prepare for a Bright Future by Studying the Past with an Associate of Arts in History
Are you interested in studying the great historical leaders, events, and literature of the past? Earning an associate degree in history is a great way to start your educational journey towards a career in a history-related field. Throughout this degree, you will gain skills in professional-level writing, research, and critical thinking.
You will study American and world history, civic and global engagement, and have opportunities to interpret historical documents. If you wish to pursue a four-year bachelor's degree in the future, then this associate degree program will be the perfect beginning to transition to a higher degree.
Liberty's mission is to Train Champions for Christ who go into all career fields as representatives of their faith. In considering our historical past taught through a biblical worldview, we can construct the type of future we want with clarity and understanding. Consider pursuing our associate degree in history, and see your future career in a history-related field become a reality.
Award-Winning Campus
At Liberty, you'll find an affordable, high-quality education that equips students like you for the real world. Our commitment to excellence helped us rank among Niche.com's Top 3 college campuses in America. Earning your degree from a nonprofit university with state-of-the-art resources like ours can help set you apart from your peers.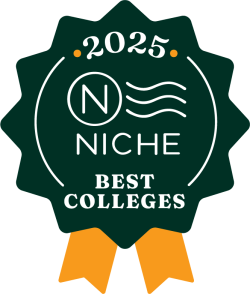 ---
Why Choose Our A.A. in History?
Our Associate of Arts in History emphasizes the understanding of past events and how they affect the present and future. You will engage in critical thinking, written analysis, research, and interpretation studies throughout this degree program. These skills will help you in your career pursuits.
Our campus is perfectly situated in the heart of Virginia, with dozens of historical sites within a four-hour radius. Lynchburg itself is rich in history with historical sites like Thomas Jefferson's Poplar Forest just a 10-minute drive from campus.
As you study American history, you can visit places like Jamestown, Williamsburg, Yorktown, and Washington D.C. Check out Gettysburg, Winchester, Richmond, and Appomattox when you learn about the Civil War. If you are interested in a hands-on learning experience, drive 15 minutes from campus to Mead's Tavern — which was built in 1763 and is now owned by Liberty — where you can study archeology, architecture, and history of the era in which the house was built.
Your experienced professors will challenge you and show you how to integrate your Christian faith with the vocational skills that will prepare you for your future. Our Career Center is part of the effort made at Liberty to help you prepare for job searches, mock interviews, and so much more. Should you wish to expand your education, you can easily transfer credits earned in your associate degree to our bachelor's program.
---
What Will You Learn in Our Associate Degree in History?  
Our history classes not only provide training in American and world history, but they also equip you with the soft skills you need to be successful in any career field you choose. You can learn how to communicate effectively, write research papers, develop a strong work ethic, and lead with biblical principles.  
Throughout this degree, you will dig deep into fascinating historical periods, western civilization, and how Christianity has helped shape the world we live in today. You'll learn how to identify modern perspectives and appreciate historical events with informed insight. The wisdom you gain from looking at the past can be a great asset in various careers.
Our experienced professors will help cultivate your love of history and integrate your faith into all aspects of your degree. You can graduate with confidence in your abilities and the impact you will have on those around you.
Featured Courses
HIST 300 – Historical Methodology
Here's what you'll learn:
An exploration of the historical discipline
The meaning and interpretation of history, methodology, research techniques, and career opportunities
HIEU 202 – History of Western Civilization II
You'll study the major currents in Western civilization since 1648
HIUS 221 – Survey of American History I
Here's what you'll learn:
A survey of the political, social, and economic developments of America from the colonizing experience through the Civil War
An emphasis will be on the development of the American democratic tradition.
GEOG 200 – Introduction to Geography
You'll learn about the physical and cultural phenomena of the earth, stressing the spatial distribution of these phenomena
Highlights of Our Associate of Arts in History Degree Program
Mead's Tavern serves as an onsite laboratory for hands-on training in history, archeology, and more! 
Connect with Career Services for help in job searches, mock interviews, etc.
Our program has been the winner of the Phi Alpha Theta chapter of the year twice in the past eight years.
Three history majors have won the Provost Award for Excellence in Research in 2018.
This degree provides great preparation to transfer into a bachelor's degree program at Liberty University.
Associate of Arts in History Degree Information
Career Opportunities for Associate of Arts in History Graduates
Genealogy librarian/assistant
Museum curator (may require bachelor's or advanced degree)
State monument, national monument, and park positions
Various entry-level federal and state government agency jobs
Writer
Admission Requirements for Undergraduate Degrees
Every application is reviewed by the admission committee on a case-by-case basis, meaning there are no set minimums for acceptance. However, all applicants must submit the following documents* for admission:
Admission application
Official high school transcripts
Official college transcripts (if applicable)
Results from the CLT, SAT, or ACT are not required for admission, but may be used in consideration for merit-based aid.
Admission essay
*Note that additional documentation may be requested by the admission committee after your application has been received.