---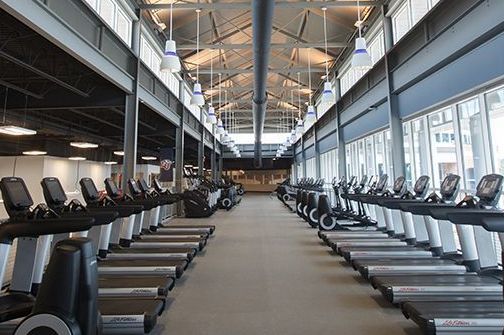 Did You Know?
Over 100 classes per week are offered in Zumba, Pilates, CrossFit, cycling, aerobics, and more throughout the school year.
The Liberty Mountain Trail Series hosts six races per year, from 5Ks to full marathons.
A registered dietitian is available to all students for personal nutrition assessments and counseling.
Liberty is one of 52 campus partners from 30 states joining together with the Partnership for a Healthier America (PHA) Healthy Campus Initiative, a national program that supports health and wellness on college campuses.
Liberty dining offers a minimum of 5 fruits, 5 vegetables, and 2 whole grains every lunch and dinner.
The LaHaye Recreation & Fitness Center recorded more than 30,000 visits per week over a seven-week span last spring.
The fitness center hosts close to 32,000 participants in group exercise classes per year — an average of more than two classes per student.
The Live Healthy Liberty Campus Coalition brings together representatives from departments across campus who meet quarterly to develop programs that support and facilitate healthy behaviors.
Users logged a total of 310,543 miles on LifeFitness Cardio stations last year.
The first film released nationally by Liberty's Cinematic Arts department was about ultra-marathon legend and Liberty professor Dr. David Horton — it was called Extraordinary.
Plant-based food options are available at every dining station serving meat.
Nutrition
A focus on healthy eating extends across all dining areas on campus. Fresh ingredients, good-for-you snacks, and natural food choices are a priority, so you'll find them throughout our 24 diverse dining options.
Have a gluten intolerance? Gluten-free pitas, pasta, buns, bread, pizza crust, and other gluten-free options are available in nearly every location.
Want to eat like you're in training? Our Training Table dining area exclusively creates high-protein meals tailored for athletes — but you don't have to be an athlete to enjoy them. These high-performance meals are available to everyone.

Nutritious meal provided by Simple Servings in the Food Court at Reber-Thomas

Liberty chef at Simple Servings station helps students
Worried about a food allergy? Our award-winning Simple Servings station at the Food Court at Reber-Thomas offers meals prepared without gluten or seven of the most common food allergens:
Soybean
Shellfish
Tree nuts
---
On-Campus Student Health Center
Concerned about what will happen if you get sick at school? Don't be.
Liberty's on-campus medical health center is serviced by two doctors, three physician assistants, and nurses from Central Virginia Family Physicians (CVFP).* You can even have your prescriptions delivered to your dorm room.
*CVFP is a nationally recognized medical group that provides quality health services, promotion, and preventive care.

---
With issues like stress, anxiety, depression, and self-harm on the rise, easy access to mental health services is one important way Liberty cultivates a supportive culture for its students.
All actively enrolled residential, commuter, and local online students are eligible to receive counseling services through professional counselors. These include:
Emotional wellness workshops
Problem-focused sessions
Celebrate Recovery
Substance abuse counseling
Psychoeducational seminars
Group counseling
Individual counseling
Couples or family counseling
Mental health crisis services (on-call)
Extended counseling with a community provider
Psychiatric evaluations with a community provider
Learn more about our counseling services.