Dream Big with Liberty's School of Music
Imagine performing surrounded by fellow Christians worshiping together. Picture yourself leading your church in compelling, powerful worship. Envision your future classroom as you instruct the next generation of eager musicians. Any of these exciting careers are just a degree away with Liberty's School of Music!
At Liberty, our mission is to equip and train musicians to be Champions for Christ. In addition to our firm foundation in the Christian faith, our School of Music provides its students with countless opportunities to develop and display their musical abilities. For example, our LU Praise team performed at the ACDA National Convention and Inaugural Prayer Service for the president! 
We offer 12 unique Bachelor of Music (B.M.) degrees. Choose from programs like worship leadership, music education, and even commercial music. We also provide Bachelor of Science and Bachelor of Arts degrees so that you can tailor your college experience to your individual career goals.
Check out all of the degree options we have below in the School of Music and find the one that fits your needs best!
Licensure requirements may vary by state. Please research your state's licensure or reciprocity requirements here: https://www.liberty.edu/statelicensure/.
---
School of Music Bachelor's Degree Programs
Guitar Performance (B.M.)
Music and Worship (B.S.)
Our Bachelor of Science in Music and Worship can help you become the music minister or worship leader you aspire to be! Broaden your experience in teaching, management and discipleship, and worship evangelism.
Specializations
Music Education: Choral (B.M.)
Music Education: Instrumental  (B.M.)
Our Bachelor of Music in Music Education: Instrumental will prepare you with the instrumental techniques you need to become a competent music professional. You will also learn how to teach music in Christian, public, and private school settings as you work on obtaining your teaching licensure through the program.
Music Instrumental (B.S.)
Our Bachelor of Science in Music Instrumental is designed to develop your specific musical ability for the professional world while providing a large selection of free electives. This allows you some course flexibility if you are considering a minor or even double major!
Music in World Cultures (B.M.)
Our Bachelor of Music in Music in World Cultures is designed for students looking to study music theory, music performance, worship philosophy, and global studies all in one degree! Your courses will focus on equipping you for work in a variety of cultural contexts.
Music in World Cultures (B.S.)
Our Bachelor of Science in Music in World Cultures is designed to be completed in tandem with another major or a minor, so you can broaden your knowledge and skill set. Throughout the program, you'll explore important topics in music, ministry, and global studies as you prepare to pursue work in diverse cultural contexts.
Music Vocal (B.S.)
Our Bachelor of Science in Music Vocal is designed to prepare you for a career in music through voice training for singing and conducting. With this program, you will have 15-29 credit hours of free electives, so you have the freedom to further specialize your degree, add a minor or even double-major.
Piano Performance (B.M.)
Our Bachelor of Music in Piano Performance degree will fine-tune your musical abilities in areas like conducting and music technology while focusing heavily on piano performance. You will participate in a junior and senior piano recital to showcase your progress throughout the degree.
String Performance (B.M.)
Our Bachelor of Music in String Performance degree focuses on string techniques, string pedagogy, and string literature. You will complete various recitals and an internship in the program to boost your professional resume!
Vocal Performance (B.M.)
Our Bachelor of Music in Vocal Performance degree will expand your knowledge of music studies through conducting, music technology, vocal pedagogy, and contemporary styles while focusing on vocal development through courses, ensembles, recitals, and opera workshops!
Woodwind, Brass, or Percussion Performance (B.M.)
Worship Leadership (B.M.)
Our Bachelor of Music in Worship Leadership examines the impact of worship on the evangelical culture. Learn improvisation, contextualization, and leadership skills through practicum and internship experiences!
---
Why Choose a Bachelor's Degree from Liberty's School of Music?
Earn your music degree from Liberty and receive more than a diploma! Your courses will be full of hands-on learning, internship opportunities, and professional development. You deserve to study under industry leaders in music and worship, developing your talent with nothing but the best equipment and facilities.
As a School of Music student, you will have various resources at your disposal, including the following:
Over forty full-time faculty with degrees from many of the most prestigious music schools in the nation.
Liberty Music Group (LMG): Liberty's professional music publishing and recording company, providing students and staff opportunities to publish their work. Commercial music students will especially benefit from this resource!
Our 141,000-square-foot Center for Music and the Worship Arts building, which includes a large concert hall, state of the art lighting and audio technology, various recital halls, two Mac Labs, and a recording studio.
Additionally, Liberty is a designated "All-Steinway" school and has been rated #1 Christian music school by Christian Universities Online! As one of the largest schools of music in the nation, Liberty is accredited by the National Association of Schools of Music (NASM) and our students participate in numerous state and regional competitions, with many walking away champions.
We want you to experience the very best of the music industry. Let us come alongside you, providing exceptional faculty and resources to equip you with the bachelor's degree you need to succeed!
Award-Winning Campus
At Liberty, you'll find an affordable, high-quality education that equips students like you for the real world. Our commitment to excellence helped us rank among Niche.com's Top 3 college campuses in America. Earning your degree from a nonprofit university with state-of-the-art resources like ours can help set you apart from your peers.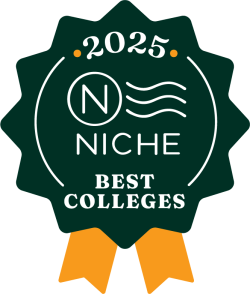 ---
School of Music Bachelor's Degree Information
Residential 
120-142 total credit hours
Transfer in up to 75% of your total degree
Check out our course catalog.
Admission Requirements for Undergraduate Degrees
Every application is reviewed by the admission committee on a case-by-case basis, meaning there are no set minimums for acceptance. However, all applicants must submit the following documents* for admission:
Admission application
Official high school transcripts
Official college transcripts (if applicable)
Results from the CLT, SAT, or ACT are not required for admission, but may be used in consideration for merit-based aid.
Admission essay
 *Note that additional documentation may be requested by the admission committee after your application has been received.