Become a Certified Aircraft Mechanic with Liberty's Associate Degree in Aviation Maintenance
Your college degree should equip you for not just the career you dream of, but also the specific job you desire. If that means becoming a certified aircraft mechanic, let us help! Liberty's aviation maintenance technician associate degree will help prepare you for the specific technical position you want within the vast field of aviation.
Not only is aviation a large field, but it's also a growing one! Within the next 20 years, there will be a worldwide need for over 640,000 new aircraft mechanics. This is a huge gap to fill, and as a nonprofit, Christian university, we want to train the next generation of men and women as Champions for Christ ready to fill the need with integrity and vision.
It's your time to make a difference. Partner your excitement for aircraft maintenance with our mission to bring Christ into all areas of the workplace. Fulfill the calling God has placed on your life. Earn a degree that takes your goals to the next level with Liberty.
Award-Winning Campus
At Liberty, you'll find an affordable, high-quality education that equips students like you for the real world. Our commitment to excellence helped us rank among Niche.com's Top 3 college campuses in America. Earning your degree from a nonprofit university with state-of-the-art resources like ours can help set you apart from your peers.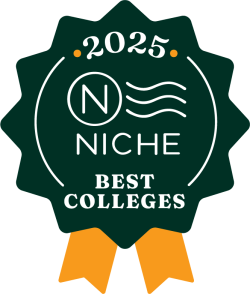 ---
Why Choose Liberty's Aviation Maintenance Technician Degree?
Pursue an associate degree that equips you for more. Liberty's aviation maintenance technician program is designed to prepare you for Airframe and Powerplant (A&P) certification, a vital license required by most employers. Additionally, your general education courses provide you with opportunities for future career advancement if you plan to obtain your bachelor's degree.
Liberty offers a bachelor's degree in aviation maintenance that flows seamlessly from this particular associate degree. With these transfer credits, you would only need to complete around 30 credits to walk away with a bachelor's degree, which is a great way to stand out among your peers and transition into higher, managerial positions.
Earn a degree that pushes you further. Gain the certification you need to work in your field right away while creating opportunities for further career development when you're ready for it!
---
Credit for Life and Work Experience
Another great plus at Liberty is the ability to take your experience and have it count towards class credits. You've worked hard, and we offer numerous opportunities for you to gain credit hours for the experience or licenses you have.
Already Have Your Mechanic's License? (Aviation Experience Plus) 

---
What Will You Learn in Our Aviation Maintenance Technician Associate Degree?
Our Associate of Arts in Aviation Maintenance Technician degree is designed to equip you with the skills and Airframe and Powerplant (A&P) license you'll need to land a job in the growing aviation industry.
As an aviation associate degree student, you will advance in your understanding of how to use mathematics and physics in your maintenance work. Our courses focus on a variety of systems you will need to be familiar with, including aircraft electrical, airframe auxiliary, hydraulic and pneumatic, engine electrical, and propeller systems.
Learn all you'll need to confidently pursue a career in aviation maintenance by studying at Liberty. We will provide you with hands-on experience checking and troubleshooting systems as well as making sure you are aware of proper operational and construction components vital to aircraft safety.
View the Degree Completion Plan, and check out our featured courses below to learn more about what you'll be studying!
Featured Courses
AVMT 202 – Aircraft Electrical Systems
Here's what you'll learn:
An advanced study of AC and DC electrical systems, electrical power generation and control; to include alternators, generators, motors, relays, switches, wiring installations, load analyses, and aircraft batteries
How to inspect, check, service, and troubleshoot airframe electrical components
AVMT 208 – Airframe Assembly and Inspection
Here's what you'll learn:
Materials, construction, inspection, and repairs using natural and synthetic fabrics
The identification, inspection, and application of finishing materials to both fabric and metal surfaces, including touch-up, trim, and lettering
Fundamentals of airframe assembly, rigging, aerodynamics, and controls
Conformity and airworthiness inspection requirements and procedures as they relate to the airframe, including knowledge and abilities needed to perform inspections and properly complete associated forms and paperwork
AVMT 209 – Landing Gear Systems
Here's what you'll learn:
Operating principles and basic maintenance techniques for aircraft landing gear systems
How to inspect, check, service, troubleshoot, and repair these systems.
AVMT 221 – Propeller Systems
Here's what you'll learn:
The construction and operation of propeller systems and their components, including fixed-pitch, constant-speed, and feathering propellers
Propeller synchronization systems, ice-control systems, and propeller governing systems
How to inspect, check, service, troubleshoot, and install propeller systems
Highlights of Our Aviation Maintenance Technician Degree
Within 15 years, Liberty's aviation programs have grown from just 4 to over 400 residential students, not to mention our additional online student population. No matter how far we have come, we will never stop pushing our programs to be the best they can be for students like you.
Some of the major benefits of being a Liberty student in the aviation maintenance technician associate degree program include:
Obtaining an Aviation Maintenance Certification: A&P (Airframe & Powerplant) license, a credential employers look for in their mechanics
Professors who know their students by name, providing prayer and support to each one
Top-line internships at major airlines and aviation companies, with opportunities to travel around the world
The School of Aeronautics' state-of-the-art flight simulators for enhanced learning
The opportunity to investigate real-world aviation issues by utilizing our research lab
Aviation Maintenance Technician Degree Information
Career Opportunities for Aviation Maintenance Technician Associate Degree Graduates
Some of the occupations that may be available for you upon graduating the aviation maintenance technician program include:
Airline Mechanic
Aviation Maintenance Technician
Licensed Aircraft Mechanic
Maintenance Manager
Military Aircraft Mechanic
Admission Requirements for Undergraduate Degrees
Every application is reviewed by the admission committee on a case-by-case basis, meaning there are no set minimums for acceptance. However, all applicants must submit the following documents* for admission:
Admission application
Official high school transcripts
Official college transcripts (if applicable)
Results from the CLT, SAT, or ACT are not required for admission, but may be used in consideration for merit-based aid.
Admission essay
*Note that additional documentation may be requested by the admission committee after your application has been received.