Master Your Craft with Liberty's Studio and Digital Arts Degree
Become the next industry leader in studio and digital art with a degree from Liberty! Our bachelor's degree in studio and digital arts is designed to prepare you for a wide range of careers. Whether you want to become a museum curator, animator, or commercial and industrial designer, let us help with our studio and digital arts degrees.
Are you looking to create logos and digital advertising campaigns? Get equipped with our graphic design focused degree. Interested in becoming an art educator? Whatever you are looking to do with digital arts, we have the specializations you need. The choice is yours!
At Liberty, your success is our success! You will study under professionals with years of field experience and degrees to match. Get access to industry-standard equipment to use in all your design pieces, and walk away with a professional portfolio capable of landing the design job of your dreams. In fact, because of the caliber of their work, our alumni have gone on to work for major companies like Capital One, Hallmark, Lord & Taylor, and the Motion Picture Association of America!
Get more than a college degree. Gain a wealth of industry knowledge and skill, refined by professionals that care about your career success. Find a degree that is deserving of your talent and career aspirations with Liberty's Bachelor's in Studio and Digital Arts degree.
Award-Winning Campus
At Liberty, you'll find an affordable, high-quality education that equips students like you for the real world. Our commitment to excellence helped us rank among Niche.com's Top 3 college campuses in America. Earning your degree from a nonprofit university with state-of-the-art resources like ours can help set you apart from your peers.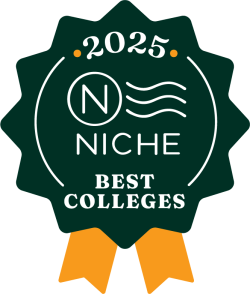 ---
Why Choose Liberty's Bachelor's Degree in Studio and Digital Arts?
Learn from Hands-On Experience
We provide our students with a free entrance to our Liberty University Art Gallery, which has displayed work from some of the most talented artists in the nation! During your program, take a walk through the exhibits and gain inspiration from these industry innovators.
Join one of our student art clubs, such as the American Institute of Graphic Design (AIGA) or the Studio Creative Community, to build your network and portfolio through community service projects, exhibits, professional guest speakers, and design workshops.
You even have the option to study abroad! Visit cities like Paris and London with peers and professors as you expand your artistic style through awareness of cultural influences throughout history.
Learn from Industry Professionals
You may be surprised to learn that many university professors don't spend any time in the classroom teaching their students, but instead have adjunct faculty to present the material. Liberty is different.
We are a teaching university, which means our experienced and degreed professors are in the classroom teaching you every week. Our students receive individual professor care and mentorship throughout their studies. Choose a school that gives you its best!
---
What Will You Learn in Our B.S. in Studio and Digital Arts?
As a studio and digital arts student at Liberty, you will learn through hands-on experience under degreed faculty eager to see you succeed! Develop your artistic talents while gaining a deeper appreciation for the theory and history behind studio and digital arts.
Our entire curriculum is designed to build your skill set and prepare you to excel in the workplace. Some of the major concepts in the program include how to:
Critically analyze visual imagery in relation to history and culture.
Effectively communicate the meaning of visual imagery.
Produce visual imagery using both traditional and digital means.
Partner industry best practices with a Christian worldview.
Check out the featured courses below to learn more about what you'll be studying!
Featured Courses
ARTS 201 – History of Art I
This course is a chronological survey of Western art and architecture from Prehistoric times to the 15th century, with the goal of analyzing works of art from a Christian worldview.
Emphasis is placed on vocabulary development with special emphasis on methods of critical analysis of works of art.
Students are responsible for maintenance of portfolio assignments.
This portfolio will be used for class discussion periodically and turned in at the end of the semester.
ARTS 209 – Art as Communication
This course serves to cultivate an understanding of the language, aesthetics and cultural impacts of visual communication.
The focus is on discourse that fosters the development of ideational, analytical and rhetorical writing skills necessary for demonstrating critical thinking in the analysis and critique process concerning visual images.
Two analytical papers—based upon studies of the visual images focusing on the agency of the image, the social practices and effects of its viewing and the specificity of views taken by various audiences—and a literary research paper, sequentially developed, are required.
An introduction to basic drawing fundamentals including gesture line, contour line, positive and negative space, linear perspective, sight measurement techniques, modeling perspective, and composition.
ARTS 222 – Introduction to Graphic Design
An introduction to graphic design as a tool for visual communication.
Graphic design skills and topics including a brief history of typography and printing; page layout design principles, the design process, page layout and image manipulation software, visual hierarchy, and critique will be explored in this course.
Students will use the acquired skills to create basic graphic design materials for a variety of uses.
---
Our B.S. in Studio and Digital Arts: Graphic Design program will help you build an impressive portfolio of integrated design projects created using typography, digital illustration, and digital imaging!
View the Degree Completion Plan to see the full list of courses.
Featured Courses
ARTS 223: Introduction to Typography
ARTS 332: Vector Illustration
ARTS 342: Digital Imaging
ARTS 352: Graphic Design I
Our B.S. in Studio and Digital Arts: Studio Art specialization focuses on honing your creativity as a visual artist, painter, and sculptor. Develop your talents and visual communication abilities!
View the Degree Completion Plan to see the full list of courses.
Featured Courses
ARTS 311: Drawing II
ARTS 321: Painting I
ARTS 330: Sculpture I
ARTS 361: Digital Photography
Highlights of Our Studio and Digital Arts Degree
Here are some of the highlights of Liberty's Bachelor of Science in Studio and Digital Arts:
Our faculty are all professionals in the industry, with collegiate degrees to match their field experience.
Liberty's studio arts students have won more graphic design awards as part of the American Advertising Federation (AAF) Awards than all of the other schools in Virginia and North Carolina combined!
We ensure that you are provided with the newest equipment to use. This includes cutting-edge software in character creation, 3D modeling, and virtual reality.
You will get the chance to pursue an internship during your time as a student, which will further develop your professional portfolio.
Studio and Digital Arts Bachelor's Degree Information
Career Opportunities for Studio and Digital Arts Graduates
Liberty University's Bachelor of Science in Studio and Digital Arts will help prepare you for the following occupations:
Animator
Art critic
Art director
Art teacher
Art therapist
Commercial and industrial designer
Commercial artist
Graphic artist
Graphic designer
Illustrator
Multimedia artist
Museum curator
Typographer
Admission Requirements for Undergraduate Degrees
Every application is reviewed by the admission committee on a case-by-case basis, meaning there are no set minimums for acceptance. However, all applicants must submit the following documents* for admission:
Admission application
Official high school transcripts
Official college transcripts (if applicable)
Results from the CLT, SAT, or ACT are not required for admission, but may be used in consideration for merit-based aid.
Admission essay
*Note that additional documentation may be requested by the admission committee after your application has been received.