Get Your Message Out with an MA in Professional Communication – Promotional and Video Communication Degree
Communications is a field that can cross over into multiple job markets. Whether you want to be a leader in a business or nonprofit or the head of a creative team in a marketing company, our Master of Arts (MA) in Professional Communication – Promotional and Video Communication degree can help get you there. In this program, you can gain firsthand experience and skill development in the areas of investigative storytelling and video analysis as well as print media, video, and digital media storytelling for use in professional contexts.
Professional communication skills can give you the edge you need when you enter the job market. Learning how to utilize industry equipment and the various types of media available is just the start. You can learn how to conduct the research necessary to make sure that your campaign is a success. Understanding your audience and how to make the biggest impact in a short amount of time is key to successful video promotion.
Get excited about this fascinating and creative field. Our professors have the experience and dedication to help guide you as you gain the skills that can make a successful career possible. Study at Liberty to gain all the resources and mentorship you'll need to enter this rewarding industry with confidence.
Award-Winning Campus
At Liberty, you'll find an affordable, high-quality education that equips students like you for the real world. Our commitment to excellence helped us rank among Niche.com's Top 3 college campuses in America. Earning your degree from a nonprofit university with state-of-the-art resources like ours can help set you apart from your peers.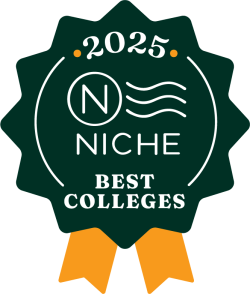 ---
Why Choose Liberty's Promotional and Video Communication Degree?
Earn a degree that equips you with the current skills that employers are looking for and prepares you for the changes yet to come. At Liberty, we focus our Master of Arts in Professional Communication on developing both hard and soft skills. You can explore essential theories, research, and strategies framed within a distinctly Christian worldview and learn how to apply those skills to real situations in the field.
Networking and making the connections you will need to succeed are a big part of this career field. As a Liberty student, you can benefit from our extensive network of professors, alumni, and organizations. The results of these established contacts are seen in the fact that many of our School of Communication and the Arts graduates are employed full-time in their respective careers shortly after graduation!
Prepare for an exciting career by using the resources Liberty can provide you with. Our students have gone on to work for prestigious companies like Genworth, Amazon Web Services, Kate Spade, and the Wounded Warrior Project. Liberty's standard of academic excellence can help you make an impact in this industry.
---
What Will You Learn in Our Master's in Professional Communication – Promotional and Video Communication Degree?
Liberty's Master of Arts in Professional Communication degree examines theories, research, and current trends in the field of communication. You will also explore the study and practice of research design. You can gain an understanding of how to interpret information and evaluate the effectiveness of strategies used in the communication field.
The promotional and video communication specialization allows you to focus on the areas that will be most beneficial for your ultimate professional goal. You'll have 7 specialization courses to choose from, and you'll be able to select the 4 that most interest you. You can gain skills needed to write a hard-hitting and impactful investigative story. You can also learn how to craft social media posts that give your client or organization a competitive advantage. Other skills you can gain involve telling stories through various media and blending those stories together for an effective campaign in today's world of digital advertising. Additionally, the 15 elective credit hours provide you with the opportunity to customize this degree even more.
The knowledge you gain will be synthesized in either a final thesis or project – which will challenge you to answer practical research questions and respond to ethical issues of interest to scholars in the communication field. This can be a professional goal or personal interest that will benefit your fellow professional communicators and help you make your mark on this exciting field.
View the Degree Completion Plan and check out our featured courses below for more information!
Featured Courses
COMS 526 – Investigative Storytelling
STCO 533 – Video, Social, and Mobile Promotion
STCO 546 – Effective Media Analysis
STCO 658 – Strategic Communication Campaigns for the Digital Age
Highlights of Our Promotional and Video Communication Master's Degree
Our Master of Arts in Professional Communication degree is a part of the School of Communication and the Arts. As a student of this department, you will receive the following benefits:
Study a curriculum that focuses on experiential and hands-on learning.
Learn and train with over $1 million in state-of-the-art equipment and facilities!
Build your professional portfolio while working in our radio and television studios, on-campus sports network, client promotional projects, and student-run public relations firm and school newspaper.
Our degrees are career-focused. All of our instructors have both academic and professional credentials, with many of them working in their field as they teach! Be confident that you are getting an excellent education taught by current industry professionals.
Become an asset to current and future employers with the combination of hard and soft skills you'll learn through this program.
Our alumni have gone on to work with prestigious organizations like Genworth, Amazon Web Services, Kate Spade, and the Wounded Warrior Project.
As a student, you will have the opportunity to network with professors, peers, and other professionals.
Our degrees emphasize integrity. As a nonprofit, Christian university, we aim to help raise the next generation of media professionals with unshakable ethics grounded in the Christian faith.
Master of Arts in Professional Communication Degree Information
Potential Career Opportunities for MA in Professional Communication – Promotional and Video Communication Graduates
Advertising director
College instructor
Communication consultant
Content manager
Director of communication
Marketing director
Nonprofit development director
Promotions manager
Researcher
Social media manager
Admission Requirements for Our Professional Communication Graduate Degrees
Every application is reviewed on a case-by-case basis, and all applicants must submit the following documents and meet the minimum requirements for admission:
Admission application
Official bachelor's degree transcripts with a 3.0 GPA or higher
Self-certification form (for students who are in the final term of their bachelor's degree)
Current Liberty undergraduate students seeking preliminary acceptance into a graduate program must complete a degree completion application through their ASIST account