Take Your Next Step as an Artist with a BFA Degree in Studio Art
Whether you've wanted to be an artist your whole life or just recently developed an interest in an art career, your aspiration to be an artist likely comes from your love of creating beautiful things and sharing them with the world. At Liberty, we can help you take that passion and turn it into a career.
By earning a Bachelor of Fine Arts in Studio Art, you will learn how to craft your own artistic brand, a professional portfolio, and exhibit pieces. Additionally, our BFA program can help refine your artistic abilities as you learn to use your art to influence culture. Join our community of artists and study 2D and 3D art under professors who average 15 years of industry and teaching experience.
As one of the largest Christian universities in the nation, Liberty has designed the studio art BFA degree to help you become a professional artist whose work reflects the beauty and majesty of God. Partner with us, receive a first-class arts education, and become the artist you always knew you could be.
Award-Winning Campus
At Liberty, you'll find an affordable, high-quality education that equips students like you for the real world. Our commitment to excellence helped us rank among Niche.com's Top 3 college campuses in America. Earning your degree from a nonprofit university with state-of-the-art resources like ours can help set you apart from your peers.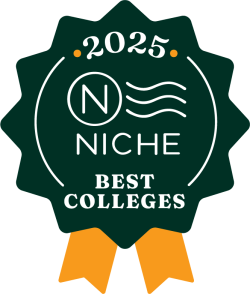 ---
Why Choose Liberty's Bachelor's in Fine and Studio Arts Program?
At Liberty, we Train Champions for Christ. That means we are dedicated to providing you with the technical skills, hands-on experience, and biblical training you need to lead in your field with excellence and integrity. We believe in helping you reach your full potential as an artist who creates meaningful work that impacts people for eternity.
Our professors have years of experience as artists. Their projects have been commissioned by Oxford University and various organizations around the world. Throughout your bachelor's degree program, our professors invite you to seek help with class material, projects, or creating your portfolio. As a studio art major, you'll be able to learn from their expertise as you hone your own skills and pursue your career goals.

As an artist, you imagine or see things that often can't be described, and you use your skills to create pieces that express the things you imagine. You're a visionary, and at Liberty University, we strive to create a Christ-centered atmosphere where visionaries like you thrive. From our professors and student body to our facilities and resources, we offer a distinctly Christian setting that is conducive to academic, personal, professional, and spiritual growth. Whether you hope to work in a museum or create your own works of art for a living, Liberty can help you reach your career goals. Apply today and join a family of scholars dedicated to the pursuit of Christ and professional excellence. 
---
What Will You Learn in Our Bachelor of Fine Arts – Studio Art Degree Program?
Throughout this studio art bachelor's degree, you will learn how to use a variety of digital and traditional media to create meaningful art. In addition to learning about art history, you'll be able to hone your artistic practice by enhancing your skills in drawing, painting, graphic design, sculpting, ceramics, and photography. This professional degree program is designed to give you the foundational training you need to pursue a career in fine arts, crafting, or multimedia arts.
One great aspect of our Bachelor of Fine Arts degree program is the opportunity to exhibit your art, create your own artistic brand, and complete practicums and internships designed to give you valuable experience working in studio arts.
Although this studio art program does offer some free electives, it is designed for those who mainly want to focus on developing their artistic skills. If you are looking for a studio art degree that provides the ability to minor or double major in another area of study, our Bachelor of Science in Studio and Digital Arts – Studio Art degree might be the best choice for you. 
Review our studio arts Degree Completion Plan, and check out our featured courses below to learn more about what you'll be studying!
Featured Courses
Here's what you'll learn:
Composition
Gesture and contour lines
Linear perspective
Modeling perspective
Positive and negative space
Sight measurement techniques
Here's what you'll learn:
How to design and create three-dimensional sculptural objects
How to solve artistic and sculptural problems
Materials and tools used to create sculptures
Sculpture design concepts, terminology, history, processes, and techniques
ARTS 361 – Digital Photography
Here's what you'll learn:
The basics of digital photography
How to communicate through photographs alone
How to correct and digitally manipulate images
How to operate a single-lens reflex camera proficiently
How to use industry-standard software
Here's what you'll learn:
Basic ceramic construction techniques
Glazing and firing techniques
Slab, coil, and wheel throwing methods
Our Bachelor of Fine Arts in Studio Art Degree Program Highlights
Our professors have years of real-world experience creating art on commission, forming their own studios, providing illustrations, and exhibiting their work around the country.
Our studio arts program has produced graduates of distinction who are using their artistic skills to design shoes for Merrell, graphics for Target's Magnolia Hearth and Hand collection, and print layouts for real estate companies.
Our students have won hundreds of awards at the local, regional, and national levels for art, design, and photography.
Our Department of Studio and Digital Arts provides the latest technology, so you have the creative freedom you need to produce cutting-edge, marketable artwork.
You can network and fellowship with peers by joining one of our student art groups.
Showcase your achievements in a senior studio art exhibition open to the public.
Admission Requirements for Undergraduate Degrees
Every application is reviewed by the admission committee on a case-by-case basis, meaning there are no set minimums for acceptance. However, all applicants must submit the following documents* for admission:
Admission application
Official high school transcripts
Official college transcripts (if applicable)
Results from the CLT, SAT, or ACT are not required for admission, but may be used in consideration for merit-based aid.
Admission essay
 *Note that additional documentation may be requested by the admission committee after your application has been received.
Our Bachelor's in Studio Art Program Information
Career Opportunities for Our BFA in Studio Art Graduates
Art critic
Conservator and restorer
Craft or fine artist
Exhibitions coordinator
Museum/gallery director