Become a Standout Communications Professional with Liberty's MA in Professional Communication
If you are a young professional seeking the values, skills, and knowledge needed to impact the world for Christ in a communications-related field, look no further than Liberty University's Master of Arts (MA) in Professional Communication. This degree program has been designed in keeping with our mission to Train Champions for Christ through a nationally competitive program marked by academic excellence.
Communication skills are in demand across the board – no matter your industry, setting, or vocation. Through the specialized training and research opportunities offered by our MA in Professional Communication degree, you can gain a strong theoretical foundation and explore industry-leading strategies based on your choice of specialization: organizational and strategic communication, interpersonal communication, promotional and video communication, or critical/influential communication. That way, you can customize your degree program to match your unique passions and interests.
With a cadre of decorated faculty, motivated and like-minded peers, and over $1 million in educational resources, you can prosper into the Christian and professional that God created you to be. Partner with us to gain valuable skills and take your career to new heights.

Award-Winning Campus
At Liberty, you'll find an affordable, high-quality education that equips students like you for the real world. Our commitment to excellence helped us rank among Niche.com's Top 3 college campuses in America. Earning your degree from a nonprofit university with state-of-the-art resources like ours can help set you apart from your peers.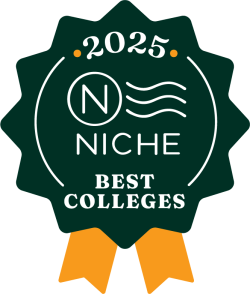 ---
Why Choose Liberty's Master of Professional Communication Degree?
When you choose a university for your professional communication master's degree, you don't settle – you want the best education possible, world-class resources, and highly regarded professors who are just as enthusiastic about helping you succeed as they are about their topic of expertise. You'll find all of these things at Liberty – and our commitment to offering our students the best experience possible is demonstrated by our accreditation status and the success of our graduates.
Liberty University is regionally accredited by the Southern Association of Colleges and Schools Commission on Colleges (SACSCOC) – which means that our degree programs have met rigorous academic requirements and can help you confidently pursue your career goals. Accreditors typically award 2 levels of accreditation: national and regional. Regional accreditation is the more prestigious of the pair.
As a student at Liberty, you'll benefit from a deep network of established contacts – professors, alumni, and organizations. As a result, many graduates from our School of Communication and the Arts are employed full-time at prestigious companies such as Fox News, Chick-fil-A, and Coca-Cola. Our Career Center features a group of professionals who are passionate about helping you find the right job – and you can benefit from their résumé-building tips, mock interviews, and professional wisdom as you prepare for your future.
---
What Will You Learn in Our Professional Communication Master's Degree?
This degree allows you to specialize in 1 of 4 areas. In the critical/influential communication specialization, you can study leadership communication, strategies and tactics of persuasion, rhetorical theory and criticism, and politics and media. In the promotional and video communication specialization, you can choose 4 courses from a list of 7 options. Possible topics of study include investigative storytelling, effective media analysis, strategic communication campaigns for the digital age, and digital storytelling.
The organizational and strategic communication allows you to choose 4 courses from a list of 6. Potential topics you could study include organizational communication, professional communication and nonprofit development, strategic storytelling, media technologies and communication strategies, effective media analysis, and using emerging trends in strategic communication. The MA in Professional Communication – Interpersonal Communication allows you to choose 4 courses from a list of 5 – which includes interpersonal communication theory and practice, small group and team communications, listening and nonverbal communication, communication and conflict, and intercultural communication.
In addition to completing your specialization's unique course sequence, you'll have the opportunity to select a few of your own classes. The elective section of this degree program requires 15 credit hours of study in the form of 5 communication courses of your choosing.
Each of this degree program's 4 specializations require a set of theory and research courses. In this section of your professional communications master's degree, you will study communication theory and practices as well as communication research design. You also will be able to choose between completing a thesis or a project.
Featured Courses
COMS 520 – Communication Theory and Practices
COMS 680 – Communication Research Design
COMS 690 – Thesis Defense
Highlights of Our Master of Professional Communication Degree
Liberty University is accredited by the Southern Association of Colleges and Schools Commission on Colleges (SACSCOC).
This degree's curriculum is focused on experiential and hands-on learning.
You'll receive training with over $1 million in state-of-the-art equipment and facilities.
You can develop your professional portfolio while working with our radio and television studios, on-campus sports network, client promotional projects, and student-run public relations firm and school newspaper.
This degree is career-focused with instructors who have both academic and professional credentials – and many of them work in their field as they teach.
As a nonprofit, Christian university, we aim to help raise the next generation of media professionals with personal integrity and unshakable ethics grounded in the Christian faith.
Professional Communication Master's Degree Information
Career Opportunities for Professional Communication Graduates
Advertising director
College instructor
Communication consultant
Content manager
Director of communication
Marketing director
Motivational speaker
Nonprofit development director
Promotions manager
Public relations director
Researcher
Social media manager
Special events coordinator
Admission Requirements for the Master of Professional Communication
Every application is reviewed on a case-by-case basis, and all applicants must submit the following documents and meet the minimum requirements for admission:
Admission application
Official bachelor's degree transcripts with a 3.0 GPA or higher
Self-certification form (for students who are in the final term of their bachelor's degree)
Current Liberty undergraduate students seeking preliminary acceptance into a graduate program must complete a degree completion application through their ASIST account
Specializations for the MA in Professional Communication
Our MA in Professional Communication degree allows you to choose 1 specialization from 4 options. Read more about your choices below!
Critical/Influential Communication
Interpersonal Communication
Organizational and Strategic Communication
Promotional and Video Communication