You Care Deeply About Your Child's Safety. So Do We.
---
Emergency Notification System
Contact Liberty University Emergency Communications:
Liberty University has also implemented an emergency notification system that we can use to alert you in the event of certain situations on campus – including school closings, severe weather, and life-threatening situations.
The emergency alert system is open to all members of the Liberty University community with a Liberty account. Students can also sign up other individuals, such as a parent or spouse, to receive alerts under their account. Learn more about how your child can sign up for emergency alerts.

Additionally, we have multiple emergency blue light call boxes across campus to help ensure the highest safety and security measures. When a button on the emergency blue light pole is pressed, the lights go into strobe mode – and a special camera is activated to provide live-stream video to the Liberty University Emergency Communications Dispatch Center. A dispatcher can send emergency personnel while monitoring and communicating with the individual in distress via the call box.
---
See our student safety brochure for more information about what we're doing to keep our campus safe!
---
Did You Know?
Students can sign up to receive email or text alerts from Liberty's emergency alert system.
Liberty was ranked among the top 3 safest college campuses in Virginia – and among the top 10% of safest college campuses in the U.S. by Niche.com.
---
Creating a Safe, Secure, and Supportive Campus Is Our Priority
Liberty was ranked in the top 10% of safest college campuses in the United States by Niche.com. Here are just some of the ways Liberty is working to keep your student safe and supported:
Liberty's Office of Security and Public Safety takes a holistic approach to campus safety, encompassing law enforcement, access control, environmental health and safety, and emergency preparedness.
Liberty's police department is staffed by highly trained professionals who provide 24/7 active police support.
Students can request a police escort across campus at any time by calling the Emergency Communications non-emergency number.
Our emergency blue light call boxes across campus help connect students to emergency dispatchers with the press of a single button.
Every residence hall and dormitory is badge-access only.
Our nightly curfew, enforced by Residence Life, helps ensure that all on-campus students are safe and accounted for.
One-on-one counseling appointments and group support sessions are available to all students.
Students can report concerning behavior (such as suicidal thoughts, substance abuse, and overly aggressive behavior) to Liberty's CARE Team to be resourced appropriately.
The Speak Up campaign through the Office of Equity and Compliance/Title IX allows students to report instances of sexual harassment, discrimination, and assault.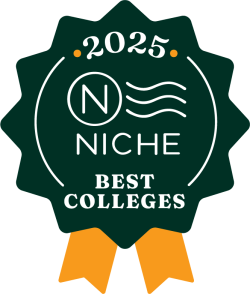 Our commitment to excellence helped us rank among Niche.com's Top 3 college campuses in America
---
Important Resources
---
We'll Be Here for Your Student – Even When You're Miles Away
You've been protecting your student their entire life. Passing that baton to someone — anyone — else is not an easy thing to do.
And wanting to make sure your son or daughter is okay when they go off to college is natural as a parent. Rest assured that at Liberty University, we take your loved one's safety very seriously.
Our full-service law enforcement agency continually monitors campus safety protocols and updates them as often as needed. Our student counseling services work hand-in-hand with university and local professionals to provide the holistic care that students may need.
Part of our mission of Training Champions for Christ is creating a culture where students protect one another, stand up for one another, and refuse to tolerate harassment, discrimination, or assault against themselves or others.
So whether it's safeguarding campus through security measures and training or walking beside them through a painful season, we're committed to protecting the well-being of each and every student.