Make Your Own Unique Degree with an Associate in Interdisciplinary Studies
You are a unique individual with passions and interests that might make it more difficult to choose a traditional degree in one specific area of study. With an Associate of Arts in Interdisciplinary Studies, you can create a degree that suits your career goals and personal interests. Tailor your program the way you want it by choosing from a variety of electives so that you get the most out of your educational journey.
With today's globalized workforce, you sometimes need to study more than one discipline to gain the experience and credentials you need to stand out. Through an A.A. in Interdisciplinary Studies, you can learn how to effectively communicate your ideas and utilize your specialized training in order to thrive in the fast-paced and rapidly changing work environments you will encounter. Your training will be invaluable as you venture out in a career that requires diverse skill sets.
---
Award-Winning Campus
At Liberty, you'll find an affordable, high-quality education that equips students like you for the real world. Our commitment to excellence helped us rank among Niche.com's Top 3 college campuses in America. Earning your degree from a nonprofit university with state-of-the-art resources like ours can help set you apart from your peers.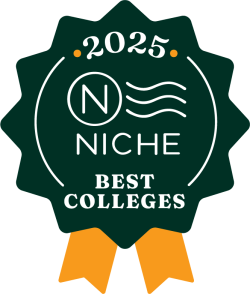 ---
Why Choose Liberty's Associate Degree in Interdisciplinary Studies?
One of the best things about our interdisciplinary studies associate degree is that you can maximize your transfer credit from other schools, military training, and any experience or on-the-job training you might have. This can help speed up your degree completion and enable you to save both time and money. While some universities call this type of program a general studies degree, to better represent the variety of courses integrated into this program Liberty calls it an interdisciplinary studies degree.
Besides the great opportunities you will have by pursuing a degree in interdisciplinary studies, there are so many other reasons to study at our beautiful campus in Lynchburg. You will make friendships that will last a lifetime as you meet students from over 50 states and 70 different countries. You can enjoy activities together with over 200 student-led clubs and recreation centers like Liberty Mountain Snowflex Centre, the LaHaye Ice Center, and Hydaway Outdoor Recreation Center.
---
What Will You Learn in Our Associate of Arts in Interdisciplinary Studies?
What you learn can vary greatly in this program based on what your goals and passions are. This degree is designed to increase your job marketability by increasing your foundational knowledge in a variety of areas. Some of the basic skills you obtain through this degree, no matter what disciplines you decide to study, are career planning, professional development, communication skills, and improving your writing and public speaking ability.
Associate of Arts in Interdisciplinary Studies Degree Information
Residential
60 total credit hours
Potential credit for various college courses, military training, or other non-traditional sources of credit that qualify; transfer in as much as you can to complete your degree even faster!
Transfer in up to 75% of the total degree
This degree program falls under the College of Arts and Sciences
Download and review the Degree Completion Plan
Review the course catalog
Career Opportunities for Associate in Interdisciplinary Studies
Prepare for a career as a medical illustrator by combining natural science and fine arts.
Prepare to work in border patrol by combining language and government.
Work as a freelance designer by combining fine arts and business.
Work as a telemedical technician by combining business and computational sciences.
Work in parks and recreation by combining natural science, government, and communication studies.
Highlights of our Interdisciplinary Studies Associate Degree Program
Choose courses from Liberty's different colleges and departments to create a degree that can help you meet your career goals.
Utilize a maximum amount of transfer credit so you can earn your degree faster!
You can complete our multidisciplinary studies associate degree in 2 years.
Admission Requirements for Undergraduate Degrees
Every application is reviewed by the admission committee on a case-by-case basis, meaning there are no set minimums for acceptance. However, all applicants must submit the following documents* for admission:
Admission application
Official high school transcripts
Official college transcripts (if applicable)
Results from the CLT, SAT, or ACT are not required for admission, but may be used in consideration for merit-based aid.
Admission essay
*Note that additional documentation may be requested by the admission committee after your application has been received.