Your Campus. Your Culture. Your Connections.
College is a fresh start. It's a place where you can reinvent yourself or shine a new light on the things you've always loved.
It's a time for your longtime hobbies to be shared with friends or your talents to be appreciated — even among strangers. It's an opportunity for you to flourish.
At Liberty, we believe in enabling our students to create a culture that fosters warmth, encouragement, and a healthy community.
So what does Liberty's social scene offer you? Lots of free events that allow you to be yourself, try new things, make good friends, and have a great time.
If this becomes your campus and your culture, you're going to love getting plugged into it. Read on to find out more about Liberty University's student organizations and clubs!

---
There's always something to do at Liberty University. From football games and concerts to intramural sports and film festivals, we have something for everyone. Your schedule may be packed, but make sure you take time to clear your head and have fun at one of Liberty University's activities or clubs. Liberty's Student Activities department works hard to plan over 100 exciting events each year, so you'll never be bored!
In addition to providing a world-class education, a solid Christian foundation, and the knowledge and skills essential for impacting the world, Liberty also offers numerous recreational activities. Maybe you want to dive deeper into your academic discipline, or maybe you want to get outdoors and make memories with friends. Either way, there are many student activities at Liberty University for you to choose from.
Award-Winning Campus
At Liberty, you'll find an affordable, high-quality education that equips students like you for the real world. Our commitment to excellence helped us rank among Niche.com's Top 3 college campuses in America. Earning your degree from a nonprofit university with state-of-the-art resources like ours can help set you apart from your peers.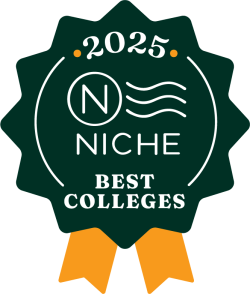 You could learn a new skill at a workshop, join one of Liberty's clubs, enjoy an outdoor movie with friends, or perform with the Flamettes, Liberty University's dance team. Our thriving athletics program also features over 20 intramural sports teams and athletic teams in 40 club sports, if you're looking to play sports recreationally.
Campus life is an important part of Liberty University — and we offer many opportunities for you to find your niche and explore your interests. Check out Liberty's activities below!
Want to know what's going on now? Check out Liberty University's Student Activities Calendar to stay up-to-date with what's coming up next! And visit our Campus Life page for more information about things to do at Liberty University.
---
What Activities Does Liberty Offer?
Start the school year off right with the best annual "Welcome Back" event around. Live music, food trucks, carnival rides, and fireworks make this beloved fall tradition a night to remember.
And because Liberty supports local talent and local vendors, you'll get to enjoy them both at this lively back-to-school party.
You'll also be introduced to many of the university's departments and student-led clubs, allowing you to make connections that will last throughout your time at Liberty — and beyond.
Sing. Dance. Perform. Or join thousands of your closest friends screaming, applauding, and packing out the Vines Center for Liberty's own legendary variety show — Coffeehouse.
Showcasing the talent here on campus, Coffeehouse features student performances in music, dance, and video production. With a different theme each semester, Coffeehouse gives students a diverse platform and a wide variety of opportunities to display their gifts.
Coffeehouse has become more than just a place where people perform — it's a place where Liberty's community and culture can thrive.
What else is there to do around campus?
Outdoor movie night on the lawn
"Every Square Inch" conference on culture and theology
From top artists like Rend Collective, Skillet, Tori Kelly, and Andy Mineo to student bands and local musicians, the concert scene at Liberty draws some of the best talent in the industry. We offer a variety of concerts every month that feature everything from big names to brand-new bands.
Want to get your own break on stage? Whether you're a singer, musician, comedian, or speaker, Open Mic nights at the Argo Tea Café are a great way for you to get in front of a crowd. Or you can grab a seat in the audience with some friends and cheer on your fellow students as they perform. Either way, don't miss some of the best Tuesdays of the school year!
Liberty offers more than 100 student-led clubs, giving you the opportunity to connect with other people who love what you love. And, if you want to hone your academic skills and boost your résumé, we also offer a variety of honor societies. There's something for everyone — and our club presidents are always eager to welcome new members!
Liberty University's student clubs span many different topics and activities, including creative writing, cyber defense, robotics, politics, philosophy, fencing, anime, public relations, and more! Check out the full list of clubs at Liberty University to see where you'd fit in best.