Engage the World with a Master of Arts in Global Studies
With our Master of Arts in Global Studies, you can propel your career forward and upward. We want to equip you with the knowledge and skills you need to build relationships, start your own nonprofit organization, or do global relief work. Whatever your calling in the global market is, our global studies degree can help you get there so you can take your work abroad.
We understand that you have passions. You're passionate about God's work in the world. That's why our M.A. in Global Studies is perfect for you. Throughout this degree, you'll get in-depth knowledge of contextualization as well as learn the intercultural communication skills that will help you both in your professional and personal life.
So what are you waiting for? We know you want to jumpstart your career in working with people from diverse cultures and backgrounds, and we want to help you live out your calling. Our purpose is to help you get one major step closer to fulfilling your calling in life and develop your skills in cross-cultural service. 
Accreditation
Your divinity degree is approved by the Commission on Accrediting of the Association of Theological Schools (ATS) and has met rigorous accreditation standards. You can feel confident that your degree is both academically excellent and well-respected among churches, ministries, and nonprofit organizations.


Award-Winning Campus
At Liberty, you'll find an affordable, high-quality education that equips students like you for the real world. Our commitment to excellence helped us rank among Niche.com's Top 3 college campuses in America. Earning your degree from a nonprofit university with state-of-the-art resources like ours can help set you apart from your peers.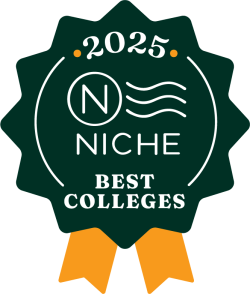 ---
Why Choose Liberty's M.A. in Global Studies?
Pursuing an M.A. in Global Studies is a unique and exciting opportunity for you to prepare for a career of intercultural interaction in local and global contexts. You'll get the chance to learn from professionals in the field and challenge your academic fortitude, as well as have access to incredible resources and state-of-the-art facilities where you can develop your cross-cultural skills.
One of the best things about our residential master's in global studies is the professors. These men and women are professionals in their field with years of professional global service. All faculty have doctorates in global fields and substantial experience abroad. They are excited about investing in the next generation of global workers. They are excited about investing in the next generation of global workers through academic and experiential training.
A key part of this degree is the required cross-cultural internship in which you apply what you are learning. Additionally, you'll get to experience our immersive and interactive classrooms, which allow global leaders around the world to lecture and interact in your classes from their field location.
---
What Will You Learn in Our M.A. in Global Studies?
As a global leader, you need to be equipped with a strong foundation in theory and in practice. Our M.A. in Global Studies degree provides you the strong practical application that you need to excel in your intercultural interactions. The skills and knowledge you obtain while obtaining our master's in global studies will be invaluable in many settings such as business, nonprofit organizations and more.
Your global studies degree will provide insight into cultural and global engagement with the following courses:
Cultural Anthropology
Global Studies Survey
Contextualization
Orality: The Power of Story
World Religions
Intercultural Communication
View the Degree Completion Plan, and check out our featured courses below for more information!
Featured Courses
GLST 500 – Global Studies Survey
Here's what you'll learn:
This course introduces and examines the historical and theoretical foundations of global engagement.
This course will help students develop a framework for interacting with the current needs and realities of a complex and culturally diverse world.
GLST 525 – Introduction to Islam
Here's what you'll learn:
This course explores the historic rise and expansion of Islam.
Basic Muslim beliefs and practices are identified and the diversity within the world of Islam is examined.
GLST 600 – Cultural Anthropology
Here's what you'll learn:
This course introduces the discipline of cultural anthropology with particular emphasis on studying culture and worldview for the purpose of effective engagement.
GLST 655 – Orality: The Power of Story
Here's what you'll learn:
This course examines the power of story and communication in predominantly oral cultures.
It will be taught in the framework of the Grand Narrative and students will develop skills in communicating, guiding the growth of oral communicators, and community development through the telling of stories.
Highlights of Our M.A. in Global Studies Degree
Receive training in Cultural Intelligence ©.
You have the option to include a thesis in this degree in place of open electives.
John W. Rawlings School of Divinity professors are active in the classroom, as well as in research and publishing, and continuing global involvement.
Our Global Studies professors are committed to communicating with people of all nations and cultures.
Internship opportunities with churches and parachurches locally, nationally, and globally.
Our Global Studies degree has three graduate electives that can be in any discipline such as business, public health, international relations, and more.
M.A. in Global Studies Degree Information
Career Opportunities for M.A. in Global Studies Graduates
Church-based global mobilizer and leader
Cross-cultural worker
Cultural trainer
Faith-based international development and aid worker
Global non-profit and non-governmental organization (NGO) service worker
Global refugee worker
International student worker or administrator
Translator
Admission Requirements for Graduate Degrees
Every application is reviewed on a case-by-case basis, and all applicants must submit the following documents and meet the minimum requirements for admission:
Admission application
Official bachelor's degree transcripts with a 2.0 GPA or higher
Self-certification form (for students who are in the final term of their bachelor's degree)
Current Liberty undergraduate students seeking preliminary acceptance into a graduate program must complete a degree completion application through their ASIST account