Learn the Language of the Old Testament with a Certificate in Hebrew
Are you passionate about understanding God's Word so that you can better share it with others? Maybe you're a pastor, theologian, author, ministry professional, or perhaps you are just excited about growing your relationship with Christ. Regardless of your profession or your role in ministry, pursuing Liberty University's Graduate Certificate in Hebrew will allow you to appreciate and understand the Old Testament in its original language.
Receiving a certificate in Hebrew studies opens up many opportunities for you. You'll have a deeper understanding of God and the Bible to enhance your relationship with Christ. Plus, you'll learn how to accurately preach and share from the Old Testament with the increased level of linguistic and biblical information you receive. You'll be set apart in your ministry and have greater opportunities to pursue higher positions with your knowledge of the Hebrew language.
Each of our professors have real-life experience in ministry, and are working on their doctorate degrees or have already earned them. They are prepared to mentor, guide and teach you from their experiences and biblical knowledge and training. You'll also have access to amazing resources and state-of-the-art facilities, such as our Scriptorium, 7-projector immersive classroom, and homiletics teaching lab, all housed in our Freedom Tower.
Award-Winning Campus
At Liberty, you'll find an affordable, high-quality education that equips students like you for the real world. Our commitment to excellence helped us rank among Niche.com's Top 3 college campuses in America. Earning your degree from a nonprofit university with state-of-the-art resources like ours can help set you apart from your peers.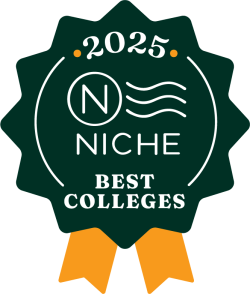 ---
What Will You Learn?
The training you receive in our Hebrew certificate provides you with a deeper understanding of God's Word by studying the original language of the Old Testament. Through studying various Old Testament texts, you will learn the importance of understanding cultural, political, and historical contexts so you can correctly interpret Scripture. You will study basic aspects of the Hebrew language (such as syntax) so you can better understand the original context of the Old Testament and explain that context to your audience.
View the Certificate Completion Plan, and check out the courses you will be taking in our certificate program!
Hebrew Certificate Courses
OTCL 520 – Beginning Hebrew I
OTCL 525 – Beginning Hebrew II
OTCL 640 – Hebrew Syntax and Exegesis
---
Highlights of Our Hebrew Certificate Program
Learn under professors who are published and have advanced degrees in their field as you pursue a degree founded on the authority of Scripture and conservative evangelical theology.
Our John W. Rawlings School of Divinity is the world's largest accredited school for religious studies and ministerial training.
Gain internship opportunities with churches and parachurches locally, nationally, and globally.
Our 17-story School of Divinity Freedom Tower contains a 7-projector immersive classroom, an interactive classroom that utilizes teleconferencing capabilities, and state-of-the-art homiletics teaching lab.
Our Freedom Tower's Scriptorium houses a $1 million collection of rare books and Bibles donated by the Rawlings family.
Optional Monday-only courses are available for students juggling work, family, studies, and church commitments.
---
Hebrew Certificate Information
Admission Requirements
Every application is reviewed on a case-by-case basis, and all applicants must submit the following documents* and meet the minimum requirements for admission:
Admission application
Unofficial college transcripts with at least a 2.0 GPA and a completed Transcript Request Form. An official final college transcript showing a completed bachelor's degree is required before first semester enrollment.
*Note that additional documentation may be requested by the admission committee after your application has been received.