Join Us for a Campus Tour
You have to see the Liberty difference to believe it.
Experience it for yourself by taking one of our daily tours. Lasting only 3-4 hours, general campus tours are available every day of the week. You'll see sample dorms, classrooms, and athletic and recreational facilities, as well as our award-winning dining hall.
Interested in learning more about a particular college or school within the university?
Take one of our academic-focused tours, available Tuesdays and Thursdays, which give you the general tour experience with the added benefit of hearing from a dean or faculty member representing a specific academic discipline within the university.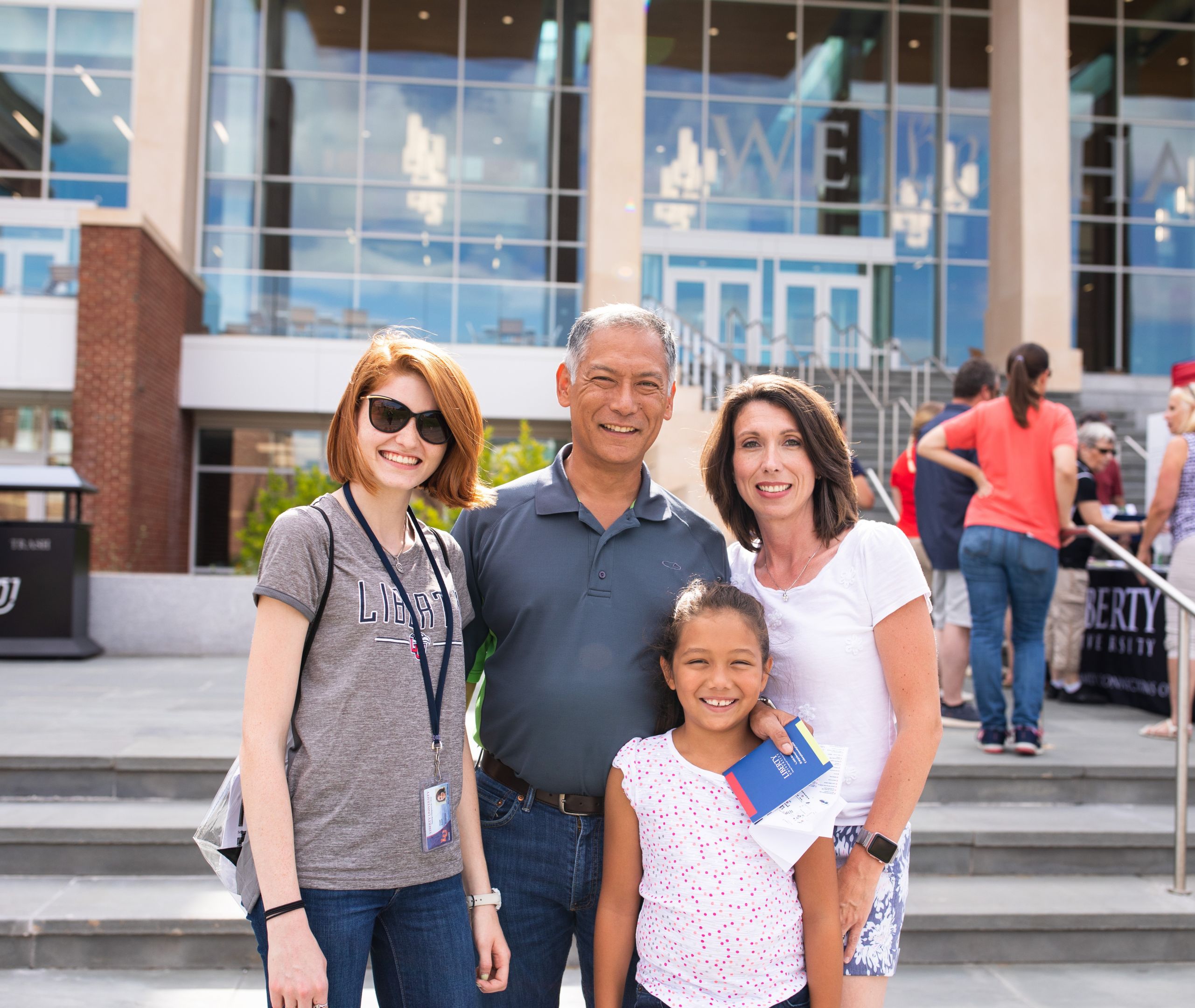 Apply for Free at a Daily Campus Tour
When you come for a Daily Campus Tour, you'll explore our beautiful campus and learn about the Liberty University admission process.
You'll also have an opportunity to meet with an admissions counselor one-on-one and apply to Liberty for free. Students who apply also receive a free Liberty Flames t-shirt.

Daily Campus Tours*
Monday-Saturday | 9 a.m. and 2 p.m.
Sunday | 1 p.m.
*Note: if you are planning on attending Convocation, you will need to show a valid state-issued ID.

Academic Focus Tours*
Tuesday and Thursday | 10 a.m.
Wednesday | 8:30 a.m. This tour includes Convocation attendance **
*Note: Academic Focus Tours are offered during the Fall and Spring semesters.
**Note: Wednesday tour will also be attending Convocation, so you will need to show a valid state-issued ID for entry.
---
Academic Focus Tour Schedule 
Check back in August for a detailed schedule. Below is an example of some of the departments you can see during your tour. Academic Focus Tours are offered during Fall and Spring semesters.
Aeronautics | Sep 17, Oct 17, and Nov 19
Behavioral Sciences | Oct 9 and Nov 12
Business | Sep 25 and Oct 29
Helms School of Government | Oct 2 and Oct 31
Nursing | Sep 19, Oct 23, and Nov 21
Visual and Performing Arts | Oct 10 and Nov 13 
Arts and Sciences | Oct 3 and Nov 5 
Communication and Digital Content | Oct 8 and Nov 6 
Divinity | Oct 16  
Education | Sep 24 and Oct 24
Engineering | Oct 1 and Oct 30
Health Sciences | Sep 18, Oct 21, and Nov 20
Music | Oct 15 and Nov 14  
---
Questions?
Our Visitors Center team is here to assist you with any questions you have about your upcoming visit. Let us know how we can help you!
Hours
Monday-Friday | 8 a.m.-8 p.m.
Saturday | 8:30 a.m.-6 p.m.
Sunday | 12-6 p.m.