Pursue a Career in the Medical Field with a Bachelor's in Biomedical Sciences Degree
You love learning about the complexities of the human body. You dream of making scientific discoveries that change the world. You want to pursue a career in medicine and make a difference in the lives of others. 
If that sounds like you, Liberty's B.S. in Biomedical Sciences can help make your dreams a reality! This program will equip you to apply to medical school. By earning our pre-med degree, you can take the first step toward becoming a physician, pharmacist, dentist, or physician assistant, among other exciting careers in the medical field.
Do you want to help meet the growing need for competent and compassionate health professionals? If so, Liberty's biomedical sciences bachelor's degree has just what you need. Whether you're looking to launch a new career or enter the job market for the first time, we can help you lead with excellence in the medical industry.
"Biomedical Sciences" Definition:

A field that combines the areas of biology and medicine, with the goal of developing technologies and interventions for use in the healthcare industry.
---
Award-Winning Campus
At Liberty, you'll find an affordable, high-quality education that equips students like you for the real world. Our commitment to excellence helped us rank among Niche.com's Top 3 college campuses in America. Earning your degree from a nonprofit university with state-of-the-art resources like ours can help set you apart from your peers.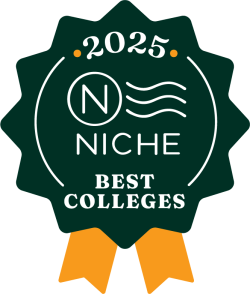 ---
Why Choose Liberty's Biomedical Degree Program?
At Liberty, you'll have the opportunity to participate in exciting research projects. From algae and amphibians to DNA analysis and pathophysiology, you can dive into the subjects that you're most passionate about! Additionally, you can forge valuable connections with other students and faculty, while gaining marketable experience that will help boost your résumé.
Liberty has numerous research labs filled with state-of-the-art equipment. From DNA sequencers to ultrasound simulators, you'll get to operate the same scientific tools used by industry professionals! Our pre-med curriculum is based on cutting-edge research, so you can stay ahead of the curve and become a leader in your field.
We also offer shadowing and internship opportunities with local doctors, as well as Christian service opportunities in medicine. That way, you can receive practical training while using your skills to serve other people — even before you graduate! Upon graduation, you'll be ready to take the Medical College Assessment Test (MCAT) and apply to top-notch medical programs.
Expand your professional network and social circle by joining one of our student organizations! Hone your academic research skills with the Scientific Research Society, or learn more about the medical field through our Pre-Medical Honor Society. We also offer student-led clubs for biology and pre-med students. At Liberty, you'll have many opportunities to connect with your peers while boosting your academic record.
---
Frequently Asked Questions
What does "biomedical sciences" mean?
The term "biomedical" means the connection between biology and medicine. Professionals in this field seek to improve and advance medical knowledge using principles in biology. By earning a biomedical sciences degree, you can make a lasting impact in your community — and in the world as a whole.
What does "pre-med" mean?
A pre-medical program is designed to equip you for medical school. By studying biomedical sciences at Liberty University, you will complete all of the necessary coursework required for medical school admissions.
What can you do with a biomedical sciences degree?
Many jobs in the medical field require training beyond the undergraduate level. However, earning your bachelor's degree is an important first step to take. Our biomedicine degree can help equip you for a career in physical therapy, podiatry, epidemiology, genetics, neuroscience, or dentistry, among other fields.
How long is the pre-med program?
You can complete this biomedical sciences major for pre-med students in about 4 years.
Can you get into medical school with a bachelor's degree in biomedical sciences?
Yes! This program is designed to help you achieve high MCAT scores, as well as prepare you for med school and other related graduate programs.
What Will You Learn in Our Biomedical Courses?
In Liberty University's pre-med program, you'll take foundational courses in biochemistry, biology, genetics, statistics, and human anatomy. By understanding how biology and medicine intertwine, you'll be equipped to make important discoveries in the medical field. You can also gain the knowledge needed to prepare for medical school and other graduate programs.
Other topics of study include organic chemistry, physics, cell biology, and the history of life. Throughout all of your pre-med courses, you will explore science from a creationist perspective. You'll also learn about evolution so that you can develop a well-rounded approach to scientific concepts.
Almost all of our science courses have a required laboratory component. That way, you can gain hands-on experience and apply what you've learned to real-world scenarios. Within the biology seminar, you'll have the opportunity to develop research skills that are essential to a career in biomedicine.
View the Degree Completion Plan, and check out our featured courses below for more information on what you'll be studying!
Featured Courses
BCHM 450 – Medical Biochemistry
Some of the topics you'll study include:
A survey of the human body as an integrated chemical system, with an emphasis on the molecular basis of disease and the use of therapy to restore body function

The link between biochemistry and human anatomy/physiology
In this course, you'll learn about:
The principles of heredity, with an emphasis on:

Genetic engineering and epigenetics

Inheritance in individuals and populations

Mutations and their repair

Replication, transcription, and translation

The chemistry of the gene in DNA structure

The control of gene expression
BIOL 313 – Clinical Human Anatomy
This course covers:
The relationship between anatomy and physical examination/diagnosis

The structures of the human body, with an emphasis on clinical applications and common pathologies
Topics of study include:
The integration of molecular and cellular interactions for the maintenance of life

The organization and function of living matter at the cellular level
Highlights of Liberty University's Pre-Med Bachelor's Degree Program
Gain practical experience by completing

hands-on experiments

.

Study under

faculty with years of experience

working in academia and the professional world.

Take advantage of our

numerous research opportunities

.

Complete

internships and shadowing experiences

with local doctors.

Participate in

medical mission trips

with other pre-med students.
Bachelor's in Biomedical Studies (Pre-Medical) Degree Information
Residential

120 total credit hours

Transfer in up to 75% of your total degree

Liberty University's premed program falls under the

School of Health Sciences

.

Download and review Liberty University's biomedical sciences

DCP

(Degree Completion Plan).

View our

course catalog

for more information.
Career Opportunities for Graduates with a Degree in Biomedical Sciences
Dentist

Laboratory technician

Pharmacist

Physical therapist

Physician

Physician assistant

Research scientist
Please note: Many career opportunities in this field will require additional education beyond a bachelor's degree.
Admission Requirements for Liberty's Premedical Degree Program
Every application is reviewed by the admissions committee on a case-by-case basis, meaning there are no set minimums for acceptance. However, all applicants must submit the following documents* for admission:
Admission application

Official high school transcripts

Official college transcripts (if applicable)

Results from the CLT, SAT, or ACT are not required for admission, but may be used in consideration for merit-based aid.

Admission essay
*Additional documentation may be requested by the admissions committee after your application has been received.
Global Studies
By earning our B.S. in Biomedical Sciences – Global Studies degree, you'll be equipped to use your medical expertise to serve those overseas.
View the Degree Completion Plan.
Potential Careers
Disaster relief support technician

Epidemiologist

Field consultant

Global health educator
Global health program manager

Health policy analyst

Health scientist

Medical officer
Please note: Many career opportunities in this field will require additional education beyond a bachelor's degree.