Be a Formidable Asset for Justice with an Associate of Arts in Criminal Justice
A career in criminal justice is one that can be rewarding mentally, spiritually, and financially. Whether you want to protect your local community through patrol or help behind the scenes managing resources and people, a degree in criminal justice will help you attain your goals. 
You'll receive the training you need in just two years by pursuing an Associate of Arts in Criminal Justice. With this degree, you will gain an understanding of criminal law as well as the nature of crime and how it relates to a biblical worldview. You will be prepared for many specialized career opportunities including criminal investigator, detective, and corrections officer.
Award-Winning Campus
At Liberty, you'll find an affordable, high-quality education that equips students like you for the real world. Our commitment to excellence helped us rank among Niche.com's Top 3 college campuses in America. Earning your degree from a nonprofit university with state-of-the-art resources like ours can help set you apart from your peers.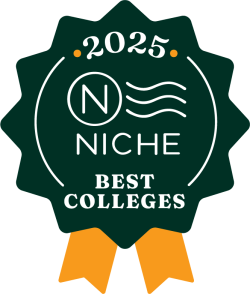 ---
Why Choose Liberty's Associate of Arts in Criminal Justice Degree?
An associate degree in criminal justice can provide the credentials you need to begin a career serving your community with pride. This degree program is well-rounded and allows for the possibility of transferring earned credits toward a bachelor program. Our professors are experienced law enforcement and criminal justice professionals who have years of training under their belts working for the FBI, Virginia Beach Police Department, and many other agencies. Throughout your academic journey, you will receive support, guidance, and first-hand knowledge from your professors and classmates.
In the field of criminal justice, more and more positions will not consider you if you do not have a degree. We will train you and ensure that you have the specialized skills and knowledge needed to be successful in the criminal justice field.
---
What Will You Learn in Our Associate of Arts in Criminal Justice Degree?
As you begin your A.A. in Criminal Justice degree, you will take general education classes like math, English, social science, or history. The real fun begins with your specialized classes in criminal justice. Throughout these classes, you will familiarize yourself with corrections in the United States, criminal law, and the judicial process. You will gain the knowledge and skills needed to carry out investigations and be an asset to any law enforcement or investigatory agency.
Review the Degree Completion Plan, and check out our featured courses below to learn more about what you'll be studying!
Featured Courses
This course is designed to familiarize the student with the criminal correctional system in the United States. The student will review the history of corrections and procedural, statutory, and case law of American correction.
CJUS 330 – Judicial Process
This course is designed to increase the understanding of the criminal judicial process in the United States. It includes a study of the functioning of courts, judges, lawyers and law enforcement agencies, including judicial decision-making and the impact of court decisions on the American Republic.
This course is designed to examine theories regarding the nature and cause of criminal behavior and society's response. It approaches crime from a philosophical, psychological, and sociological perspective. Most importantly, this course strives to integrate a theological, perspective to crime and punishment.
This course is designed to provide an overview of the legal elements that apply to criminal law, procedure, and evidence, including proof, intent, conspiracy, classifications of crimes and related punishments, culpable mental states, defenses, rules of evidence (including the exclusionary rule), and rights and procedures in the gathering of evidence.
Highlights of Our Criminal Justice Associate Degree
In our A.A. in Criminal Justice program, you will be taught by professors recognized for their excellence in teaching and who have served with the FBI, the Virginia Beach Police Department, and other distinguished law enforcement agencies.
We care about you as an individual and are dedicated to giving you the support and mentorship you need throughout your A.A. in Criminal Justice degree.
Our program is rooted in the practical application of the theories you learn through simulations within the classroom and internships in the field.
We were awarded an Illuminate Grant for Justice Project DNA testing equipment and training, allowing students under the supervision of professors from our Criminal Justice, School of Law, and Biology departments to research cold cases and assist criminal justice reform advocates in exonerating wrongly convicted individuals.
Associate in Criminal Justice Degree Information
Career Opportunities for Criminal Justice Graduates
Bailiff
Bounty hunter 
Corrections officer
Criminal investigator
Forensic science technician
Homicide detective
Police officer
Admission Requirements for Undergraduate Degrees
Every application is reviewed by the admission committee on a case-by-case basis, meaning there are no set minimums for acceptance. However, all applicants must submit the following documents* for admission:
Admission application
Official high school transcripts
Official college transcripts (if applicable)
Results from the CLT, SAT, or ACT are not required for admission, but may be used in consideration for merit-based aid.
Admission essay
*Note that additional documentation may be requested by the admission committee after your application has been received.