Since 1971, Liberty University has had one mission — Training Champions for Christ.
It's what drives everything we do.
It's how we work to build a better world.
If faith is important to you, chances are you've spent years planting seeds of faith in your child. Their spiritual development matters to you — a lot.
When you're on Liberty's campus, you'll find a group of people who serve one another with grace and strive to cultivate a culture that is Christ-like and community-focused.
As a Christ-centered community, we prioritize the spiritual health of our students. It's part of our commitment to carrying on the work you began.
We provide resources and relationships to help your child grow in their faith as well as a safe environment for them to solidify what they believe.
So your student can go out and build a better world — as a Champion for Christ.
---
Liberty provides ample opportunities for students to grow spiritually through worship and discipleship.
---
Where will your son or daughter find spiritual input at LU?
The classroom | All courses are taught from a biblical worldview by professors who are committed to their faith and to mentoring their students.
Their dorm | Our 5:1 ratio of students to peer leaders on every hall means that your son or daughter will be living everyday life with people who choose to build Gospel-centered community and live on mission with Jesus.
Their sports team | Coaches, assistant coaches, strength
coaches — they understand the most important training their student-athletes receive is as a Champion for Christ, and their personal investment in their teams show it.
CSER (community service) | Serving one another is not only something God asks us to do — it's something that's good for you. Your child's life will be enriched by the many opportunities they're given to serve others.
Convocation | Though our guest speakers come from a variety of personal and professional backgrounds, every Convocation begins with a time of worship.
Campus Community | Liberty's weekly "church" service on Wednesday evenings is a time of refreshment, encouragement, and Bible-focused teaching. 
Their friends | While no community is perfect, the overall culture at Liberty is positive and encouraging, filled with people who want to inspire one another and be part of something greater than themselves.
Their phone | The Liberty Today mobile app offers a wealth of useful information about what's going on around campus — and it's where your son or daughter can request prayer from our team of 24/7 prayer warriors.

The Liberty Worship Collective leads worship during Convocation and Campus Community
"After this weekend, I can tell you that Liberty is a unique and wonderful place! We attended a class in Family and Child Development with Dr. Ritchie, and she spent 15 out of a 50-minute class reading and discussing John 15, and then she prayed. Wow. I've never been to a school that so clearly integrates faith and learning."
– Elizabeth M., Prospective LU Mom 
Award-Winning Campus
At Liberty, you'll find a welcoming environment that equips students like you for the real world. Our commitment to our values helped us rank as Niche.com's #2 most conservative college in America.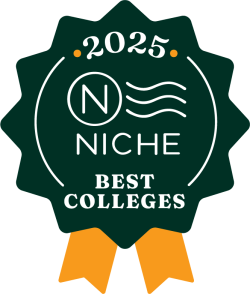 ---
Think Liberty will be a great fit?
Lock in the highest possible scholarship amount for your student by submitting a refundable Enrollment Deposit today!
---

Worship through Campus Community
Campus Community is the central gathering place for worship and spiritual growth at Liberty. Students draw closer to Christ every Wednesday night through this worship service centered around God's Word.
Want to watch Campus Community for yourself?
Download the LU Today mobile app and go to the "Campus Community" page — previous services are available on-demand.
Follow Liberty University Office of Spiritual Development on Facebook to watch Campus Community live.
---
Grow as a disciple of Christ through the LU Shepherds
The LU Shepherd Office focuses on the spiritual needs of the student body, offering guidance, discipleship, and soul-care.
Eleven full-time LU Shepherds (five male and six female — one is dedicated exclusively to our student-athletes) provide pastoral care to the Liberty student body.