College and Finances
Statistics show that college graduates (with a bachelor's degree) can earn twice as much as high school graduates, and their average lifetime earnings can range from $800,000 to $2 million.*
So while paying for college might feel like a financial challenge, an investment in education is an investment in your future. Many people don't end up paying sticker price for school. Scholarships, grants, loans — all of these can make college more affordable.
Because Liberty's mission is Training Champions for Christ, our goal is to find financial solutions that give you the best education for the most affordable price — so you can focus on finding the degree program that fits you, not on settling for something less somewhere else.
Take a look at some of the many financial opportunities you'll find at Liberty.
---
Ready for an Affordable Education?
---
---
Did You Know?
Every CFAW hosts scholarship workshops with helpful tips for funding your education.
96% of Liberty students receive financial aid.
CASAS regularly offers scholarship search workshops and tips for current students.
You could receive approximately $80,000 in scholarships over four years.
Following Mom or Dad to LU? If so, you could be eligible for $1,000 per year through our Legacy Scholarship.
Liberty's average academic scholarship is $3,300 per year.
The School of Music offers over 70 scholarships to music students.
Liberty's Center for Financial Literacy offers free biblically based financial training for Liberty students.
---
50th Anniversary Scholarship 
In celebration of 50 Years of Training Champions for Christ, we're giving away 100 $500 scholarships! Our goal is to continue to provide a quality education at an affordable price so that you can get the training and preparation you need to pursue your dream career with confidence. Learn more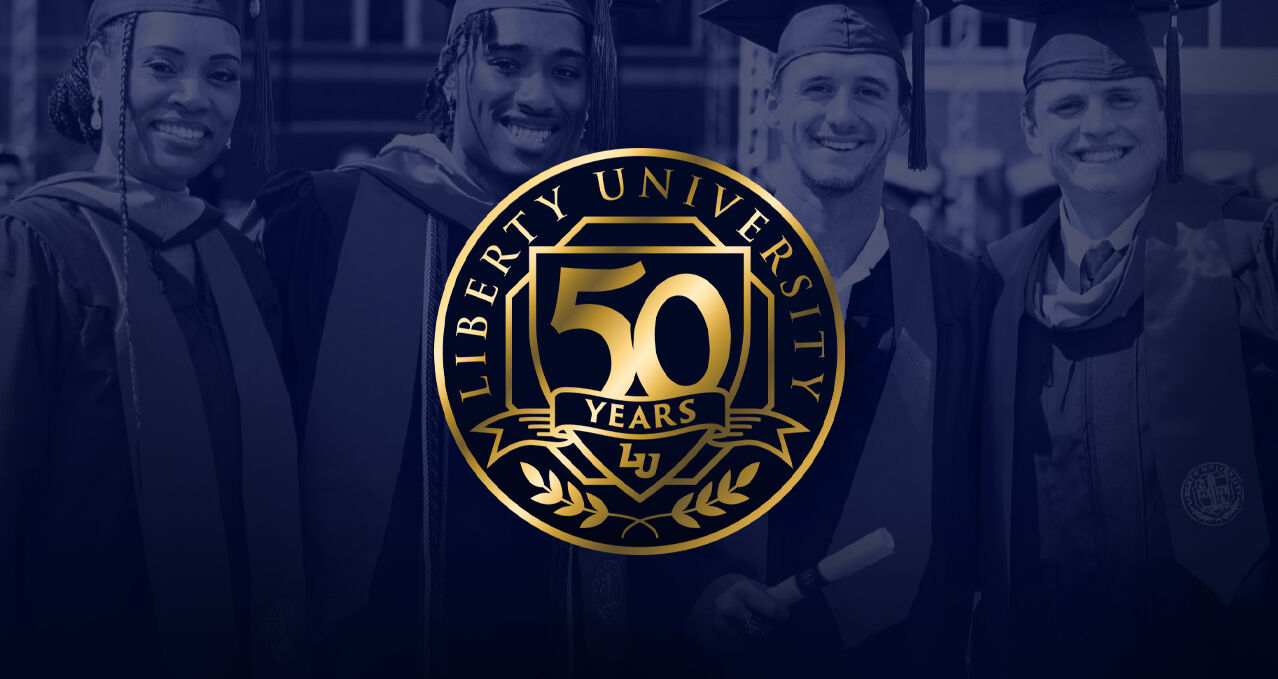 Middle America Scholarship
Our Middle America Scholarship helps students who don't receive a full Federal Pell Grant by funding the difference, providing over $20,000 over four years to families who typically earn $35,000-$95,000 per year.

Need-based Vs. Merit-based Aid
What qualifies you for particular scholarships or grants? Two things: Your financial need and your academic, athletic, or other talent-based achievements.
Need-based financial aid is awarded to you based on your family's financial need, as determined by the Free Application for Federal Student Aid — better known as the FAFSA.
When you submit a FAFSA, the federal government takes into account your family's income, assets, number of children, etc. and determines your Expected Family Contribution (EFC), or what is reasonable for your family to help pay toward a college education. Need-based aid uses the EFC to determine award eligibility and amounts.
Merit-based financial aid is made up of scholarships or grants that you earn. At Liberty, this could include academic scholarships like our Academic, Honors, Valedictorian/Salutatorian, or National Merit scholarships. Or it could mean trying out for a scholarship position on one of our 20 NCAA Division 1 athletic teams, Marching Band, or ministry teams.
Both need-based and merit-based scholarships are considered gift aid, which means you don't have to pay them back.
---
Debunking the FAFSA Myths
Now that you know the difference between need-based and merit-based financial aid, you probably are wondering about FAFSA. 
How important is the FAFSA?
How much will it cost me?
Will completing the FAFSA get me deeper in debt?
Will it commit me to Liberty University?
---
Scholarships 
Liberty offers a wide variety of institutional scholarships, both need-based and merit-based, to help you pay for school — you can even receive $2,000 just for sending in your Enrollment Deposit on time.
There are countless ways to create a personal scholarship package — here are some of our most common combinations. See if these apply to you or design one of your own!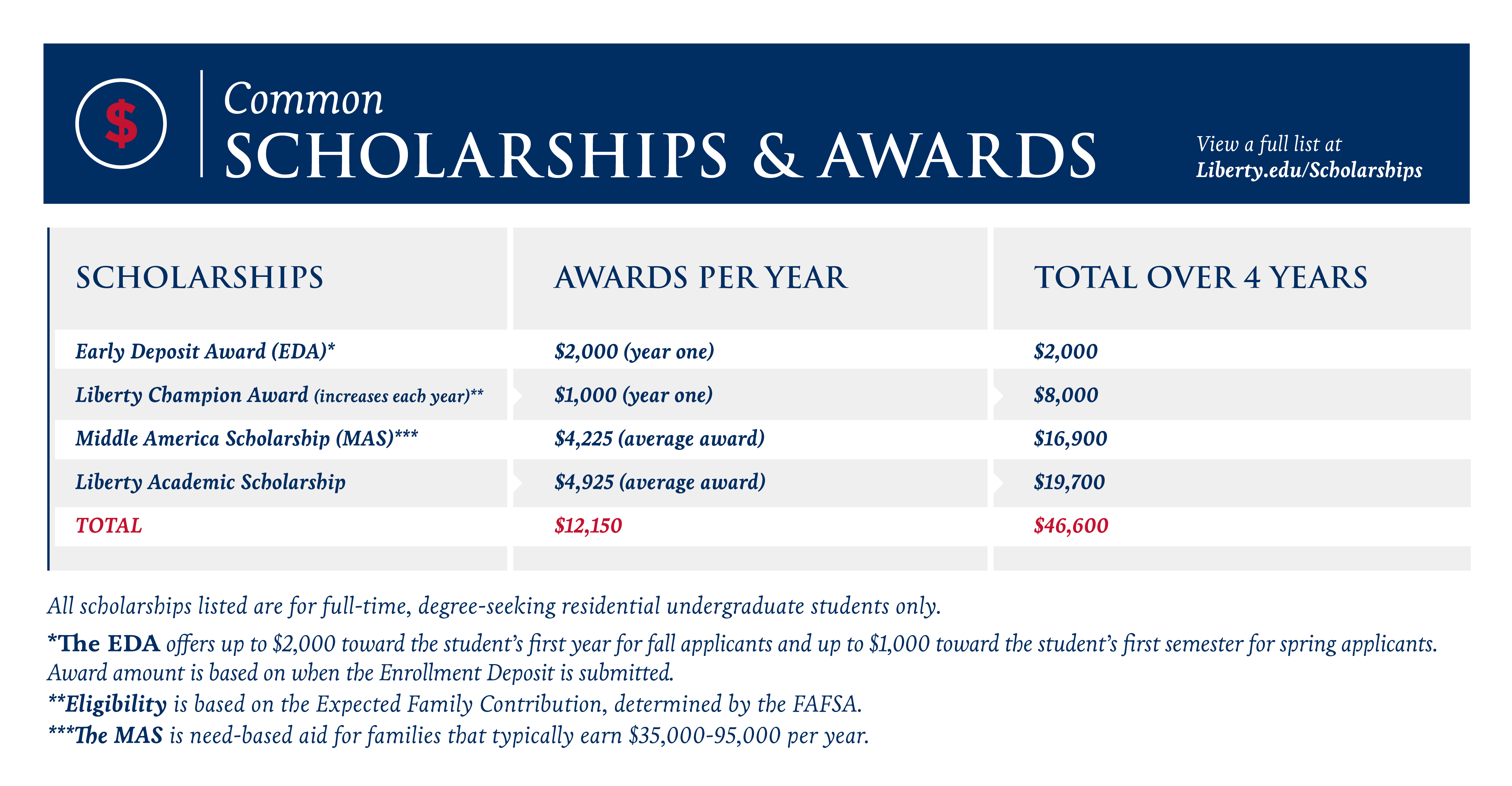 Canadian Student Initiative
Award: 30% discount for tuition and 20% discount for room, board, and activity fee (U.S. dollar amount). Students are also eligible to be awarded an academic scholarship, up to full tuition per year based on high school grades.
Eligibility: Canadians only. Please email Mrs. Sharon Bloomfield at  sbloomfield@liberty.edu
Award:
Graduated yearly award:
Year 1 Full-time $1,000
Year 2 Full-time $2,000
Year 3 Full-time $2,250
Year 4 Full-time $2,750
Eligibility:
Must be accepted as an undergraduate resident student for the current year.
Eligibility is based on the Expected Family Contribution (EFC) determined by the FAFSA.
Transfer and re-applied students will begin with the first year amount.
The scholarship expires after one year of senior status (5th year + seniors will not receive Champion Award).
Central Virginia Community College (CVCC)
For prospective students only. Current students who did not receive this scholarship upon matriculation are not eligible.
Award: Up to $2,000 awarded toward the first year of enrollment (amount varies–depending on the time of year)
Eligibility: Pay $250 Enrollment Deposit by the deadline
Award: $4,000 per year for up to four years
Eligibility:
If the student is transferring less than 60 hours and has a 3.5 un-weighted GPA or higher, he/she can apply for the Honors Program. Dual-enrolled high school students with 60+ hours of transfer credit may still be eligible for the Honors Program.
Liberty Virginia High-Achiever Scholarship
Lynchburg Beacon of Hope – Stay Close, Go Far Promise Program
Middle America Scholarship
Award: Full or partial tuition per academic year (less other federal, state, and Liberty institutional gift assistance; room, board, and fees not included) disbursed over four consecutive years of a bachelor's degree
Eligibility:
Must be accepted to Liberty University prior to January 29, 2021. Additional details about Liberty's Missions Programs & Scholarships are provided here.
The MK Scholarship program awards a limited number of scholarships per year and is highly competitive.
Must be a new resident undergraduate full-time consecutively enrolled, degree-seeking student
Must be beginning first enrollment at Liberty, including transfer students

If you have earned college credit through an accredited institution during high school, prior to attending Liberty University, you may still apply for the MK Scholarship

Must be a college-age child of a missionary who meets the federal definition of a

 

dependent student
Parent(s) must be serving full-time on a foreign mission field, not in the United States, (or on an approved furlough of 1 year or less) in good standing with an approved, participating agency
Must submit an official signed letter from the mission agency confirming the missionary status and field placement (or approved furlough of 1 year or less) by the application deadline before their first/freshman year
Must be a U.S. Citizen or federally defined eligible non-citizen. Legally adopted non-citizens who meet all other applicable criteria may appeal for eligibility
Must complete the Free Application for Federal Student Aid (FAFSA) each year and the Virginia Tuition Assistance Grant (VTAG) application, if applicable
Must live on campus all four years of enrollment
Must contribute spiritually, academically, missionally, through fellowship and conduct themselves in a way which is aligned with the Code of Conduct which includes proactively serving during Missions events and participating with the Third Culture Kid (TCK) Group
Must complete an application authorizing Liberty to confirm the missionary parent/s status in subsequent years and will be reviewed annually for continued eligible status of the MK Scholarship
Must maintain a minimum cumulative GPA of 3.00 each semester while attending Liberty University in order to continue to receive the MK Scholarship
Must remain in good standing with the University
Valedictorian/Salutatorian
---

Federal Supplemental Educational Opportunity Grant (FSEOG)
Amount per year:
Resident, up to $1,000
Online, up to $800
Eligibility:
Complete the FAFSA
Undergraduate student
Must be eligible for Federal Pell Grant
Need-based: Expected Family Contribution (EFC) of $0
Enrolled at least half-time
Funds are limited to early applicants
Other criteria apply, subject to change
Liberty Supplemental Grant
Amount per year:
EFC is 0-1000: $1,500
EFC is 1001-2500: $1,000
EFC is 2501-6000: $500
Eligibility:
Complete the FAFSA
Residential undergraduate student
Must be enrolled full-time
Need-based
Must borrow full Subsidized Federal Direct Student Loan
Based on Expected Family Contribution (EFC)
Other criteria apply, subject to change
Liberty Scholars Grant Program (Undergraduate)
Amount per year:
EFC is 0-1000: $2,200
EFC is 1001-2500: $1,700
EFC is 2501-6000: $1,200
Eligibility:
Liberty Scholars Grant can be awarded in addition to the Liberty Supplemental Grant (see above)
New Resident undergraduate, full-time, consecutively enrolled, degree-seeking students
For students beginning first-time enrollment on or after Fall 2017 semester
Must maintain financial aid satisfactory academic progress while enrolled at Liberty
Must have a qualifying federally calculated 9-month EFC in the entry year. Future year awards are based on first-year amount.
Must be eligible for and awarded the

Liberty Academic Scholarship (see scholarship section above)
Must apply for financial aid through the FAFSA and complete verification (as applicable) each year
Virginia Tuition Assistance Grant (VTAG)
Virginia Two-Year College Transfer Grant
Amount per year:
Up to $1,000 for standard award
Up to an additional $1,000 for certain majors
Eligibility:
Complete the FAFSA
Undergraduate in-state student (first time entering freshman no earlier than fall 2007)
Must be a Virginia domiciled resident
Must not have moved to Virginia for purposes of attending post-secondary school
Need-based: Returning students must have an EFC of $8,000 or less. Students who became eligible for the first time in Fall 2012 are granted the maximum EFC of $9,000. Students who became eligible for the first time in Fall 2013 are granted the maximum EFC of $12,000.
Must meet Selective Service requirements
Must have earned an Associate's degree at a Virginia two-year public institution with a cumulative GPA of 3.0 on a scale of 4.0 for the Associate's degree
Must maintain the 3.0 cumulative GPA at Liberty University
Must be enrolled full time at Liberty University by the fall or spring semester following the completion of the Associate's degree
Degree program cannot be for religious training or theological education
Additional $1,000 requires major in science, teaching, mathematics, engineering or nursing
Limited to three years or 70 credit hours
Other criteria apply, subject to change
If eligible, an application will be available in the student's ASIST account in the Financial Aid Forms section. If a student believes he or she is eligible for the Virginia Two Year College Transfer Grant but the application is not available to complete in ASIST, please contact the Liberty University Financial Aid Office by email at financialaid@liberty.edu
Virginia Two Year College Transfer Grant award projections will always be estimated awards until a final State budget is passed and a final roster of students is collected. Please keep in mind that this grant is subject to change based on State budgetary needs.
Virginia: Brown vs. Board of Education
Amount per year:
Amount is based on tuition and fees and an allowance for books/supplies
Up to $1,000 for books per term
Eligibility:
Undergraduate or graduate student
Must currently be a Virginia domiciled resident
Must not have moved to Virginia for purposes of attending post-secondary school
Must have been a Virginia domiciled resident between 1954 and 1964 and:
A student in qualifying public school systems closed to avoid desegregation; and
Unable to begin, continue, or complete your public school education during this time; or
Relocated within or outside of Virginia to begin, continue, or complete your public school education during these years due to a school closing to avoid desegregation; or
Ineligible to attend a private academy or foundation, in- or out-of-state established to circumvent desegregation; or
Unable to pursue postsecondary education opportunities or training because of the inability to obtain a high school diploma or its equivalency
John W. Rawlings School of Divinity and theological academic programs are not eligible
---
Loans
At Liberty University, we value our students' ability to make an impact after graduation — without being held back by unnecessary debt. So, while student loans can be a good means to complete your degree program, we always advocate smart borrowing.
A variety of private loans through banks and individual lenders exist, but there are three main types of federal student loans: Direct Subsidized, Direct Unsubsidized, and Parent PLUS loans.

Direct Subsidized
Available to undergraduate students based on your financial need
The U.S. Department of Education pays the interest on the loan:
While you're in school at least half-time
For the first six months after you leave school (known as a "grace period")
During a period of deferment (a postponement of loan payments)
Direct Unsubsidized
Available to undergraduate and graduate students; need is not a requirement
You are responsible for paying the interest on the loan during all periods.
If you choose not to pay the interest on the loan while you are in school, during the grace period, or during deferment, your interest will accumulate and be added to the base amount of your loan.
Parent PLUS
Available to parents of dependent undergraduate students
As a parent borrower, you'll generally be expected to start making payments once your loan is fully paid out.
You may request deferment while your child is in school or during the grace period, but interest will continue to accumulate.
Learn More about Federal Student Loans >
---
Academic and Honors Program Scholarships
Your high school grades and test scores could be worth at least $1,500 per year — and up to a full tuition scholarship. See if you qualify for the Liberty Academic Scholarship, or become an LU honors student and enjoy smaller class sizes, specialized housing, and a designated study space, The Scholars Commons, at the Jerry Falwell Library.
National Merit Finalists, Semi-finalists, and Commended students can earn full tuition; National Merit Finalists receive full room and board as well.
---
Work-study Funding
A part-time job on or off campus can also bring in funds for school. Federal work-study positions can provide you up to $5,000 per academic year, depending on your FAFSA. Work-study is considered need-based aid, and you'll know you're eligible for a work-study position if it's offered in your financial aid offer.
Little known fact: Unlike income from other jobs, your Federal Work Study wages are not counted toward next year's expected family contribution (EFC) from the FAFSA.
Program-specific, Ministry, or Leadership Scholarships
Do you sing or play an instrument? Want to fly a plane? Feel called to leadership? Liberty's multiple ministry teams — like the Sounds of Liberty, LU Praise, and the Liberty Worship Collective — offer scholarship positions. Many individual schools, including the School of Music and School of Aeronautics, offer their own program-specific scholarships.
While underclassmen are not eligible for Resident Assistant positions, hall leadership scholarships are available to those who qualify.
---
General Scholarship Rule (GSR)
Your combined federal grants, state grants, and Liberty aid cannot exceed the combined cost of actual tuition and Tier 2 room and standard board charges. For commuter students, the GSR calculation only includes the cost of tuition since there is no room and board charge, which means federal grants, state grants, and Liberty aid cannot exceed the actual cost of tuition. 
If the combined aid exceeds the total cost as specified, Liberty aid will be reduced to resolve the excess aid. The Federal Pell Grant is not included as a factor in the GSR for Resident students. All Liberty aid is subject to the GSR.
---
Liberty University reserves the right to change the terms and conditions of any scholarship at any time at its discretion, as well as suspend or terminate any scholarships.