Have Questions? We Have Answers.
Learn More About What We Offer Your Student: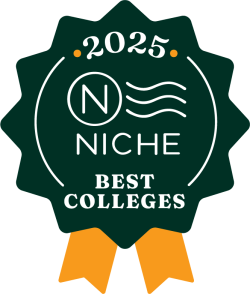 Award-Winning Campus
At Liberty, you'll find an affordable, high-quality education that equips students like you for the real world. Our commitment to excellence helped us rank among Niche.com's Top 3 college campuses in America. Earning your degree from a nonprofit university with state-of-the-art resources like ours can help set you apart from your peers.
Planning your college tour schedule?

Download this "College Visit Quick Guide" to rate each school you visit and keep track of favorites! See how Liberty compares when you explore all we have to offer under the "Discover Liberty" tab above.

"We were so impressed by the state-of-the-art facilities and the pride and care that is taken in them. Remarkable. I could go on and on and on. There really is no other place like Liberty."     – Elizabeth M. prospective LU mom
Did You Know?
94% of Liberty students receive some sort of financial aid.
We are recognized by multiple institutions for our academic quality, affordability, and accessibility.
Our technical studies program allows students to take electives or add a minor in carpentry, welding, HVAC, electrical, or plumbing.
Liberty's award-winning Food Court at Reber Thomas features more than 22 food stations.
Regular bus routes transport students on and off campus.
Residential students can also take online courses to maximize both time and money.
Every hour of the day, every day of the week, someone is praying for prayer requests submitted by students.
Liberty was ranked among the top 3 safest campuses in Virginia and in the top 10% of safest campuses in America for 2023 by Niche.com.
You can be a student, too! Many parents pursue online degrees through Liberty and graduate together with their children.
Liberty has a dedicated Parent and Family Connections office.
Liberty was ranked in the top 5 best dining halls in the country for the past 4 years by BestColleges.com.
Discounts for Your Family
Discounts may be available for families who have members attending across our campuses – residential, online, and the online academy. To find out what this may mean for you, contact Liberty University Online at (800) 424-9595. 
Before College at Liberty
During College at Liberty
After College at Liberty
We're Here to Help
Your son or daughter is preparing for their first big transition into adulthood — college. You've walked with them through every major event in their lives, and this one will be no different.
So, we're here to make the process as simple as possible.
Want to talk? Call our dedicated parent helpline at (855) 745-3568 to ask questions or talk with one of our admissions specialists about what's next. There's no need to go through this alone — we're here to help!