Learn to Tell Stories Through Film and Visual Arts with Liberty's BFA Program in Film Production and Creative Development – Visual Arts
Have the cinematic arts always been a passion of yours? Maybe you've considered a career in film for some time, and you'd like to earn a respected degree that can help you pursue your Hollywood dreams. If this sounds like you, Liberty University's Bachelor of Fine Arts (BFA) in Film Production and Creative Development – Visual Arts may be a great fit for you. At Liberty, we can help you take your passion for film and the visual arts and turn it into a rewarding career.
By partnering with us for your Bachelor of Fine Arts (BFA) degree, you can gain valuable, marketable skills that can help you stand out in editing, directing, producing, and writing applicant pools. The purpose of this film and visual arts degree is to mentor, educate, and prepare filmmakers to become artists and servant-leaders who exemplify Christ. We don't just seek to produce graduates – we seek to prepare principled difference makers whose drive to succeed in the fine arts is preceded only by a love of God and people.
At Liberty, a BFA in Film Production and Creative Development – Visual Arts is more than your starting point to a cinematography or visual arts career – it's a launching pad. Partner with us, gain new skills, and become part of a Christian culture that can cultivate your passion for film into a marketable, sought-after skill set.
Award-Winning Campus
At Liberty, you'll find an affordable, high-quality education that equips students like you for the real world. Our commitment to excellence helped us rank among Niche.com's Top 5 college campuses in America. Earning your degree from a nonprofit university with state-of-the-art resources like ours can help set you apart from your peers.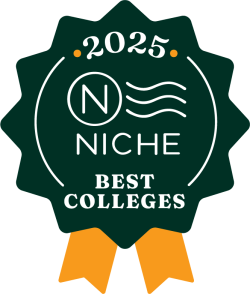 ---
Why Choose Liberty's BFA Degree in Film Production and Creative Development – Visual Arts?
At Liberty, we don't just offer you the chance to earn a degree – we offer you a world-class educational experience that can help equip you for the future. Our BFA program is taught by a cadre of expert professors with years of experience in filmmaking, directing, and cinematic storytelling. To our instructors, teaching is more than just a job – it's a calling. You'll find that the faculty in our BFA degree are passionate about helping you succeed in your endeavors – academically, professionally, and spiritually.
We also offer you the opportunity to walk away with your own professional portfolio – which includes a short film written and directed by you, a feature-length screenplay, a business plan for that screenplay, and a variety of in-demand certifications. Furthermore, we offer you access to state-of-the-art facilities, including:
ADR booths and classrooms equipped with 7.1 surround
Audio-Technical Microphones and DeSisti Lights
Mixing and 4K coloring edit suites
RED Helium, RED Epic Dragon, and RED Prime Lenses
Two large editing labs and a THX-certified 7.1 dubbing stage
To see a full list of available equipment, check out our Zaki Gordon Cinematic Arts Center.
---
What Will You Learn in Our Film and Visual Arts Degree?
In addition to general education courses, our BFA in visual arts offers you an in-depth examination of current topics pertinent to success in the film industry today.
In this degree program, you will study screenwriting, motion picture directing, cinematography, and sound design. You will also study the legal environment of cinema, story analysis, producing, and editing. Additionally, our BFA in film degree covers production sound, feature pre-production, branding and entrepreneurship, and feature production.
From there, this visual arts degree covers marketing and distribution, advanced post-production, screenplay rewrite, audio post-production, and persuasion. Our visual arts major also features 3 courses specific to visual arts. In this section, you will have the freedom to choose courses that best match your specific interests and goals. For more information on which courses you may take, please see the Degree Completion Plan.
Featured Courses
CINE 305 – Producing and Directing
CINE 402 – Feature Production
BFA Degree in Film Production and Creative Development – Visual Arts
You will participate in a large-format production with working professionals. Some of our productions have earned awards, and our program is the first, at any university, to produce a student-driven movie with a national theatrical release.
You will study various aspects and positions of filmmaking, including legal and business affairs, marketing and distribution, and more. Holistic training like this can help you build an attractive résumé and open opportunities for career success.
Upon completion of this degree, you will graduate with your own film created in a theatrical 4K workflow using RED Weapon cameras and an up to 5.1 surround sound mix.
You can pursue certification in Avid, Adobe, and DaVinci products.
Liberty's film production graduates have worked on blockbuster movies like Jumanji: Welcome to the Jungle, Black Panther, and Avengers: Infinity War. Our graduates have also used their skills in other job sectors such as education and government, and some have started their own businesses!
BFA Degree in Film Production and Creative Development – Visual Arts Information
Potential Career Opportunities for Visual Arts Graduates
Liberty University's Bachelor of Fine Arts in Film Production and Creative Development – Visual Arts can help prepare you for the following occupations:
Animator
Assistant editor
Cinematographer
Director
Film and video editor
Multimedia artist
Producer
Production assistant
Admission Requirements for Our Undergraduate Degrees
Every application is reviewed by the admission committee on a case-by-case basis, meaning there are no set minimums for acceptance. However, all applicants must submit the following documents* for admission:
Admission application
Official high school transcripts
Official college transcripts (if applicable)
SAT, ACT, or CLT scores (Liberty University is offering test-optional admission through Fall 2023 acceptance)
Admission essay
*Note that additional documentation may be requested by the admission committee after your application has been received.