Use Your Trade to Impact Eternity with Our Associate of Applied Science in Technical Studies Degree
At Liberty, we Train Champions for Christ who have a passion for leading with excellence and integrity in every trade. We have partnered with the Virginia Technical Institute (VTI) to offer OSHA 10 and National Center for Construction Education and Research (NCCER) accredited courses in carpentry, plumbing, welding, HVAC, and electrical studies.
These trade programs further our mission to develop "Christ-centered men and women with the values, knowledge, and skills essential to impact the world" as we believe the related skills are critical to a functioning infrastructure and society. Whether you are considering a career abroad or simply want to expand your opportunities for employment and Christian service upon graduation, adding trade training to your degree will positively affect your professional future.
As a student on our campus, you will be engaged in our dynamic faith-based Christian environment filled with opportunities to grow spiritually, excel academically, and achieve your maximum potential. By earning your associate's degree in technical studies, you can receive the training you need to enter your trade better prepared for success that impacts the world for Christ.
---
Award-Winning Campus
At Liberty, you'll find an affordable, high-quality education that equips students like you for the real world. Our commitment to excellence helped us rank among Niche.com's Top 5 college campuses in America. Earning your degree from a nonprofit university with state-of-the-art resources like ours can help set you apart from your peers.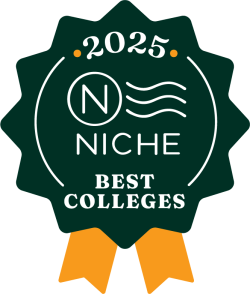 ---
Why Choose Liberty's Associate Degree in Technical Studies?
In addition to preparing you to pursue an apprenticeship toward journeyman and state certification, our residential Associate of Applied Science (AAS) in Technical Studies degree program offers you the opportunity to serve others while gaining relevant experience in Lynchburg and abroad.
Through our trips with LU Serve Now, you will be able to give back while gaining experience in both construction and disaster relief situations. At Liberty, we not only want to prepare you for a career but a life that makes an impact on others.
---
What Will You Learn in Our Technical Studies Associate Degree Program?
In our applied science technical studies degree, you will learn how to maintain a budget, explore the effects of the economy on trades, and create a safe work environment. In addition to the OSHA 10 certification you'll earn, you can also obtain your CPR certification so that you will be prepared to respond if an accident happens in your place of work.
In your trade courses, you will learn the necessary terms and regulations you need to know to practice your craft as well as how to read building plans and construction drawings. No matter what trade you choose, your classes will combine lectures with practical, hands-on instruction, so you are prepared to start your career after graduation.
View the Degree Completion Plan and featured courses below for more information on what you'll learn!
Featured Courses
CRFT 101 – Introduction to Craft Skills
Here's what you'll learn:
Safety principles, culminating in OSHA 10 certification
Construction math and drawings
Materials handling
Skills for seeking and maintaining employment
ECON 110 – Survey of Economics
Here's what you'll learn:
General economic principles
Current theories of micro and macro economics
The current market system of the U.S. and how it compares to other systems
ELTC 101 – Foundations of Electricity
If you chose electrical studies, here's what you'll learn:
Electrical safety
The basics of the National Electric Code
How to read basic electrical construction drawings
The basics of residential electrical services
HLTH 205 – Accident Prevention and Care
Here's what you'll learn:
Principles of accident prevention
How to respond to a variety of emergencies in unique settings
Principles of first aid, culminating in CPR certification
Highlights of Our Technical Studies Associate's Degree Program
You can receive OSHA 10 and NCCER certification by earning your AAS in Technical Studies.
Choose from five different trades that offer a variety of mission and employment opportunities.
As a Liberty student, you have the option of transferring earned credits from your associate in technical studies degree to our B.S. in Interdisciplinary Studies

.

This gives you the ability to add a second trade, business classes, or another area of study to your degree that will help you achieve your career goals.
We are dedicated to supporting our students, and our Career Center offers résumé review services and interview practice, as well as opportunities to connect with potential employers.
Our Technical Studies Associate Degree Program Information
Career Opportunities for AAS in Technical Studies Graduates
Carpenter
Electrician
HVAC specialist
Plumber
Welder
Admission Requirements for Undergraduate Degrees
Every application is reviewed by the admission committee on a case-by-case basis, meaning there are no set minimums for acceptance. However, all applicants must submit the following documents* for admission:
Admission application
Official high school transcripts
Official college transcripts (if applicable)
Results from the CLT, SAT, or ACT are not required for admission, but may be used in consideration for merit-based aid.
Admission essay
 *Note that additional documentation may be requested by the admission committee after your application has been received.