Be a Positive Influence in Government with an Associate of Arts in Government
If you are looking to enter a career in government and need credentials on your resume as soon as possible, then an Associate of Arts in Government from Liberty University is the right choice for you. Our A.A. degree provides training in the issues and institutions of American politics and the differences between liberalism and conservatism.
Gain an understanding of the benefits of a Christian worldview in public policy as well as the role of our civil government versus the role of the free market economy. You will study government policies and processes while learning general education requirements. This degree is a great step towards continuing your education if you wish to later transfer your courses to one of Liberty University's bachelor's degree programs.
Award-Winning Campus
At Liberty, you'll find an affordable, high-quality education that equips students like you for the real world. Our commitment to excellence helped us rank among Niche.com's Top 3 college campuses in America. Earning your degree from a nonprofit university with state-of-the-art resources like ours can help set you apart from your peers.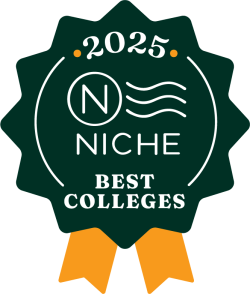 ---
Why Choose Liberty's Associate of Arts in Government Degree?
Liberty University's Associate of Arts in Government is a degree program that can provide fast and affordable credentials for you to begin a career in government. The degree is well-rounded enough that if you want to transfer later to one of our bachelor's programs, you would be well set up to do so. If you pursue this degree full-time, you can complete it in just 2 years, or 5 semesters.
The reasons people get an associate degree vary, but statistics do not lie. According to the Bureau of Labor Statistics (BLS), people who hold associate degrees earned more in 2020 than non-degree holders.* You have the potential of earning more money and finding the career you are passionate about pursuing further when you have an associate degree. If you are already in a job and ready to pursue a promotion or new challenge, then pursuing this degree is just the opportunity you need to learn new skills and gain a fresh perspective on your future.
*Bureau of Labor Statistics, U.S. Department of Labor, at Unemployment rates and earnings by educational attainment (viewed online Dec. 2, 2021). Cited projections may not reflect local and/or short-term economic or job conditions and do not guarantee actual job growth.
---
What Will You Learn in Our Associate of Arts in Government Degree?
The core curriculum of this degree program consists of general education classes like math, English, and some social science or history classes. The major-specific courses will teach you how to evaluate the nature and role of government from a biblical worldview.
Throughout this degree, you will gain a basic knowledge of our government system and the role of a limited government in relation to the free market economy. You will also examine the American political system and the ongoing struggle between liberalism and conservatism. Additionally, you will hone your communication skills by focusing on your ability to write clearly and concisely.
Download and review our A.A. in Government Degree Completion Plan.
Featured Courses
GOVT 200 – Constitutional Government and Free Enterprise
Here's what you'll learn:
Diverse introduction to political and economic ideas, government institutions, free market processes, public issues, economic policy, and political and economic activity.
The close relationship between a system of limited constitutional government and the free enterprise economy and providing an overview of the Christian worldview with regard to government and economics.
GOVT 220 – American Government
Here's what you'll learn:
The issues, interest, and institutions of American politics, emphasizing the struggle between liberalism and conservatism.
GOVT 350 – Political Economy and Public Policy
Here's what you'll learn:
Application of social ethics and economic theory to government, politics, social institutions, law, and public policy questions.
Topics include the role of a worldview in public policy, the role of civil government versus the role of the market, constitutional and legal decision-making, the morality of capitalism, the problems of special interest groups and public bureaucracies, the theory of regulation and specific public policy issues.
Highlights of Our Government Associate Degree
Get your Associate of Arts degree in government in just 2 years.
Learn to think critically and be guided by duty, honor, and morality.
Our Helms School of Government, named after Sen. Jesse Helms, was founded to promote traditional values and conservative thoughts.
Associate in Government Degree Information
Career Opportunities for Government Associate Degree Graduates
Administrative office clerk
Community organizer 
Legislative analyst
Political campaign assistant
Admission Requirements for Undergraduate Degrees
Every application is reviewed by the admission committee on a case-by-case basis, meaning there are no set minimums for acceptance. However, all applicants must submit the following documents* for admission:
Admission application
Official high school transcripts
Official college transcripts (if applicable)
Results from the CLT, SAT, or ACT are not required for admission, but may be used in consideration for merit-based aid.
Admission essay
*Note that additional documentation may be requested by the admission committee after your application has been received.