Become an Advocate for Those Who Need it Most with Liberty's Social Work Degree
Prepare yourself for a career that really makes a difference! Earning a bachelor's degree in social work can give you the skill set you need to become an advocate for people from all walks of life. Liberty's social work degree will equip you with compassion and care for these people so you can become an industry leader with excellence and integrity.
From adoption services to mental health clinics to social service agencies, the field of social work continues to grow and change. We want you to be prepared for your future, whether you are looking to work in a medical capacity or on mission. There are so many ways to use the talents God has given you, so let us help! Get ready for a diverse and rewarding career in social work with a degree from Liberty University.
Award-Winning Campus
At Liberty, you'll find an affordable, high-quality education that equips students like you for the real world. Our commitment to excellence helped us rank among Niche.com's Top 3 college campuses in America. Earning your degree from a nonprofit university with state-of-the-art resources like ours can help set you apart from your peers.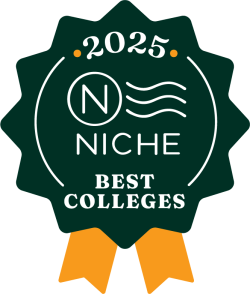 ---
Why Choose Liberty's Bachelor of Science in Social Work (BSW)?
Pursue Liberty's Bachelor of Science in Social Work (BSW) and set yourself up for success. If you are looking to work for any sort of social service agency, a social work degree will help you stand out. These agencies prefer to hire candidates that have this specific degree under their belt.
Having a social work degree opens the door to multiple job opportunities, from careers in adoption services to medical or even military social work. Liberty's bachelor's degree program prepares you with best practices vital to a thriving career in these fields.
By earning a BSW accredited by the Council on Social Work Education (CSWE), you can gain advanced standing for a master's in social work (MSW)! This means that while you are taking your necessary undergraduate courses, you can earn up to one full year of academic credit towards an MSW program. Earn your bachelor's and get ahead in your graduate studies all in one degree!
---
What Will You Learn in Our Social Work Program?
Develop the skills you need to succeed wherever your career in social work takes you. Our program focuses on equipping you with care and compassion as you learn best practices you will use on a daily basis. We want you to feel as prepared as possible to provide the best social, mental, and spiritual help you can to those who need it most.
Our social work degree provides courses in health, psychology, sociology, and, of course, social work. Our psychology courses will develop your understanding of human behavior. The sociology courses will help you assess and prevent certain social problems you or your clients may face in the workplace. Finally, your social work courses will give you practical applications on how to work with families, diverse populations, chemical dependents, and more! 
View the Degree Completion Plan, and check out our featured courses below for more information on what you'll be studying.
Featured Courses
PSYC 101 – General Psychology
Here's what you'll learn:
Introduction to psychology as a scientific discipline concerned with the study of behavior
Human development, motivation, emotion, perception, and learning
Personality, intelligence, measurement, and applied areas
SOWK 260 – Chemical Dependency
Here's what you'll learn:
An overview of the concepts associated with the use and abuse of alcohol and other drugs
Various perspectives on treatment and prevention options evaluated through a biblical worldview
SOWK 325 – Social Welfare and Policy
This course studies the historical and contemporary issues surrounding social welfare and policy in the U.S. Particular focus is placed on analyzing, formulating, and advocating for policies that advance social well-being.
Highlights of Our Social Work Degree
We want to see you succeed! That's why we offer various ways for you to take your classroom knowledge and apply it in your future career field. Through our social work degree, you have the ability to gain hands-on experiences in social work through:
The Department of Psychology offers activities and events that can deepen your awareness of social injustices and learn from industry leaders on how to go about making a difference.
Joining one of our clubs and student organizations, such as the Social Work Club, where you can network with peers and professors alike.
Field experience opportunities and internships that allow you to gain invaluable work experience. Choose to do so near Lynchburg, at home, through our Washington Fellowship program, or even internationally!

Social Work Bachelor's Degree Information
Career Opportunities for Social Work Graduates
Adoption and foster care
Counseling/private practice
Geriatrics
International social work or missions
Medical social work
Military social work
Research
School social work
Admission Requirements for Undergraduate Degrees
Every application is reviewed by the admission committee on a case-by-case basis, meaning there are no set minimums for acceptance. However, all applicants must submit the following documents* for admission:
Admission application
Official high school transcripts
Official college transcripts (if applicable)
Results from the CLT, SAT, or ACT are not required for admission, but may be used in consideration for merit-based aid.
Admission essay
*Note that additional documentation may be requested by the admission committee after your application has been received.