Encourage Believers Around the World Through Music with Our B.S. in Music and Worship – Audio Technology Degree
In a worship ministry, there are many seen and unseen positions working simultaneously to create a seamless and distraction-free experience for a congregation or concert/conference attendees. Sound engineers support music and worship ministries by incorporating sound, media, and lighting into the worship experience. While most sound engineers work behind the scenes, their contribution to the worship experience is crucial.
Our Bachelor of Science in Music and Worship – Worship Technology Audio degree will help you develop your team management and audio technology skills in addition to growing as a musician. You will learn how to record, edit, and produce music so your church can share original worship songs and arrangements with people around the world. God has a special call on your life, and we want to help you reach your full potential as a Champion for Christ in your worship ministry.
---

Award-Winning Campus
At Liberty, you'll find an affordable, high-quality education that equips students like you for the real world. Our commitment to excellence helped us rank among Niche.com's Top 5 college campuses in America. Earning your degree from a nonprofit university with state-of-the-art resources like ours can help set you apart from your peers.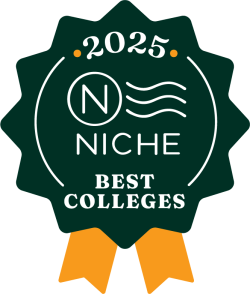 ---
Why Choose Liberty's Bachelor's Degree in Music and Worship –Worship Technology Audio Degree?
At Liberty, we are committed to providing you with the training and hands-on experience you need to reach your full potential as a musician, worship leader, and sound engineering specialist.  Throughout our bachelor's degree in music and worship program, you will study with respected musicians who have served in churches across the nation.
As 1 of the top 10 largest schools of music in the nation, we offer a variety of hands-on training opportunities designed to provide you with the experience you need to succeed in ministry. While here, you can work with LU Praise, our Liberty Worship Collective, and local churches as you develop your worship technology skills.
---
What Will You Learn in Our Worship Technology – Audio Bachelor's Degree?
Throughout our bachelor's degree in music and worship, you will build foundational knowledge in harmonic practices and theory, musicianship, creative worship, music production, audio engagement, basic conducting, and worship choir. If you choose to pursue our audio technology specialization, you will focus your studies on recording, editing, and producing music.
As a Liberty student, you can apply the skills you gain in creating and publishing your own music with our Liberty Music Group (LMG). You can also gain hands-on training experience by participating in some of our worship ensembles, completing practicums, and interning with a local church.
Review our worship technology Degree Completion Plan, and check out our featured courses below to learn more about what you'll be studying!
Featured Courses
DIGI 175 – Fundamentals of Editing
Here's what you'll learn:
A study of the techniques and workflow of the non-linear editing process
Examine tools and formats as they relate to the post-production process
DIGI 337 – Music Recording
Here's what you'll learn:
This course provides students the hands on experience to record, and mix down different music projects from a simple recital or solo project to a multi-track recording of a contemporary or symphonic band
Students will also learn proper microphone placement, mixing, and application of specific plug-ins in music recording and production
MUSC 105 – Harmonic Practices and Theory I
Here's what you'll learn:
A practical introduction to harmonic, melodic, and rhythmic principles of music
Musical elements including key signatures, scales, intervals, chords, chord construction, and chord progression, which are the foundation for harmonic analysis of traditional, contemporary Christian, popular, and jazz music
The Nashville number system and jazz harmony practices as accepted methodology for music analysis
MUSC 107 – Musicianship I
Here's what you'll learn:
Listening skills are developed through rhythmic, harmonic, and melodic dictation
Refined skills through daily sight singing and rhythm exercises from a variety of styles
Special attention is given to tonal center referencing, which is the ability to identify harmonic rhythm while listening to a variety of musical styles
---
Highlights of Our B.S. in Music and Worship – Technology: Audio Degree
We are dedicated to producing graduates of distinction. Our graduates have found careers as well-known Christian singers and songwriters, worship leaders at churches like Harvest Bible Chapel, musicians playing for stars like Carrie Underwood, and conductors leading choir festivals throughout Southeast Asia.
Our faculty members are distinguished musicians with degrees from some of the most prestigious music schools in the nation.
You will have the opportunity to serve with the Liberty Worship Collective and lead thousands in worship multiple times a week.
Our School of Music programs are accredited by the National Association of Schools of Music (NASM).
Our Center for Worship has been voted "Best of the Best in Higher Education" six years in a row by Worship Leader Magazine.
We are designated an "All-Steinway" school.
Our alumni have gone on to become Dove-award-winning Christian artists and songwriters.
Our Music and Worship Technology: Audio Bachelor's Degree Information
Career Opportunities for Our Bachelor's Degree in Music and Worship –Technology: Audio Graduates
Associate director of worship programming
Contemporary Christian artist
Director of worship and drama
Director of worship conferences
Music production manager
Recording artist
Worship and missions director
Admission Requirements for Undergraduate Degrees
Every application is reviewed by the admission committee on a case-by-case basis, meaning there are no set minimums for acceptance. However, all applicants must submit the following documents* for admission:
Admission application
Official high school transcripts
Official college transcripts (if applicable)
Results from the CLT, SAT, or ACT are not required for admission, but may be used in consideration for merit-based aid.
Admission essay
*Note that additional documentation may be requested by the admission committee after your application has been received.