Develop a Business Sense for the Music Industry with a Degree in Music and Worship: Business
Are you excited about the idea of turning your musical talent into a career? Liberty University's Bachelor of Science in Music and Worship degree, with a specialization in business, provides the training you need to pursue careers in music and worship that will be personally, spiritually, and financially fulfilling.
With a bachelor's degree in music and worship, you'll have plenty of opportunities to find the job of your dreams. You might be considered for positions like the director of music or worship programs, worship leader, worship minister, or even a contemporary Christian artist! Plus, your business concentration will give you additional insight into how businesses work—maybe you'll open your own music label or store one day.
So what are you waiting for? You're passionate about music and career possibilities. The music industry needs people like you. We're going to partner with you and provide the training, experience, and education you need to enjoy a fruitful career as a musician.
Award-Winning Campus
At Liberty, you'll find an affordable, high-quality education that equips students like you for the real world. Our commitment to excellence helped us rank among Niche.com's Top 3 college campuses in America. Earning your degree from a nonprofit university with state-of-the-art resources like ours can help set you apart from your peers.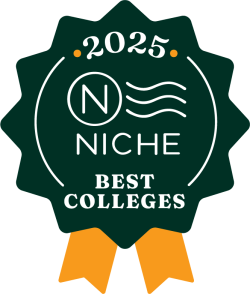 ---
Why Choose Liberty's Music and Worship: Business Degree?
We are proud of the fact that our School of Music is one of the top music schools in the nation. When you study music at Liberty, you're getting access to experienced and professional faculty members, market-driven coursework, and regular in-class experience. You're getting an education that's highly-rated among other schools and employers because we're accredited by the National Association of Schools of Music (NASM). We're excited about the opportunity to share more with you about why you should choose our School of Music.
So let's start here: our professors. You'll have access to 45 full-time music professors. These men and women are professionals in their field with real-life experience working in the music industry. They have graduated from some of the most prestigious music schools across the nation. And the best part? They're excited about teaching you—the next generation of musicians—as they mentor, guide, and support you while you're studying with us.
Each of our music courses is market-focused, meaning we have implemented training that is relevant to the current trends and practices of the music industry.  Many of our alumni have gone on to become Dove-award winning musicians.
---
What Will You Learn in Our Music and Worship: Business Degree?
With all of our music degrees at Liberty University, we work to ensure that you receive the knowledge, skills, and resources you need to pursue a fulfilling career in music after graduation. Throughout our music and worship degree, you'll study the basics and intricacies of music. Some of your courses will cover topics like harmonic practices and theory, musicianship, creative worship, commercial music theory, music production, basic conducting, and leadership skills.
If you pursue the business concentration of our music and worship degree, you'll gain additional insight into the management and leadership principles you'll need from courses like:
Legal and Ethical Concepts for Decision Makers
Financial Accounting
Principles of Management
Principles of Marketing
Review the Degree Completion Plan, and check out our featured courses below to learn more about what you'll be studying!
Featured Courses
MUSC 105 – Harmonic Practices and Theory I
Here's what you'll learn:
A practical introduction to harmonic, melodic, and rhythmic principles of music
Musical elements including key signatures, scales, intervals, chords, chord construction, and chord progression, which are the foundation for harmonic analysis of traditional, contemporary Christian, popular, and jazz music
The Nashville number system and jazz harmony practices as accepted methodology for music analysis
MUSC 107 – Musicianship I
Here's what you'll learn:
Listening skills through rhythmic, harmonic, and melodic dictation
Refined skills through daily sight singing and rhythm exercises from a variety of styles
Tonal center referencing, which is the ability to identify harmonic rhythm while listening to a variety of musical styles
MUSC 201 – Creative Worship
Here's what you'll learn:
An introductory study of the practical issues involved in planning and facilitating creative corporate worship
Worship planning, lighting design, audio and video production, presentation software, vocal and instrumental team communication and rehearsal, staging, banners, liturgical dance, and a variety of multi-media possibilities
MUSC 315 – Basic Conducting
Here's what you'll learn:
Rudimentary instruction in conducting techniques for traditional and non-traditional settings
Knowledge and skill areas stressed are basic conducting gestures and patterns, score interpretation, rehearsal management and technique, programming considerations, and special problems in vocal and instrumental situation
---
Highlights of Our Music and Worship: Business Degree
Access to 45 full-time faculty members with degrees from some of the most prestigious music schools in the nation.
Our music programs are accredited by the National Association of Schools of Music (NASM).
Our Center for Music Education and Performance is housed in a 141,000-square-foot building.
Our Center for Worship has been voted "Best of the Best in Higher Education" six years in a row by Worship Leader Magazine
We are designated an "All-Steinway" school.
Liberty Music Group (LMG) is our very own on-campus recording studio and professional music publishing and recording company.
Our alumni have gone on to become Dove-award winning Christian artists and songwriters.
All coursework is market-driven and focuses on developing your skills for the current industry.
Music and Worship: Business Degree Information
Career Opportunities for Music and Worship: Business Graduates
Associate director of worship programming
Contemporary Christian artist
Director of worship and drama
Director of worship arts
Director of worship conferences
Director of worship technology
Music and worship evangelist
Music minister
Worship and missions director
Worship leader or pastor
Admission Requirements for Undergraduate Degrees
Every application is reviewed by the admission committee on a case-by-case basis, meaning there are no set minimums for acceptance. However, all applicants must submit the following documents* for admission:
Admission application
Official high school transcripts
Official college transcripts (if applicable)
Results from the CLT, SAT, or ACT are not required for admission, but may be used in consideration for merit-based aid.
Admission essay
*Note that additional documentation may be requested by the admission committee after your application has been received.