Create the Next Epic Film Score with a Degree in Commercial Music: Film Scoring
You're watching your favorite movie and at that critical part in the film, you're filled with suspense, you explode in laughter, or you start sobbing. What is it that's making you feel this way—giving you this emotional and physiological reaction to what's happening on screen? It's the music—the film score.
You understand that the right music played at the perfect moment in a film is what makes a movie great and allows you to feel the intended intensity. Are you excited about the idea of being the person who creates the score for a movie that ignites those feelings in others? If you're saying "yes," then Liberty University's Bachelor of Music in Commercial Music: Film Scoring (Film and Media) degree may be the right fit for you!
Whether you want to be a conductor or composer, music director or supervisor, sound designer, or even a music licenser for films, this degree will prepare you for success. So don't wait any longer! The film industry is ready for people like you who have passion, raw talent, and a world-class education. We're going to partner with you to make sure you're prepared with the knowledge and experience you need to excel in this field.
---
Award-Winning Campus
At Liberty, you'll find an affordable, high-quality education that equips students like you for the real world. Our commitment to excellence helped us rank among Niche.com's Top 5 college campuses in America. Earning your degree from a nonprofit university with state-of-the-art resources like ours can help set you apart from your peers.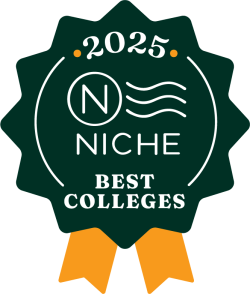 ---
Why Choose Liberty's Commercial Music: Film Scoring Degree?
You'll find that there are endless reasons to choose Liberty University to pursue your music degree. Our School of Music is one of the largest music schools in the nation. We have our very own on-campus recording and producing studio. Our program is accredited through the National Association of Schools of Music.
Our professors are professionals in the field of music. They have years of experience composing, conducting, songwriting, teaching, and more. They've received degrees from some of the most prestigious schools in the nation, and they're excited about the opportunity to teach you—the next generation of musicians and leaders—while they mentor, guide, and support you throughout your academic journey with us.
Throughout this degree program, you'll get hands-on experience both inside and outside the classroom. You'll learn to use music composition software, as well as how to produce and record music. Additionally, you'll participate in a required practicum and internship, both of which prepare you to join the music industry upon graduation.
---
What Will You Learn in Our Commercial Music: Film Scoring Degree?
The commercial music industry is rewarding and challenging, so that is why we've designed our curriculum to match the intensity of the profession. You will receive the practical knowledge and experience you need throughout your degree pursuit to be successful in the field of film scoring.
Throughout our commercial music degree, you'll study topics like harmonic practices, musicianship, commercial music theory, music and audio production, music technology notation, and more.
If you choose to concentrate in film scoring, you'll study:
Basic Conducting
Fundamentals of Music Publishing and Producing
Fundamentals of Sound Reinforcement
Music History (Antiquity – 1750)
Pro Tools Fundamentals I
Studio Producing, Mixing, and Audio Engineering
Review the Degree Completion Plan, and check out our featured courses below to learn more about what you'll be studying!
Featured Courses
MUSC 105 – Harmonic Practices and Theory I
Here's what you'll learn:
A practical introduction to harmonic, melodic, and rhythmic principles of music
Musical elements including key signatures, scales, intervals, chords, chord construction, and chord progression, which are the foundation for harmonic analysis of traditional, contemporary Christian, popular, and jazz music
Common practice theory
The Nashville number system and jazz harmony practices
In-class Praxis provides students opportunity to reinforce learned concepts through collaborative group performance-based learning projects
MUSC 218 – Fundamentals of Music Production and Audio
Here's what you'll learn:
Hands-on experience and training in studio production techniques
Studio mixing for instruments and voice, digital audio workstations, console mixing, and general techniques for studio producing
Students will collaborate to produce music demo recordings
MUSC 360 – Commercial Improvisation Techniques
MUSC 372 – Entrepreneurship in the Christian Music Community
Here's what you'll learn:
An introduction to the music industry
Entrepreneurship as a freelance musician
The impact of biblical principles for a Christian working in the music industry
Basic principles of music performance, publishing, and distribution, as well as copyright law, song royalties and mechanicals, booking, promoting, copyright management, performance rights organizations (ASCAP, BMI, SESAC, and CCLI), song demo creation, music producing and publishing, and market presence
---
Highlights of Our Commercial Music: Film Scoring Degree
Access to 45 full-time faculty members with degrees from some of the most prestigious music schools in the nation.
Our music programs are accredited by the National Association of Schools of Music (NASM).
Our Center for Music Education and Performance is housed in a 141,000-square-foot building.
Our Center for Worship has been voted "Best of the Best in Higher Education" six years in a row by Worship Leader Magazine.
We are designated an "All-Steinway" school.
The Liberty University School of Music has strategic partnerships with leaders in the industry, such as Michael W. Smith. Each semester, the School of Music hosts industry professionals who share their expertise with current commercial music students and provide practical, hands-on experience for those pursuing their bachelor's in commercial music.
Our alumni have gone on to become Dove-award winning Christian artists and songwriters
All coursework is market-driven and focuses on developing your skills for the current industry
Commercial Music: Film Scoring Degree Information
Career Opportunities for Commercial Music: Film Scoring Graduates
Film composer
Music director or supervisor for films
Music licenser
Sound designer
Admission Requirements for Undergraduate Degrees
Every application is reviewed by the admission committee on a case-by-case basis, meaning there are no set minimums for acceptance. However, all applicants must submit the following documents* for admission:
Admission application
Official high school transcripts
Official college transcripts (if applicable)
Results from the CLT, SAT, or ACT are not required for admission, but may be used in consideration for merit-based aid.
Admission essay
*Note that additional documentation may be requested by the admission committee after your application has been received.