Train Up the Next Generation with Your Passion for Worship and Ministry
Unleash your love for music and be a positive influence on the next generation of young men and women. At Liberty, we offer a B.S. in Music and Worship that specializes in youth ministry. Whether you want to become a worship leader for a local youth camp, or plan programs and events for your church's youth group, our degree will help equip you for success in your ministry endeavors.
As a Liberty music and worship student, you will gain access to our School of Music, which includes all of our experienced professors, resources, and facilities. You deserve to hone your musical ability with the best instruments and equipment. We even have our own recording and publishing company to help you get the most out of your music degree!
Your future in worship and youth ministry is waiting. Partner with our nonprofit, Christian university to experience award-winning facilities and one of the nation's largest schools of music.
Award-Winning Campus
At Liberty, you'll find an affordable, high-quality education that equips students like you for the real world. Our commitment to excellence helped us rank among Niche.com's Top 5 college campuses in America. Earning your degree from a nonprofit university with state-of-the-art resources like ours can help set you apart from your peers.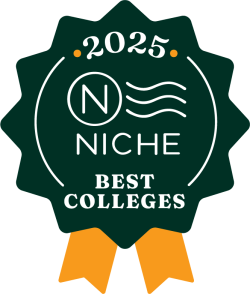 ---
Why Choose Liberty's Music and Worship – Youth Ministry Degree?
Choosing Liberty to pursue your bachelor's degree means partnering with a school that has the tools to prepare you for your career with confidence and integrity. From our incredible team of faculty to our beautiful, state-of-the-art facilities, we have what you need to stand out and lead effectively.
Award-Winning Facilities
Within our School of Music building, you will gain access to various rehearsal, concert, and recital halls. All of our centers and classrooms are fitted with the best industry equipment. In fact, we are a designated "All-Steinway" school and our Center for Worship ranked "Best of the Best in Higher Education" for 6 years in a row by Worship Leader Magazine.
Prestigious Academics Taught by Expert Faculty
All of our music and worship degrees are accredited by the National Association of School of Music (NASM). This means you will walk away with credentials recognized by employers and churches across the nation. 
We believe the caliber of education and the success of our students is due to the incredible team of professors and faculty in our School of Music department. When you choose Liberty, you are gaining personal, one-on-one training and instruction from our 45 full-time faculty members. These men and women are professionals in their field with years of real-life experience, and degrees from some of the most prestigious music schools in the nation.
---
What Will You Learn in Our Youth Ministry Focused Music and Worship Degree?
Our music and worship youth ministry specialization presents a detailed overview of methods to reach young people where they are. Our courses delve into strategies for both establishing and maintaining ministry with adolescents. This includes understanding the culture and core values of young people in North America. Furthermore, our courses will address social issues critical to engaging youth and creating effective outreach programs.
Our music and worship degree includes ensemble courses, practicums, and internships. These give you the opportunity to put your talents and training to the test in real-world worship settings. You will also gain a strong foundational knowledge in harmonic practices and theory, musicianship, creative worship, music production, audio engagement, basic conducting, and worship choir.
Review the Degree Completion Plan, and check out our featured courses below to learn more about what you'll be studying!
Featured Courses
MUSC 105 – Harmonic Practices and Theory I
Here's what you'll learn:
A practical introduction to harmonic, melodic, and rhythmic principles of music
Musical elements including key signatures, scales, intervals, chords, chord construction, and chord progression, which are the foundation for harmonic analysis of traditional, contemporary Christian, popular, and jazz music
The Nashville number system and jazz harmony practices as accepted methodology for music analysis
MUSC 107 – Musicianship I
Here's what you'll learn:
Listening skills are developed through rhythmic, harmonic, and melodic dictation
Refined skills through daily sight singing and rhythm exercises from a variety of styles
Special attention is given to tonal center referencing, which is the ability to identify harmonic rhythm while listening to a variety of musical styles
YOUT 201 – Survey of Youth Ministries
Here's what you'll learn:
A study of biblical principles in establishing and maintaining a ministry to adolescents
Emphasis is placed upon a system of philosophy and general principles for adolescent ministry
Special attention is given to developing a youth ministry mission statement, objectives, and strategy
YOUT 220 – Global Youth Culture
Here's what you'll learn:
This course will begin by exploring the cultural practices, behavioral norms, and core values of youth in North American and will expand to global youth culture
It will examine methods for effective ethnographic studies of youth in their host culture and identify areas that create barriers to effective intercultural communication and ministry
Special attention will be given to the anthropological and social issues critical to engaging global adolescents within the context of their culture
---
Highlights of Our Music and Worship – Youth Ministry Degree
Access to 45 full-time faculty members with degrees from some of the most prestigious music schools in the nation.
Our music programs are accredited by the National Association of Schools of Music (NASM).
Our Center for Music and Performance is housed in a 141,000-square-foot building.
Our Center for Worship has been voted "Best of the Best in Higher Education" six years in a row by Worship Leader Magazine.
We are designated as an "All-Steinway" school.
Liberty Music Group (LMG) is our very own on-campus recording studio and professional music publishing and recording company.
Our alumni have gone on to become Dove-award winning Christian artists and songwriters.
All coursework is market-driven and focuses on developing your skills for the current industry.
Music and Worship – Youth Ministry Degree Information
Career Opportunities for Music and Worship – Youth Ministry Bachelor's Degree Graduates
Associate director of worship programming
Director of worship and drama
Director of youth worship conferences
Music minister
Worship and missions director
Worship arts director
Youth ministry worship leader/pastor
Admission Requirements for Undergraduate Degrees
Every application is reviewed by the admission committee on a case-by-case basis, meaning there are no set minimums for acceptance. However, all applicants must submit the following documents* for admission:
Admission application
Official high school transcripts
Official college transcripts (if applicable)
Results from the CLT, SAT, or ACT are not required for admission, but may be used in consideration for merit-based aid.
Admission essay
*Note that additional documentation may be requested by the admission committee after your application has been received.