Develop a Global Approach to Music with a Bachelor's Degree in Music in World Cultures
Do you want to pursue a career in the music industry? Are you passionate about connecting with people across cultural borders and impacting the world for Christ? If so, Liberty University's Bachelor of Science in Music in World Cultures may be for you. This degree is designed to offer you maximum flexibility in your studies, so you can get the training you need to prepare for a variety of career paths.
Throughout our bachelor's in music in world cultures, you'll explore how important principles of ethnomusicology can be used to enrich worship training, mission work, and global scholarship in a Christian context. Our goal is to help foster your knowledge of other cultures and strengthen your commitment to the Christian life. Whether you want to work at home or abroad, our music in world cultures degree can equip you to reach the world with the Gospel through music ministry.
Understanding the relationship between culture and music is a vital part of working as a musician or worship facilitator — especially in a global context. At Liberty, you can learn how to help communities contextualize worship arts and apply ethnomusicology principles in various real-world contexts. By analyzing non-Western systems of music, you can gain the tools needed to better connect with people across cultural and geographic boundaries. Partner with us and prepare to impact the world as a Champion for Christ!
Award-Winning Campus
At Liberty, you'll find an affordable, high-quality education that equips students like you for the real world. Our commitment to excellence helped us rank among Niche.com's Top 3 college campuses in America. Earning your degree from a nonprofit university with state-of-the-art resources like ours can help set you apart from your peers.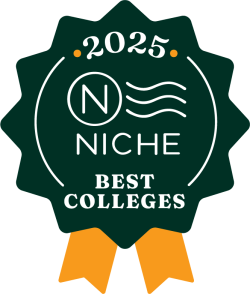 ---
Why Choose Liberty's Bachelor of Science in Music in World Cultures?
At Liberty, your success is our success. Our world cultures music degree can help you become a more culturally enriched musician, equip you to serve in ministry, or prepare you to teach music in other countries.
Here are some of the benefits of earning your Bachelor of Science in Music in World Cultures at Liberty University:
Respected Credentials | Liberty is accredited by the Southern Association of Colleges and Schools Commission on Colleges (SACSCOC). Additionally, our bachelor's in music in world cultures is accredited by the National Association of Schools of Music (NASM). You can pursue your degree with confidence knowing that our program has met rigorous academic standards and accreditation requirements.
Valuable Mentorship | Our faculty have years of experience working in academia, the music industry, and intercultural contexts. With their guidance, you can hone your musical skills, develop a sound understanding of ethnomusicology, and pursue exciting careers around the world.
Flexibility | We've created our world cultures music program with your success in mind. This degree includes room for several elective courses, so you can customize your studies to match your unique interests and career goals.
Well-Rounded Education | Our mission is to Train Champions for Christ. To fulfill this mission, we seek to offer state-of-the-art facilities and practical music training taught from a biblical perspective. At Liberty, you won't just get a degree — you'll receive a quality education that can enhance your industry knowledge and prepare you to make a global impact for the kingdom of God.
---
What Will You Learn in Our Bachelor's in Music in World Cultures?
Throughout this program, you will explore important topics in music, ministry, and global studies. Liberty provides a mix of classroom instruction and practical, hands-on training that can help strengthen your effectiveness in global career fields. Your major courses will cover subjects like harmonic practices and theory, Old and New Testament music and worship, and musicianship. You'll also study the history of music and worship as well as congregational worship practices of the evangelical traditions.
Several of our courses are geared specifically toward the study of world music and culture. For example, you'll learn about essential aspects of intercultural communication theory and methods for engaging with other cultures. Our program can also help you understand non-Western music theory, ethnic music cultures, and the relationship between culture and music. By exploring the cultural traditions, belief systems, and practices of various world cultures, you can become equipped to participate in global outreach, lead an effective music ministry, and impact the lives of people around the world.
Additionally, you'll complete several applied music courses and participate in ensembles. The required internship provides an opportunity for you to put your skills to the test and gain marketable, on-the-job experience. All of our courses are taught from a biblical perspective, and our experienced faculty are committed to helping you enhance your musical skills.
Review the Degree Completion Plan, and check out our featured courses below to learn more about what you'll be studying!
Featured Courses
GLST 200 – Introduction to Global Studies
Here's what you'll learn:
Important tools for pursuing an intercultural career and engaging the current global environment
The history, principles, and foundations of global engagement
MUSC 202 – Old and New Testament Music and Worship
Here's what you'll learn:
Principles of Old and New Testament music and worship
Various aspects of pre-tabernacle, tabernacle, temple, and synagogue music and worship
Ways that Jesus, the disciples, and early Christians incorporated music and worship into their daily practices
MUSC 313 – History of Music and Worship
Here's what you'll learn:
Historical changes in music and worship practice as shaped by:

Culture, ecclesiastical norms, and various modern worship movements
The 4 periods of music history (Renaissance, Baroque, Classical, and Romantic)
The Great Awakenings
MUSC 424 – Arts in Global Outreach
Here's what you'll learn:
Important fieldwork theories, methods, and techniques that can be used to advocate for culturally relevant music and arts in a global worship setting
The tools needed to become an artistic catalyst and assist in church plants, deep discipleship, meaningful worship, and effective outreach through music and the arts
Highlights of Our World Cultures Music Program
We are dedicated to producing graduates of distinction. Our graduates have found careers as Christian singers and songwriters, as worship leaders at Harvest Bible Chapel, as conductors leading choir festivals throughout Southeast Asia, and as musicians playing for stars like Carrie Underwood.
Our LU Praise choir has produced a Dove Award-nominated album.
The Liberty University School of Music has strategic partnerships with leaders in the industry, such as Michael W. Smith. Each semester, the School of Music hosts industry professionals who share their expertise with current students and provide practical, hands-on experience for those pursuing their bachelor's in music.
Participate in our School of Music ensembles, which range from folk and bluegrass to a cappella and Latino styles of music.
Our bachelor's degree in music in world cultures is accredited by the National Association of Schools of Music (NASM).
This degree is an excellent stepping stone toward pursuing our residential MA in Worship Studies – Ethnomusicology or our online master's in ethnomusicology program.
World Cultures Music Degree Information
Career Opportunities for BS in Music in World Cultures Degree Graduates
Some of the roles you could pursue after earning this degree include:
Cross-cultural worship leader, trainer, or facilitator
Festival organizer for local arts
Missionary (specializing in arts contextualization)
Music researcher or journalist
Music teacher in other countries
Performer or recording artist
Preservation and oral history specialist
Vernacular media specialist
World arts and cultural exchange facilitator
Admission Requirements for Liberty's Bachelor's Degree in World Cultures and Music
Every application is reviewed by the admission committee on a case-by-case basis, meaning there are no set minimums for acceptance. However, all applicants must submit the following documents* for admission:
Admission application
Official high school transcripts
Official college transcripts (if applicable)
Results from the CLT, SAT, or ACT are not required for admission, but may be used in consideration for merit-based aid.
Admission essay
*Note that additional documentation may be requested by the admission committee after your application has been received.