Create Music that Matters with Our B.M. in Commercial Music – Songwriting Degree
Have you felt a calling to write innovative, inspired music that reflects God's love and redemption? Do you have a desire to write music for television shows, commercials, or other genres? Our Bachelor of Music in Commercial Music – Songwriting degree will equip you with the skills you need to pursue your calling.
Here at Liberty, we believe music should be both artistic and worshipful, and our bachelor's degree in commercial songwriting will give you the tools you need to achieve both. Our mission is to prepare you to lead with excellence and integrity in the music industry wherever God calls you – as a Christian singer and songwriter or as a writer of production music for television shows.
---
Award-Winning Campus
At Liberty, you'll find an affordable, high-quality education that equips students like you for the real world. Our commitment to excellence helped us rank among Niche.com's Top 5 college campuses in America. Earning your degree from a nonprofit university with state-of-the-art resources like ours can help set you apart from your peers.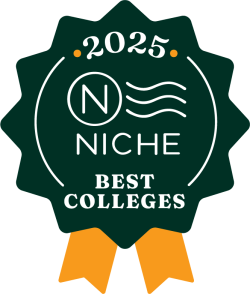 ---
Why Choose Liberty's Bachelor's Degree in Commercial Music Songwriting?
We are committed to providing you with the training you need to succeed in the music industry. As 1 of the top 10 largest schools of music in the nation, we offer a variety of classes and opportunities designed to help you gain experience and share your work with the world. While you are studying with us, you will have opportunities to work with LU Praise, our Liberty Worship Collective, and to develop your own album in our state-of-the-art recording facilities.
Many of our faculty members have earned their degrees from the most prestigious music schools in the nation, and they work to ensure you have the classroom environment you need to develop your own musical style and skills.
---
What Will You Learn in Our B.M. in Commercial Music – Songwriting Degree Program?
Throughout our bachelor's in commercial music degree program, you will learn the musical theories and techniques of multiple music genres, along with the fundamentals of recording and producing commercial music. Our Bachelor of Music program is taught from a biblical worldview, allowing you to explore music as both art and worship.
By earning our commercial music bachelor's degree, you can prepare for your career as a songwriter through hands-on classes, practicums, and internships. These opportunities will help you build the experience you need to stand out.
If you choose to pursue our songwriting degree specialization, you will learn how to arrange music for different performance groups and circumstances, use current and emerging technology to shape sound, and develop your own musical style. You will not only learn basic songwriting principles but you will also work one-on-one with a professor who has real-world songwriting experience.
You will have opportunities to share and perform your original work throughout your degree program, but in your senior year, you will work with your instructor and classmates to create and perform music that showcases what you've learned.
Review our B.M. in Commercial Music Songwriting's Degree Completion Plan, and check out our featured courses below to learn more about what you'll be studying!
Featured Courses
MUSC 200 – Music, Art, Worship, and Culture
Here's what you'll learn:
The relationship between music, art, worship, and culture
How culture effects music in daily and professional life
Biblical principles for artistic development
How to develop a literature review, thesis, and craft a meaningful research paper
MUSC 310 – Principles of Arranging
Here's what you'll learn:
Basic arranging techniques
How to develop arrangements for rhythm sections, vocal and instrumental ensembles, and studio recordings
You will arrange a piece for the School of Music to perform in the end of the semester concert.
MUSC 334 – Music Technology II: Sequencing
Here's what you'll learn:
How to use music recording software
How to integrate midi and digital audio
How to apply loops to live performance and recording situations
Sound shaping
MUSC 436 – Christian Music Industry Seminar 
Here's what you'll learn:
You'll work one on one with industry professionals to develop your artistic and songwriting skills
You'll work with your classmates to apply what you have learned to creating original music
You'll premiere your creations at the end of the semester
---
Highlights of Our Bachelor's of Commercial Music in Songwriting Degree Program
We are dedicated to producing graduates of distinction. Our graduates have found careers as musicians playing for stars like Carrie Underwood, well-known Christian singers and songwriters, worship leaders at Harvest Bible Chapel, and conductors leading choir festivals throughout Southeast Asia.
Our bachelor's in commercial music degrees are accredited by the National Association of Schools of Music (NASM).
Our professors are experienced artists and musicians, and they are dedicated to mentoring you and helping you develop your talents.
The Liberty University School of Music has strategic partnerships with leaders in the industry, such as Michael W. Smith. Each semester, the School of Music hosts industry professionals who share their expertise with current commercial music students and provide practical, hands-on experience for those pursuing their bachelor's in commercial music.
Our LU Praise choir's latest album has been nominated for a Dove award.
You will have the opportunity to perform with a variety of ensembles through our School of Music.
Our Bachelor's in Songwriting Degree Information
Career Opportunities for Our B.M. in Commercial Songwriting Graduates
Lyricist
Production music writer
Recording artist
Recording studio manager
Singer
Songwriter
Admission Requirements for Undergraduate Degrees
Every application is reviewed by the admission committee on a case-by-case basis, meaning there are no set minimums for acceptance. However, all applicants must submit the following documents* for admission:
Admission application
Official high school transcripts
Official college transcripts (if applicable)
Results from the CLT, SAT, or ACT are not required for admission, but may be used in consideration for merit-based aid.
Admission essay
*Note that additional documentation may be requested by the admission committee after your application has been received.