Happy Thanksgiving! Our office will be closed for the holiday from Nov. 26-Dec. 4. We will reopen on Monday, Dec. 7!

You can reach us via email during the break, but expect slower response times as our staffing will be limited.
For emergencies, contact LUPD at (434) 592-3911.

Fall 2020 Move-Out: View our Fall 2020 checkout procedures.
Spring 2021 Move-In: View our arrival procedures. Please also view:
Experience quality on-campus living that not only provides safe and inviting housing options but also meets your need for community and personal development. The Office of Residence Life at Liberty University cares about you and wants to invest in your success in dorm life and future career.
Each hall is equipped with one or two Resident Assistants (RAs) and a team of Resident Shepherds (RSs) and Community Group Leaders (CGLs). Our student leaders are here to get to know you and help you grow. You'll also attend Convocation as a hall and develop friendships that could last a lifetime.
Thrive On One of the Safest Campuses in Virginia
Our male and female-only residence halls are always locked and have badge access. Resident Assistants (RAs) and Resident Directors (RDs) are equipped to handle crisis response and look out for the safety and the mental, spiritual, and physical well-being of their residents.
Become a Leader. Become an RA.
Have a passion for what the Lord is doing at Liberty University and want to be a part of it? As a Resident Assistant (RA), you'll grow as a leader as you invest in the lives of students.
---
Liberty University Residence Halls
Residential Commons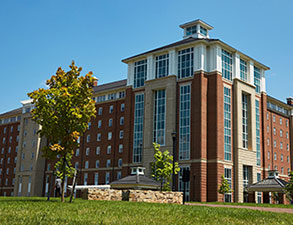 Residential Commons (001, 002, & 003)
Housing with two-person rooms, private baths
The Hill
Traditional residence hall community
East Campus
Premier apartment-style housing location