Use Medical Expertise to Change the World with Our Biomedical Sciences – Global Studies Degree
Are you passionate about medicine and being a positive influence in the lives of others? We understand these passions and want to help you get an education that propels you into a career that combines your passions. By pursuing our bachelor's degree in biomedical sciences – global studies, you can become equipped for success in any career field you choose.
This program is designed with two major purposes in mind:
To meet all of the prerequisite requirements you need to apply to medical, dentistry, pharmaceutical, physician's assistant, or any other medical school you choose
To give you the knowledge you need to take your skills abroad and provide much needed medical attention to foreign countries, while also having the opportunity to share the gospel
So why wait any longer? Get on the path to pursuing a global medical profession. We will support you during your academic journey and equip you with the tools you need to succeed.
Award-Winning Campus
At Liberty, you'll find an affordable, high-quality education that equips students like you for the real world. Our commitment to excellence helped us rank among Niche.com's Top 3 college campuses in America. Earning your degree from a nonprofit university with state-of-the-art resources like ours can help set you apart from your peers.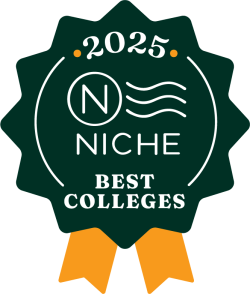 ---
Why Choose Liberty's Biomedical Sciences – Global Studies Degree?
Our goal is to provide you with an education that is both excellent and well rounded. Additionally, we want to make sure you have the opportunity to enrich the spiritual and social aspects of your life while you're here.
Academically, here are some of the things you can take advantage of while you're pursuing our biomedical sciences: global studies degree:
The professors in the classrooms and labs teaching you have experience and doctoral degrees in a medical or scientific field.
Nearly all classes within the Department of Biology and Chemistry have associated labs, meaning you'll get hands-on experience to complement your knowledge.
You'll be prepared to take the Medical College Assessment Test (MCAT).
We have optional internship and shadowing opportunities with local physicians.
Christian service options are available which can bolster your medical school application.
With our global studies specialization, you have an optional study abroad internship opportunity.
You also have spiritual growth and social opportunities available to you at Liberty! For instance, all students attend weekly convocation services with world-renowned speakers, campus church, and small groups, all specifically designed to enhance your spiritual growth. You also have plenty of opportunities to be sociable including participation in clubs like the Pre-Medical Club and Honor Society or the International Culture Club.
---
What Will You Learn in Our Biomedical Sciences – Global Studies Degree?
With our biomedical sciences curriculum, our goal is to provide you with all the prerequisite requirements you need to apply to medical school. We have designed this degree to not only meet that goal but also provide you with a global studies specialization that will allow you to take your medical skills abroad.
Some of the foundational coursework you'll complete includes biology, probability and statistics, calculus, and physics. Understanding these core areas of study is necessary for pursuing any field within the scientific community.
As you progress in your degree to your pre-med courses, you'll take classes such as:
Medical Biochemistry
Genetics
Clinical Human Anatomy or Advanced Human Physiology
Cell Biology
Organic Chemistry I
The History of Life
View the Degree Completion Plan, and check out our featured courses below for more information on what you'll be studying!
Featured Courses
BCHM 450 – Medical Biochemistry
Here's what you'll learn:
Aspects of biochemistry relevant to the practice of medicine
The body's integrated chemical system with an emphasis on the molecular basis of disease and clinical application of therapies to restore body function
The link between biochemistry and human anatomy and physiology 
Gastrointestinal tract and catabolism, immune response and biochemical endocrinology, blood and hemostasis, lipid metabolism and liver function, glucose metabolism, and muscle contractions
Here's what you'll learn:
A study of the principles of heredity
Inheritance in individuals and populations, chromosomal rearrangements, genes in DNA structure and replication, transcription, translation, gene expression, mutations and their repair, genetic engineering, and epigenetics
BIOL 313 – Clinical Human Anatomy
Here's what you'll learn:
The structures of the human body using both systemic and regional approaches with emphasis on clinical applications and common pathologies
Gross anatomy that is important in general practice, emergency medicine, and surgery while demonstrating anatomy's relationship to physical examination and diagnosis
An overview of the body systems, followed by a special focus on the following regions: thoracic, abdominal, pelvic, and lower limb
Here's what you'll learn:
A study of the organization and function of living matter at the cellular level
The integration of molecular and cellular interactions for the maintenance of life
Highlights of Our Biomedical Sciences – Global Studies Degree
Labs are associated with nearly every course in the Department of Biology and Chemistry, giving you hands-on experience in your field before graduation.
Your courses and labs are taught by faculty with real-life experience and doctorate degrees.

There is an emphasis placed on creationism, but evolution is also taught for a well-rounded perspective of the earth's origins.

There are many opportunities to be involved in research projects with faculty as an undergraduate student.
Receive internship and shadowing opportunities with local doctors.
You will have opportunities to participate in medical mission trips.
Christian service options to diversify your medical school application.
Biomedical Sciences – Global Studies Bachelor's Degree Information
Career Opportunities for Biomedical Sciences: Global Studies Graduates
Clinical research scientist

Dentist

Medical diagnostics

Pharmaceutical companies

Pharmacist

Physical therapist

Physician

Physician's assistant

Public health laboratories

Research scientist
Many career opportunities in this field will require additional education beyond a bachelor's degree.
Admission Requirements for Undergraduate Degrees
Every application is reviewed by the admission committee on a case-by-case basis, meaning there are no set minimums for acceptance. However, all applicants must submit the following documents* for admission:
Admission application
Official high school transcripts
Official college transcripts (if applicable)
Results from the CLT, SAT, or ACT are not required for admission, but may be used in consideration for merit-based aid.
Admission essay
*Note that additional documentation may be requested by the admission committee after your application has been received.