Expand Your Mind, Strengthen Your Body
Are you passionate about fitness? Do you want to help others unlock their own body's potential or rise above their disabilities? By earning Liberty University's Master of Science in Human Performance, you can enhance your career opportunities in the health, wellness, and human performance fields. You will increase your understanding of exercise science by taking advanced classes in Exercise Physiology and Biomechanical Analysis. Learn to help athletes be their best and other clients to overcome disabilities and other physical limitations.
You have the opportunity to complete your master's degree in a traditional two-year format or a one-year accelerated format. Our course material is based on concepts from the American College of Sports Medicine (ACSM) and the National Strength and Conditioning Association (NSCA). You can specialize in one of four different areas while completing a capstone experience such as completing an internship or a thesis.
Award-Winning Campus
At Liberty, you'll find an affordable, high-quality education that equips students like you for the real world. Our commitment to excellence helped us rank among Niche.com's Top 3 college campuses in America. Earning your degree from a nonprofit university with state-of-the-art resources like ours can help set you apart from your peers.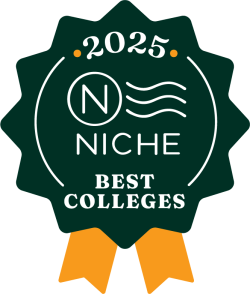 ---
Why Choose Liberty's Master of Science in Human Performance Degree?
Liberty University's state-of-the-art equipment and exercise science labs are two of the best things about this program. You will get the chance to work with the latest technology currently used in the field in our Human Performance Lab, Functional Assessment Lab, Standardized Patient Center, and many other areas. You will learn how to use the equipment for functional assessment, strength training, and agility training.
The types of equipment you will work with and the research you will conduct will be invaluable for your career and resume. Your practical exams will take place in a realistic clinical learning environment that will simulate real-world conditions. In fact, one of your classrooms has an Astroturf floor to better simulate on-field evaluations. With more than 20 NCAA Division I athletic teams and over 40 Club Sports teams, we have the sports facilities and other resources that will prepare you for a career directly upon graduating.
---
What Will You Learn in Our Master of Science in Human Performance?
When you begin this degree, you will have opportunities for practical hands-on training that will develop your knowledge of all aspects of human performance. Throughout this degree, you will expand your knowledge of kinesiology and study advanced exercise physiology. You will also learn how to utilize statistical analysis in exercise science. Being able to track data and analyze outcomes will go far to advance your ability to help clients. Your ability to increase human performance will be influenced by studying advanced biomechanical analysis.
Additionally, you will analyze human movement and learn the latest research in the field of biomechanics. You will also study performance nutrition for the physically active. Even the greatest engine in the world cannot run if it doesn't have the correct fuel. Learn how to fuel your client's body so they can get the most out of their training.
Featured Courses
EXSC 510 – Advanced Exercise Physiology
EXSC 520 – Statistical Analysis in Exercise Science
EXSC 550 – Advanced Biomechanical Analysis
HLTH 645 – Performance Nutrition for the Physically Active
Highlights of Our Master of Science in Human Performance Degree
Career Opportunities for Human Performance Degree Graduates
Cognitive performance specialist
Exercise physiologist
Exercise specialist
Health statistician
Sports performance coach
Strength and conditioning coach
Master of Science in Human Performance Degree Information
Residential 
35 total credit hours
Transfer in up to 50% of your credits
This program falls under the School of Health Sciences
Find more information about our Master of Science in Human Performance degree program in our course catalog
Master's in Human Performance Degree Specializations
Explore information about each of the Master of Science in Human Performance specializations below.
Strength and Conditioning
Admission Requirements for Graduate Degrees
Every application is reviewed on a case-by-case basis, and all applicants must submit the following documents and meet the minimum requirements for admission:
Admission application

Self-certification form (for students who are in the final term of their bachelor's degree)

Current Liberty undergraduate students seeking preliminary acceptance into a graduate program must complete a degree completion application through their ASIST account
A regionally or nationally accredited bachelor's degree with at least a 3.0 GPA for admission in good standing. 2.5 to 2.99 GPA may grant admission on caution