Gain Valuable Knowledge and Experience with a Master's Degree from our College of Arts and Sciences
If you are looking for a degree that combines your passions for writing, literature, and research, then a master's degree from our College of Arts and Sciences might be the best fit for you! Our master's degree programs focus heavily on developing writing skills through mastery of English, learning how to compile solid research, and appreciating literature. These skills can be put to use in many different areas and will serve you well, especially in careers that require writing and communication ability.
We currently offer two master's degree programs in English and History. Whether you are looking for a graduate program to advance your current career, or are looking to transition to a different career path, one of these degree paths can fulfill the passion for the liberal arts.
While you are pursuing your graduate degree, you can also use your knowledge to give back to students who are pursuing undergraduate degrees through our Graduate Student Assistant program. If you are chosen for this opportunity, you can collaborate with professors and provide academic support. In addition, our Graduate Student Assistantship (GSA) provides a scholarship and stipend as compensation for your hard work.
Award-Winning Campus
At Liberty, you'll find an affordable, high-quality education that equips students like you for the real world. Our commitment to excellence helped us rank among Niche.com's Top 5 college campuses in America. Earning your degree from a nonprofit university with state-of-the-art resources like ours can help set you apart from your peers.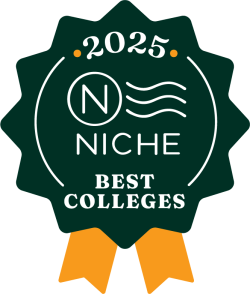 ---
Available Degree Programs 

English (M.A.)
Our Master of Arts in English degree provides the training you need to be an educator, work in human resources or market research, and more. If you have a love of literature and a desire to write, this program is an excellent choice to pursue. 
36 total credit hours
Transfer into Liberty up to 50% of your credits
View our course catalog
History (M.A.)
Our Master of Arts in History degree prepares you for history-related vocations through the study of historical facts and scholarly arguments. You will learn how to formulate your own interpretations of historical events and challenge existing ones.
36 total credit hours
Transfer into Liberty up to 50% of your credits
View our course catalog
---
Why Choose a Master's Degree from Liberty's College of Arts and Sciences?
Continue your liberal arts studies by pursuing a master's degree with our College of Arts of Science. Our programs provide some of the best training available in the arts and sciences as well as opportunities to grow professionally and improve your career choices through networking and academic support.
Liberty University started as a small Christian college in 1971, but since then has grown into one of the largest Christian universities in the world! Through God's grace and the hard work of our dedicated faculty, we have the resources and ability to help you grow and achieve your dreams.
Highlights of our English Department Master's Program
 You will learn from experienced professors who are well-published in the field and beyond when you pursue our M.A. in English.
Our professors care about you as an individual and are dedicated to providing the support and mentor-ship you need.
As a Liberty University student, you will have opportunities to showcase your work at conferences around the country.
Our chapter of Sigma Tau Delta

,

an international society dedicated to fostering literacy and all aspects of the discipline of English, provides a variety of professional development opportunities.
You can pursue opportunities to publish work in our literary journal the Lamp.  
You can gain valuable teaching experience as a Graduate Student Assistant.
Career opportunities are endless! You can pursue becoming a writer or an English teacher in public, private, missionary schools, and TESL programs around the country and the world. Many graduates also decide to take their writing skills and apply them to the field of law by applying to law school.
Highlights of our History Department Master's Program
Mead's Tavern, built in 1763, and now owned by Liberty, serves as an onsite laboratory for hands-on training in history, archaeology, and more!
Enjoy studying in an area that is rich in history. Thomas Jefferson's Monticello and Poplar Forest are nearby, and we are close enough to Colonial Williamsburg, Jamestown, Yorktown, and Washington D.C. for a historical weekend getaway!
Our chapter of Phi Alpha Theta provides a variety of professional development opportunities. It is dedicated to recognizing and encouraging excellence in the study of history.
Our Phi Alpha Theta club won chapter of the year twice in the past 8 years.
We follow certain biblical principles that are foundational to the study of history. The historian must be dedicated to a reasoned and investigated reconstruction of primary sources. (Luke 1: 1-4)
A master's degree in history can be used for more than just pursuing a career as a historian. With the research and writing skills you gain, you can also find many opportunities as an intelligence officer, newspaper editor, FBI agent, research assistant, political scientist, lobbyist, and many other areas that value the written word and the ability to present a logical assertion backed up by facts.
---
Admission Requirements for Graduate Degrees
Every application is reviewed on a case-by-case basis, and all applicants must submit the following documents and meet the minimum requirements for admission:
Admission application
Self-certification form for students in the final term of their bachelor's degree.
Current Liberty undergraduate students seeking preliminary acceptance into a graduate program must complete a degree completion application through their ASIST account.
A regionally or nationally accredited bachelor's degree with a 3.0 GPA for admission in good standing. A 2.5 to 2.99 GPA may grant admission on caution.
Statement of Purpose (History) – 300-500 word essay including your goals and an explanation of what you hope to gain from and contribute to the program.
Writing sample (8-10 pages) (English)
Statement of Purpose (English) – A one-page paper discussing your goals for your intended academic program and an explanation of what you hope to gain from and contribute to the program.
Prerequisites History (must be taken prior to admission): minimum of 18 undergraduate credit hours in history or related discipline (lower- or upper-level hours).