Prepare for Your Future by Studying the Past with a Master of Arts in History
Do you have a passion for the past and studying the lives and accomplishments of great leaders in the formation of the world we have today? Liberty's Master of Arts in History can help prepare you for history-related vocations through the study of historical facts, scholarly arguments, military campaigns, and more. In addition to studying historical events, you will also learn leadership lessons from some of the most important historical figures of the past and present. The need for historians who can provide insight into current events, analyze decisions, and teach others is of vital importance. By pursuing a history degree at Liberty, you are not only diving deep into history – you are preparing for your future. By further developing as a historian, you can become an expert in history and teach others what you know.
Our professors focus on key staples of historical thought so that you are more prepared to impact the world for Christ. Some of the areas you'll study include historical methodology, historical research and writing, and literature analysis. You will also have the choice to study either American history or European history. Our professors strive for you to have a comprehensive understanding of history so that you can be better equipped for history-related vocations or doctoral study. 
---
Award-Winning Campus
At Liberty, you'll find an affordable, high-quality education that equips students like you for the real world. Our commitment to excellence helped us rank among Niche.com's Top 5 college campuses in America. Earning your degree from a nonprofit university with state-of-the-art resources like ours can help set you apart from your peers.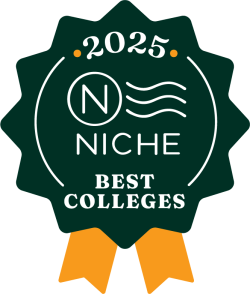 ---
Why Choose Liberty's Master of Arts in History Degree?
Liberty University is located in beautiful Central Virginia, providing access to numerous historical sites within just a 4-hour radius of campus. Take day trips to see the Natural Bridge, the city of Lexington, Va., the National D-Day Memorial, Appomattox, and more. You can also spend a weekend in Colonial Williamsburg, Jamestown, Yorktown, or Washington, D.C.
From Thomas Jefferson's Monticello and his Lynchburg home Poplar Forest to Liberty University's own Mead's Tavern, you can find a number of historic locations where you can see first-hand documents, architecture, and artifacts from American history. Besides offering opportunities to visit these locations, we hold a collection of historical books and artifacts in our Scriptorium.
You can pick a thesis track or a comprehensive track with our residential history program. By working on your master's in history, you may have the opportunity to join Phi Alpha Theta, which is dedicated to recognizing and encouraging academic excellence. Whether you pursue our thesis or comprehensive track, you can be confident that you are receiving a world-class education.
---
What Will You Learn in Our Master of Arts in History Degree?
To be a great historian, you will need to foster and further develop the mechanics of studying history. Writing proper footnotes and conducting an oral history interview are 2 of the first skills you are taught. You will also study cultural assumptions and methodological limitations that may have affected historians in the past. Additionally, you can obtain a better understanding of how to explore Christian perspectives on history and develop a Christian and biblical approach to researching, writing, and teaching history. 
Some of the best resources we have at Liberty are our faculty. Our professors are committed to your success and seek to partner with you as you grow as a historian. Not only does this help meet our mission of Training Champions for Christ, but it is also one of many reasons we have one of the best history graduate programs in the country.
Throughout this degree, the way American Christianity has influenced our social, political, and cultural development is explored in depth. Some other areas of interest include:
How the demographic, industrial, and social changes in Europe helped to shape the pattern of warfare on the continent.
Modern European military history, from the shaping of nations to the rise and fall of empires.
The evolution of U.S. policy and culture from the end of World War II to the end of the 20th century.
All these courses can help sharpen your research and writing skills and better prepare you to defend your opinion in both written and oral forms.
View the Degree Completion Plan  and check out our featured courses below for more information about what you'll learn in our Master's in History program.
Featured Courses
HIEU 555 – Modern European Military History
HIST 501– Historical Methods
HIUS 530 – American Christian Heritage
HIUS 552 – Recent America (Since 1945)