Learn the Secret to Making Disciples with an M.Div. in Discipleship Ministries
Discipleship is about relationships.  If you have ever been a part of a healthy, growing church, you know that small group and discipleship ministries are typically what make the difference. So how do you keep a church healthy and growing? Liberty University's Master of Divinity in Discipleship Ministries might be the answer to your questions. Through our graduate divinity degree, you will learn the dynamics of family discipleship, how to build effective small group ministries, and study the details of properly structured church administration.
As you pursue this degree, you will learn how to grow your church by strengthening relationships with the people in your congregation. As part of your training, you will also learn how to train family leaders who will look for teaching moments outside of church and reinforce God's Word in their own households. These leaders will help to fortify the teachings of the church and promote practical Christian living and help to fulfill the Great Commission.
Award-Winning Campus
At Liberty, you'll find an affordable, high-quality education that equips students like you for the real world. Our commitment to excellence helped us rank among Niche.com's Top 3 college campuses in America. Earning your degree from a nonprofit university with state-of-the-art resources like ours can help set you apart from your peers.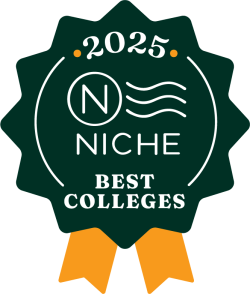 ---
Why Choose Liberty's Master of Divinity – Discipleship Ministries Degree?
Liberty University's M.Div. in Discipleship Ministry degree is designed to prepare you to lead discipleship and small group ministries within your church or organization. During your time on campus, you will have access to many state-of-the-art facilities. Our 17-story Freedom Tower is specifically designed for our divinity students and professors and contains a 7-projector immersive classroom and an innovative homiletics teaching lab.
As a graduate divinity student, you can take advantage of Monday-only night classes! This flexible option gives you the freedom to prioritize your family, community and career responsibilities with your education.
If you have prior ministry experience or if you previously pursued an accredited seminary degree, you might be able to receive course credit through our transfer evaluation or Institutional Challenge Exams. Our Master of Divinity in Discipleship Ministries prepares you for the challenge and mission of growing your ministry and making disciples of Jesus Christ.
---
What Will You Learn in Our Master of Divinity – Discipleship Ministries Degree?
Jesus told his followers to "go and make disciples." Taking this principle from the Word of God, it is clear that small group and discipleship ministries in a church or organization are key components of fulfilling this mission. Our discipleship ministries M.Div. degree provides training in the development of small group ministries and specifically family leaders who can help build relationships with congregates based on the love of God and the love of people. Family leaders guide their own family in spiritual growth and in turn offer additional leadership within the church. This is the first principle to successful discipleship.
Additionally, you will learn how to organize and lead small groups by understanding the dynamics related to the management of such groups. You can't have healthy small groups if the church at large isn't healthy, so you will also study how to lead a healthy church that grows and trains members in the Word of God. Teaching, preaching, and ministering are just a small part of keeping a church alive and healthy. Administration is often one of the greatest challenges you will face as a minister or member of a church staff. Therefore, you will examine staffing methods, finances, buildings, and public relations in order to build firm administrative principles and practices.
We invite you to look at our featured courses for a preview of the dynamic M.Div. program we offer at Liberty University. You can also review the Degree Completion Plan.
Featured Courses
DSMN 610 – Family Discipleship
This course studies the idea and practice called "family discipleship."
It presents a framework in which a family leader can disciple household members beyond spiritual comprehension to a personal appropriation of the apologetic and application of Scripture.
Attention will be given to the family leader's responsibilities toward spiritual leadership and biblical discipleship, specifically to responsibilities regarding the Gospel, basic doctrine, systematic theology, the Great Commission, spiritual disciplines, practical Christian living, and worldview/philosophy.
Various techniques for family discipleship will be examined, including family devotions, drill and catechism, Scripture memory, storytelling, teaching moments, relational example and intentional rehearsal.
DSMN 630 – Small Group Ministries
How to serve and equip the church to embrace, plan for, implement, evaluate, and lead small group ministries.
DSMN 660 – Leading the Healthy, Growing, Multiplying Church
The necessary areas of discipleship with a corporate-church setting.
The process of church multiplication.
Church health and growth in the early, middle and mature years of existence.
LEAD 505 – Church Administration
Master of Divinity – Discipleship Ministries Degree Information
Highlights of Our Master of Divinity Degree
Monday-only classes for master's programs allow students to complete large portions of their M.Div. degree by only attending class one day a week.
Take advantage of opportunities to use our state-of-the-art homiletics/teaching lab in our School of Divinity Freedom Tower.
Study under theologians and missionaries with real-world experience in the M.Div.'s web-based content developed by our John W. Rawlings School of Divinity.
Institutional Challenge Exams (ICE)are available to test out of foundational biblical and theological studies content for the online M.Div. program.
Liberty University's Center for Ministry Training is a great resource for practical ministry opportunities.
Our Freedom Tower's Scriptorium houses the Rawlings Foundation rare books collection valued at over $1 million, a 111 ft.-long Torah scroll that dates to the 16th century, and a functioning replica of the Gutenberg Printing Press.
Local church ministry training is embedded within our programs.
We provide experiential learning opportunities through church and para-church ministries.
Career Opportunities for Master of Divinity – Discipleship Ministries Graduates
Church education administrator
Discipleship pastor
Pastor
Sunday school administrator
Youth pastor
Admission Requirements for Graduate Degrees
Every application is reviewed on a case-by-case basis, and all applicants must submit the following documents and meet the minimum requirements for admission:
Admission application
Official bachelor's degree transcripts with a 2.0 GPA or higher
Self-certification form for students in the final term of their bachelor's degree
Current Liberty undergraduate students seeking preliminary acceptance into a graduate program must complete a degree completion application through their ASIST account