Prepare to Lead Your Ministry with a Master of Divinity (M.Div.)
Liberty University's Master of Divinity, or M.Div., is designed to prepare church professionals to lead their ministry with confidence and authority. If you desire to work with people in a ministry setting, then this professional degree can help you accomplish that mission. This degree will provide you the chance to help others and give them insight into Scripture and to help them find God's plan for their life. This degree is primarily focused on preparing you for working in a church or parachurch organization, but with the multidisciplinary field of study, it can also prepare you for many different types of occupations such as teaching, writing, and family advocacy.
Accreditation
Your divinity degree is approved by the Commission on Accrediting of the Association of Theological Schools (ATS) and has met rigorous accreditation standards. You can feel confident that your degree is both academically excellent and well-respected among churches, ministries, and nonprofit organizations.


Award-Winning Campus
At Liberty, you'll find an affordable, high-quality education that equips students like you for the real world. Our commitment to excellence helped us rank among Niche.com's Top 5 college campuses in America. Earning your degree from a nonprofit university with state-of-the-art resources like ours can help set you apart from your peers.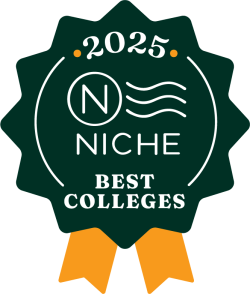 ---
Why Choose Liberty's Master of Divinity Degree?
Liberty's Master of Divinity (M.Div.) is one of the most comprehensive graduate-level seminary programs available to ministers, missionaries, and ministry professionals. If you have prior ministry experience, extensive personal study, or if you previously pursued an unaccredited seminary degree, you may be able to receive course credit through transfer evaluation and Institutional Challenge Exams. Our Master of Divinity programs can prepare you for a role in leadership in your present ministry or help you transition into full-time professional ministry.
---
What Will You Learn in Our Master of Divinity Degree?
Liberty University's Master of Divinity degree has many specialized areas of study to ensure that your field-specific needs and interests are met. The main emphasis of our M.Div. is to deliver foundational studies in ministry writing and research, Old and New Testament studies, apologetics, evangelism, and discipleship ministries.
To further your understanding of the Bible, our Master of Divinity will train you in the use of common language tools for word studies and in-depth research. You can also dive into the original Greek and Hebrew texts through language-specific courses. By pursuing our M.Div. degree, you can choose the areas of study that reflect your specific ministry needs and have flexibility in your degree plan to ensure your education is well rounded.
Featured Courses
CHHI 520 – History of Christianity I
Here's what you'll learn:
A study of the first fifteen centuries of historical Christianity.
Includes the rise of the church under persecution, orthodoxy vs. heresy, doctrinal developments, the rise of the Roman Papacy and opposition to it during the Middle Ages, and the events leading up to the Protestant Reformation.
Here's what you'll learn:
An advanced course in hermeneutics including a study of the history of interpretation, both biblical and extra-biblical, and an examination of the status of various interpretive approaches to the Scriptures.
DSMN 500 – Discipleship Ministries
Here's what you'll learn:
This course will examine the biblical, general and specific steps to enable a person first to be a disciple, then to discover systems, biblical principles, and methods that create a disciple-making
The systems will cover both the macro level and the micro level. Once this has been discovered and discussed, the student will select a disciple-making system and create a micro-level disciple-making plan for a local church.
LEAD 635 – Theology of Pastoral Ministry
Here's what you'll learn:
A study of the different phases of the daily work of the pastor. Attention is given to the call, character, leadership, and responsibilities of the pastor. Opportunities are also given for the student to practice methods of pastoral work.
Master of Divinity – Biblical Languages 75 Hrs.
Master of Divinity – Biblical Languages 90 Hrs.
Master of Divinity – Biblical Studies
Master of Divinity – Christian Leadership and Church Ministries
Master of Divinity – Christian Thought
Master of Divinity – Church Ministry in the Digital Age
Master of Divinity – General Track
Master of Divinity – Global Studies
Master of Divinity – Homiletics
Master of Divinity – Pastoral Counseling
Master of Divinity – Professional Chaplaincy – General
Master of Divinity – Professional Chaplaincy – Community 
Master of Divinity – Professional Chaplaincy – Healthcare 
Master of Divinity – Professional Chaplaincy – Military 
Highlights of Our Master of Divinity Degree
Monday-only classes for masters' programs allow students to complete large portions of their M.Div. degree by attending class one day a week.
We have a state-of-the-art homiletics/teaching lab in our School of Divinity building.
Our Scriptorium houses the Rawlings Foundation with rare books valued at over $1 million, a 111-long Torah scroll that dates to the 16th century, and a functioning replica of the Gutenberg Printing Press.
We provide experiential learning opportunities through church and para-church ministries.
Master of Divinity Degree Information
Career Opportunities for Master of Divinity Graduates
Military chaplain
Senior pastor
Youth pastor
Missionary
Evangelist

Church planter
Worship leader
Pastoral counselor
Discipleship pastor
Apologist
Admission Requirements for Graduate Degrees
Every application is reviewed on a case-by-case basis, and all applicants must submit the following documents and meet the minimum requirements for admission:
Admission application
Official bachelor's degree transcripts with a 2.0 GPA or higher
Self-certification form for students in the final term of their bachelor's degree
Current Liberty undergraduate students seeking preliminary acceptance into a graduate program must complete a degree completion application through their ASIST account.